WINk (WIN)
WINk - A blockchain gaming platform to play, socialize, and stake.
KEY METRICS
| Ticker | WIN |
| --- | --- |
| Issuing Price | $0.0001201 USD |
| Initial Circ. Supply | 209,734,500,000 WIN (20.99%) |
| Total Supply | 999,000,000,000 WIN |
| Project Website | https://www.wink.org/#/ |
PROJECT OVERVIEW
WINk is a gaming platform for users to play, socialize, and stake across multiple blockchain ecosystems. Through behavioral mining, innovative token economy design, and other incentive mechanisms, WINk has built an ecosystem that provides quality gaming experiences, enables developers to build dApps that drive adoption, and engages users to participate as active stakeholders.
As part of a strategic investment from the TRON Arcade fund and in anticipation of sustained growth, the team has officially rebranded from TRONbet to WINk (Wink.org) to further reflect an ongoing commitment to community building and platform expansion.
KEY FEATURES & HIGHLIGHTS
#1 dApp in terms of users and volume
Developer tools and APIs that allow teams to seamlessly integrate their projects or create unique gaming dApps from scratch
Industry leading social features, live operations, and events
Investment and strategic partnership with TRON
WinDrop reward mechanism and unique token ecosystem
Fiat onramps, stablecoins, and new DeFi integrations
Governance model, content discovery engine, and ecosystem fund coming soon
Curaçao and Costa Rica gaming licenses
WHAT IS WINK?
PROJECT MISSION
WINk aims to build on its market position as a leading blockchain gaming platform through the consistent introduction of high quality dApps. This will be accomplished by leveraging the WINk team's experience for game / ecosystem design and by enabling other development teams and users to guide the growth and direction of the platform through a unique governance mechanism.
VALUE PROPOSITION
Relative to more centralized gaming platforms, the TRON-based platform WINk provides a unique and compelling user experience:
Games will have auditable smart contracts
Most games will allow users to keep complete custody of their funds
Users will receive cryptographic tokens and other rewards for playing
Social features and exclusive events to engage the community
Name-brand partnerships through TRON & BitTorrent to support dApp development and usage
By giving users custody of their funds and deploying transparent DApps, WINk has a core focus on the user / player. Innovations such as the exclusive WIN token and "play to mine" modes will ingratiate VIP users, creating a sticky platform with a loyal, committed fanbase.
TOKEN SALE & ECONOMICS
KEY METRICS
| Token Name | WIN |
| --- | --- |
| Token Type | [TRC-20, BEP-2] |
| Seed Sale Allocation | 15.00% of tokens |
| Seed Sale Token Price | $0.00006673340 |
| Seed Sale Date (Completed) | April 2019 |
| Amount Raised Seed Sale | $10,000,000 |
| Launchpad Sale Allocation | 5.00% of Tokens |
| Launchpad Sale Price | $0.0001201 |
| Launchpad Total Allocation | $6,000,000 |
| Initial Circulating Supply | 20.99% |
Token Supply Distribution:
Reserve: Comprises 3.75% of total supply
Launchpad: Comprises 5.00% of total supply
Platform Development: Comprises 7.00% of total supply
Gaming Partnership: Comprises 9.00% of total supply
Strategic Partnership: Comprises 6.25% of total supply
Airdrop: Comprises 5.00% of total supply
Initial Community: Comprises 12.00% of total supply
Seed Sale: Comprises 15.00% of total supply
Team: Comprises 10.00% of total supply
Ecosystem: Comprises 27.00% of total supply
Seed Sale Overview
Conducted in April 2019 and raised a total of $10.0MM at ~$0.00006673340 per token, selling 15.0% of total token supply.
Binance Launchpad Sale Overview
Sale will be conducted in July 2019 for a total raise of ~$6.0MM USD worth of BNB at ~$0.0001201 per token for 5.0% of total token supply. WIN/BNB exchange rate will be determined prior to day of sale.
WIN Token Ecosystem
WIN token, a TRC-20 utility token built on the TRON blockchain, is the native digital asset to be used in the WINk platform and incentivizes active participation from key stakeholders including developers and users.
The following is a non-exhaustive list of WIN token's core use cases:
Earning Win Power: WIN holders receive Win Power for staking WIN tokens
Airdrops: Receive WIN airdrops for hodling the token
Win Drop Staking: All dApps connected to the gaming platform will be sharing a portion of winnings with WIN token holders through the Win Drop
Governance Rights: Ability to influence the development and direction of the platform through its governance mechanism
Resource Burns: Alleviate transaction costs by staking WIN
Exclusive Opportunities and Experiences: Participate in exclusive events, such as celebrity poker tournaments or car giveaways
Gameplay Bonuses: High volume players and dApps that serve large user bases receive benefits for each transaction; Examples of benefits include direct discounts, increased payouts or accelerated mining rates
Token Governance & Use of Funds
As of 7/18/19 WIN has not used any of the funds that have been raised. However, projected 18 month cash burn is approximately $5MM and any funds raised will be spent according to the following allocations:
[5%] Partnerships and community development
[15%] Marketing
[55%] Team FTE costs
[3%] Product Development
[4%] Equipment and software
[13%] Legal and license
[5%] Operational Costs
The team will hold funds in a multisig cold wallet.
WIN Token Release Schedule
The following chart represents the number and breakdown of all WIN tokens that are intended to be released into circulation on a monthly basis.
ROADMAP & UPDATES
Previous Roadmap
| Planned Date | Milestone | Actual Date | Early / Late? | Commentary |
| --- | --- | --- | --- | --- |
| 2019: H1 | ANTE Buyback and Burn Event Integrate Partner TRC20 and TRC10 Tokens WINk Game #4 WINk Game #5 | 2019: Q1 | On Time | |
Updated Roadmap
Q3 2019
WINk rebranding
WINk Poker & Sports Launch
"Phase 1" Onboard more blockchain platforms (BTC, ETH, LTC)
User Hierarchy System Release
Acquisition of Gaming Licenses
Q4 2019
"Phase 2" Onboard blockchain platforms (EOS, ERC-20s)
WINk Sports Launch Official Version
Partner with more DApps
Test and Improve User Hierarchy systems
Ecosystem Fund Launch
Q1 2020
Stablecoin Integrations
SDK and API release
Partnerships with portals for Wallets and DApp information websites
Launch Open Platform
Q2 2020
Partnership with Major Traditional Gaming Enterprises
Partnership with European Soccer Clubs
Launch Gaming DApps store
User acquisition through BitTorrent and Opera
TEAM OVERVIEW
B Wong
Head of Project
Masters in Media Management in Hong Kong, ex-Ogilvy
Alex Ye
Head of Operation and BD
Manager of a billion-class entertainment fund at CITIC, engaging with over twenty gaming projects such as Poker Master and Gold Casino
S Tang
Planning Supervisor
Co-founder of a leading publisher of web-based and mobile games
N Yang
Head of Product
Ten years working in Tencent, Weibo and Qunar
Aiden Luo
Operations
Operations Experienced community operator / manager who worked at JoyCrafter and Gameloft
Jacky Li
Head of Technical
Ex-core developer at Baidu, with experience in designing high-concurrency architecture, big data processing, and anti-cheat methods for transaction systems.
JP Shen
Technical Supervisor
Shen has served a number of big gaming names in China as a developer in C/C++, C#, JavaScript, Lua and Solidity
HJ Tan
Technical
4 years of programming experience. Previously a backend developer at LeEco & Alibaba, working in Java, C++, and front-end languages
C Li
Technical
5 years of experience as a developer, utilizingNode.js in a number of large games and E-commerce platforms
MR Lin
Front-end
5 years of front-end experience, ex-Alibaba
XY Liu
Testing Engineer
8 years of experience from Amazon & JD. Specialized in server and mobile testing. Familiar with java, html, css, js, spring, springMVC. Liu has worked in several national large-scale testing projects
XL Li
Smart Contract
Graduate of Central South University. ex-IOST. Experiences in designing and developing dApps and smart contracts, previously helped develop IDEX
JL Lv
DevOps
8 years of experience. Developed a log collection system for Knowbox's livestream statistics as part of their maintenance department
TRADING DATA
Liquidity
WIN token is not actively traded as of publish date of this report - the token will be available through the Binance Launchpad portal.
TECHNICAL OVERVIEW
The team has yet to open source all of its repositories. SDK and APIs for the WINk platform will be released in Q1 2020.
PRODUCT & METRICS
As an early entrant to the trustless & permissionless gaming space, WINk (TRONbet) is currently the highest rankedApp in terms of users, transaction count, and transaction volume, as reported by dApp tracking sites DAppRadar and DappReview.

WINk's daily volume typically averages around $10million USD with over 4,000 daily active users. WINk also boasts strong retention data that will continue to improve as user onboarding is optimized.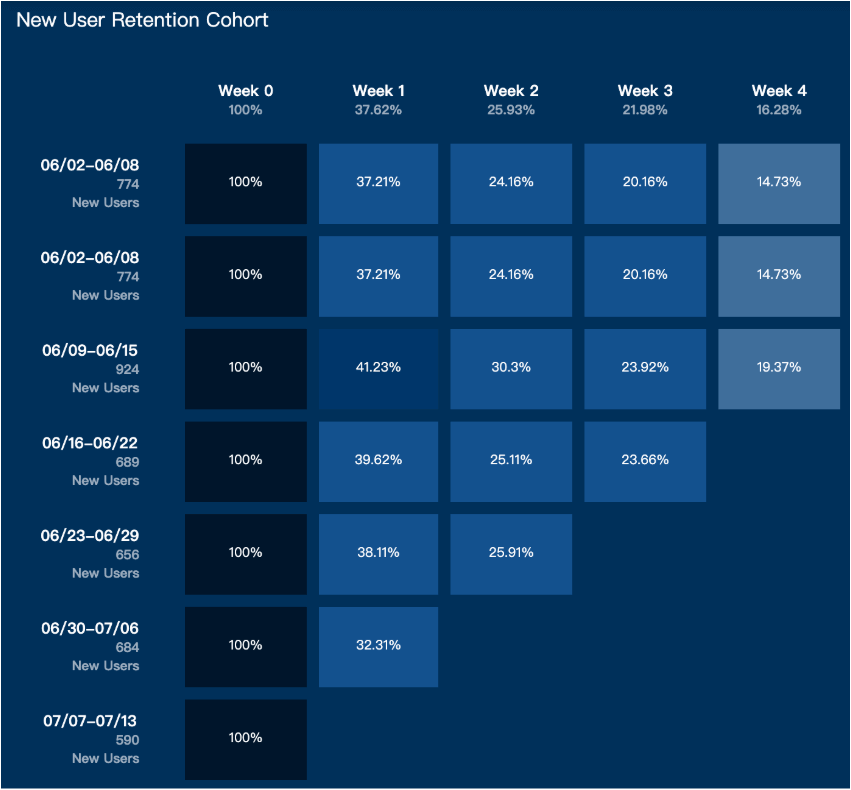 Dice
Dice was the flagship game when the platform first launched in late 2018. Players choose a number and predict whether they will roll over or under.
Moon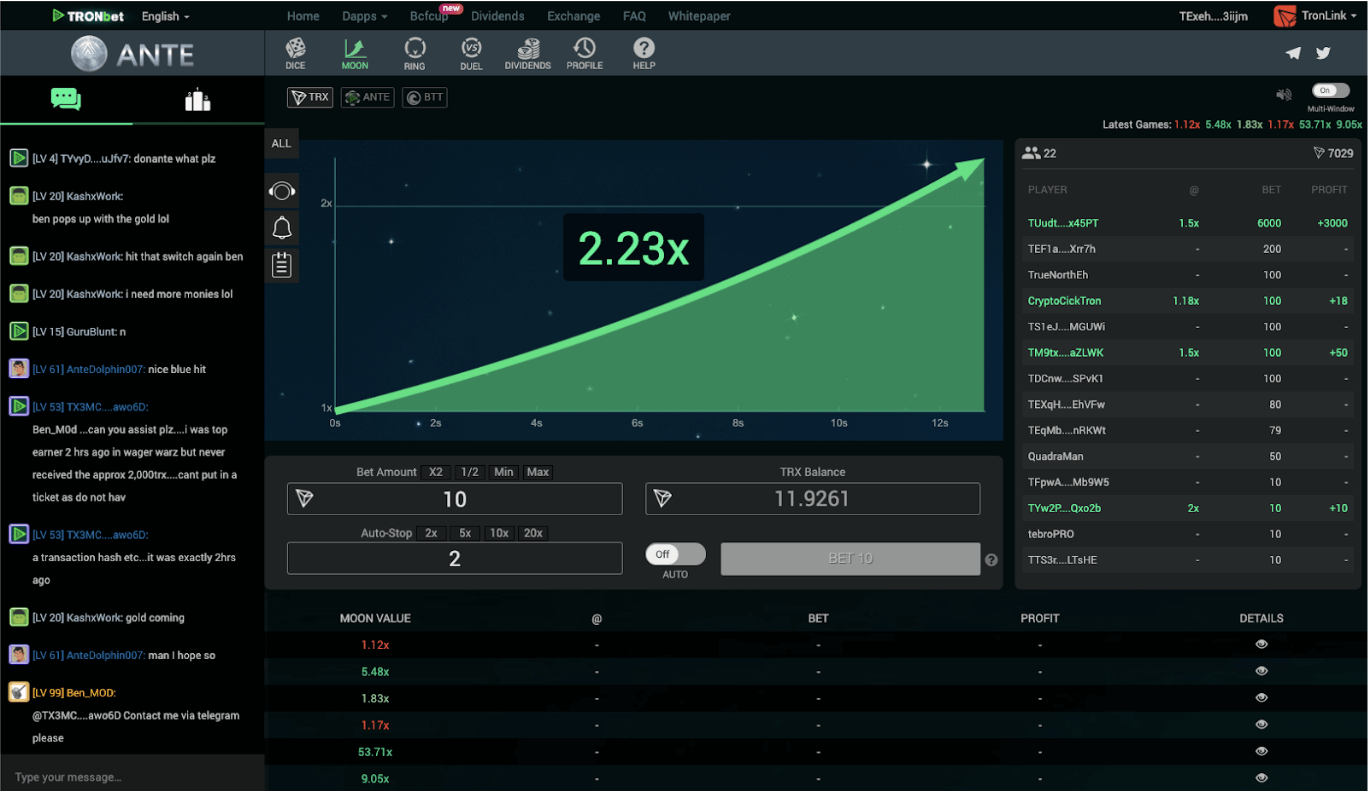 Moon is a game where players are paid based on a multiplier that starts from 1x and can reach highs of over 250x. The multiplier increases steadily, but can crash to zero at any point. Players can cash out at any point in time and receive the multiplier value.
Ring & Duel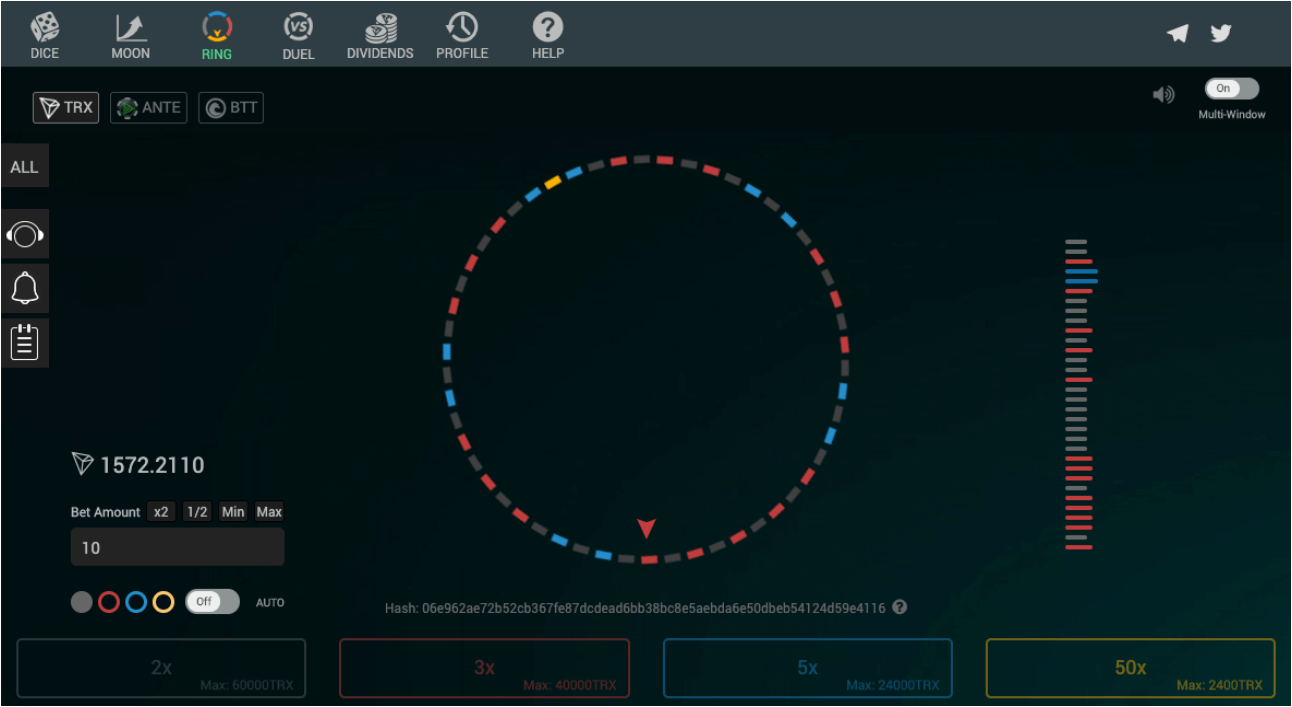 Ring & Duel is a simple and engaging game where players choose which color they predict the wheel will land on - grey rewards 2x the wager, red 3x, blue 5x and gold 50x.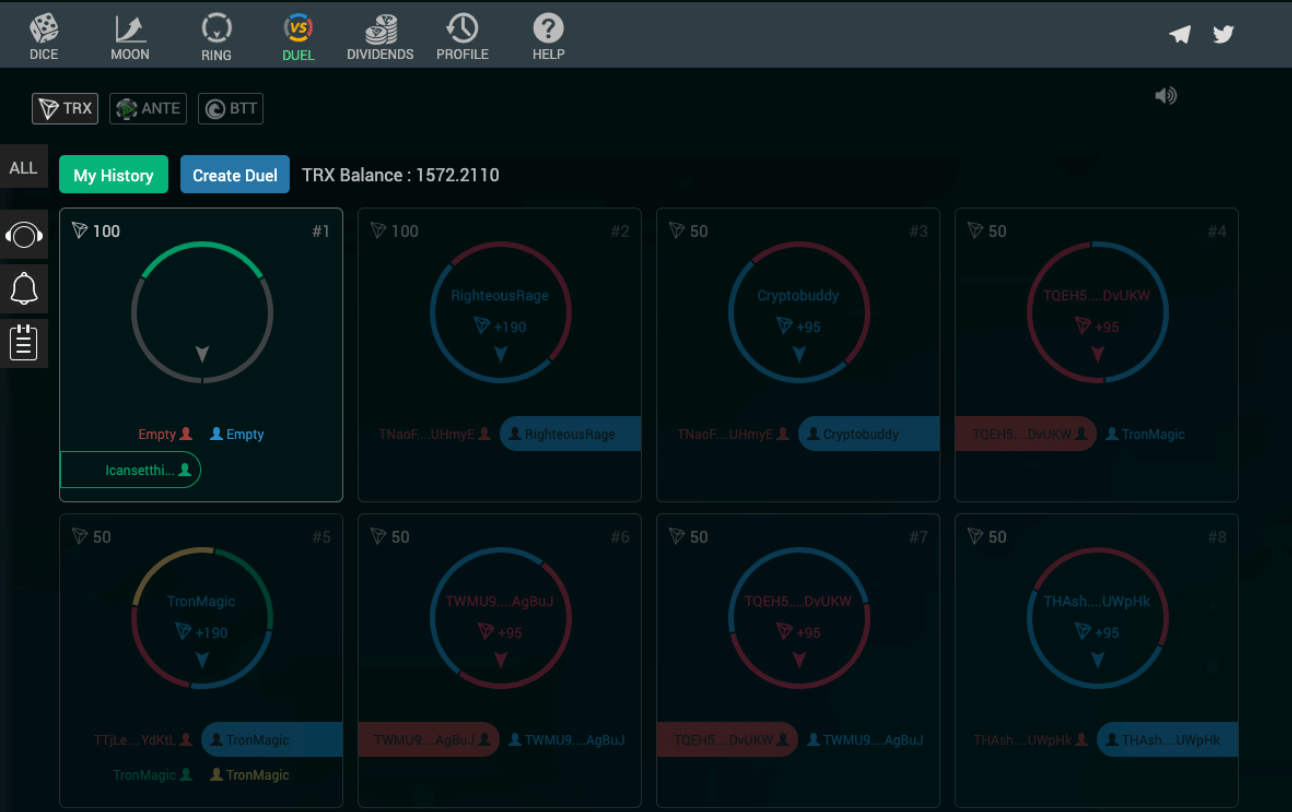 Slots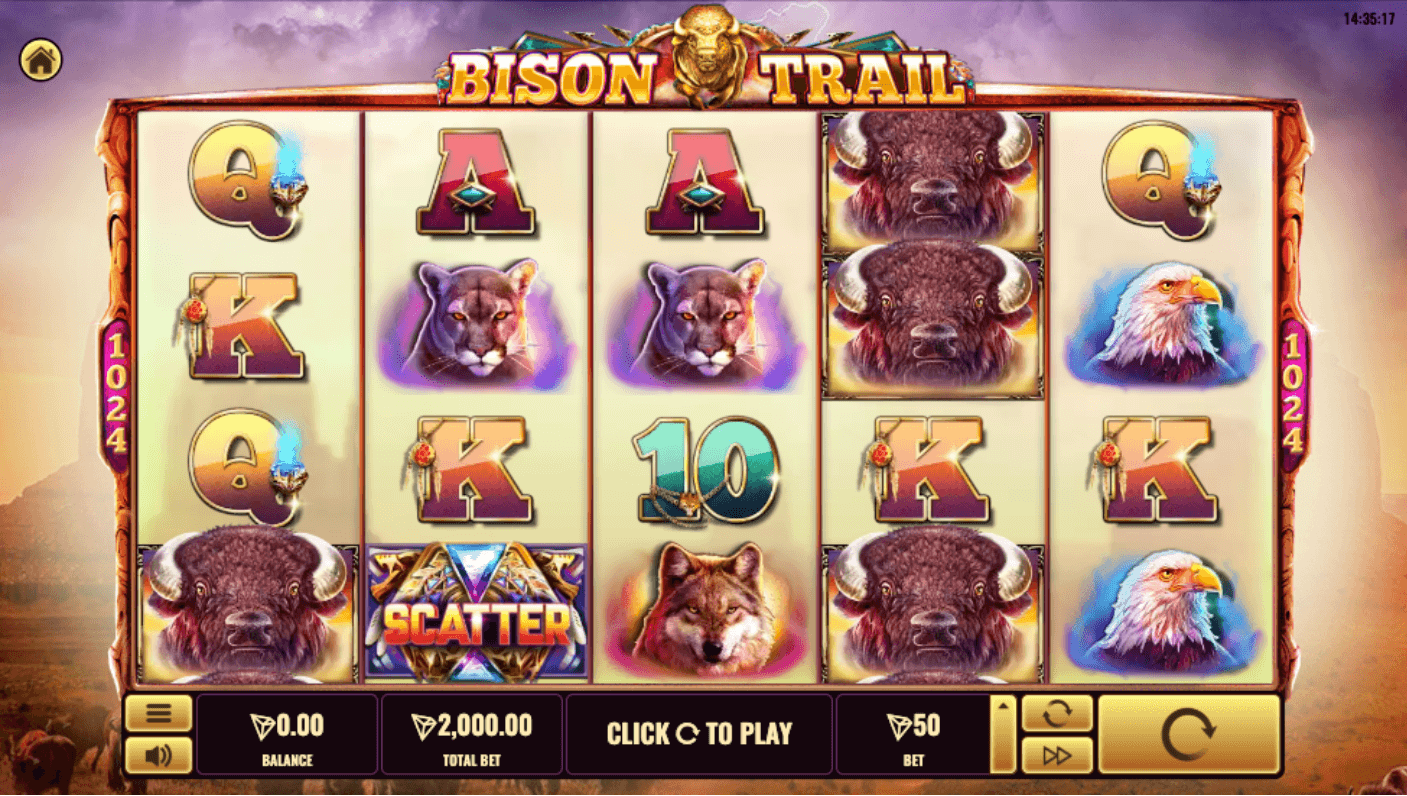 WINk has partnered with premier slot machine developers to deliver a genuine casino experience.
Table Games
The game offers the full suite of table games commonly found in casinos, including blackjack, roulette, baccarat, sic bo, and Russian poker.
Poker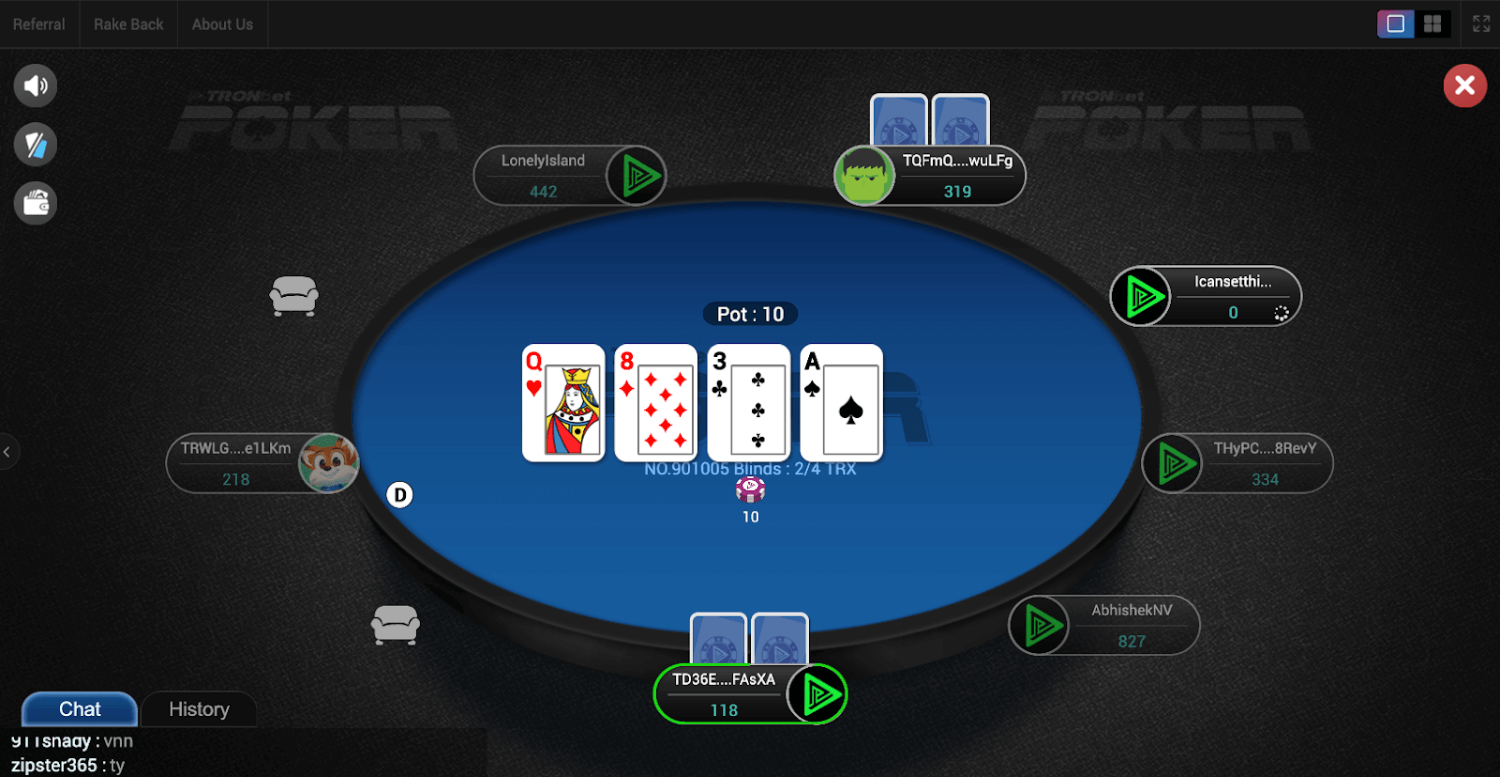 WINk has created an online poker product that combines the benefits of transparent blockchain technology with a seamless user experience.
Blockchain Information
WINk is built on top of the TRON protocol. For more information, please refer to the Blockchain & Network Data section on TRON's Binance Research Report.
WINk boasts one of the largest communities in blockchain, with members actively engaged across multiple social channels. The social elements of WINk's platform has mobilized the gaming community and contributed to repeated engagement and minimal churn.
Engagement
WINk has multiple user acquisition channels given it is deeply embedded within the TRON and Bittorrent communities. With the acquisition of BitTorrent and its 100m MAU user base, TRON currently forms the largest decentralized network in the world. Introducing this pool of users to WINk provides new opportunities to experiment with digital assets and continue to generate widespread adoption of the ecosystem.
WinDrop
WINk will introduce the WinDrop reward distribution mechanism to the community as one of the first community growth strategies. The WinDrop will take place everyday and incentivize ecosystem participants with TRX. The amount of TRX distributed to each user will be proportional to the amount of Win Power they have accrued from staking WIN.
WinDrop will also help 3rd-party DApp tokens capture long-term value by giving players of these projects access to a larger rewards pool. Whether it's an indie project bootstrapping their DApp or a AAA game studio building a blockchain game for the first time, game developers can avoid the complexity of building their own token economy by participating in WinDrop. More details about the WinDrop system will be released in the future.
WIN Token Airdrops
WIN token airdrops act as an additional incentive to attract users and developers to the platform. WINk intends to distribute WIN to holders of TRX, BTT, and many other TRC-based tokens to incentivize their participation. Airdrops will have no unnecessary friction - if users are holding the specified token, they will be eligible for WIN airdrops. All official wallets relaying on TRON's network and carrying the specified tokens will be eligible for WIN airdrops corresponding to the amount they are holding.
Tournaments
The platform will be hosting several tournaments to engage the WINk community and TRON fans in general. Recently, the team hosted the very first Charity Poker Cup together with Binance, TRON, and Litecoin. This event brought together Binance Co-founder & CEO Changpeng Zhao, TRON Founder Justin Sun, Litecoin Founder Charlie Lee, and other leaders from industries including professional basketball, eSports, and entertainment.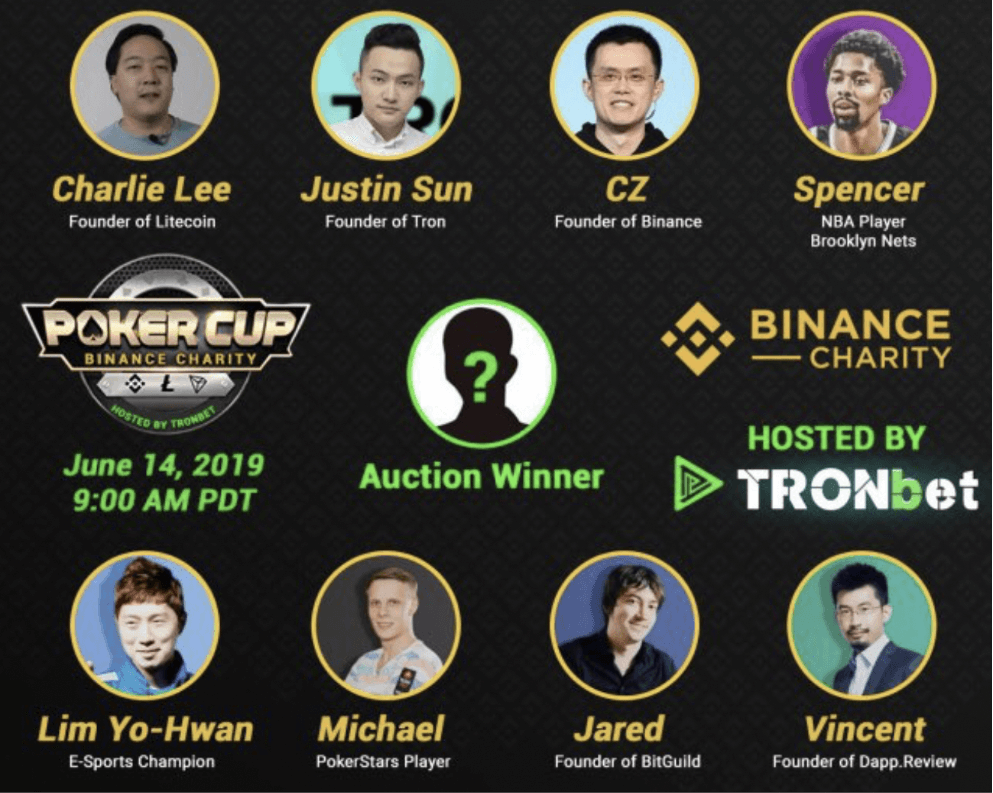 TRON Partnership
The WINk team will be working closely with TRON to leverage all the opportunities TRON's growing ecosystem has to offer. The WIN token will build on top of ANTE's existing demand and liquidity by bringing in stakeholders from TRON, BitTorrent, and other communities across the blockchain. TRON's strong relationships with industry leaders, including the top exchanges, will facilitate WIN's further adoption.
Going forward, TRON will continue adding utility to the network with WINk being one of the earliest adopters.
User acquisition channels: With several upcoming partnerships, TRON will bring DApps to a pool of over 300 million users. Similar to BitTorrent's community, each new partner community will be introduced to blockchain and cryptocurrency through WINk's games.
Decentralized financial products: Integrations for stablecoins, security tokens, microloans, and more will bring new payment possibilities, easier on-boarding, and new forms of value generation.
Decentralized development infrastructure: Integrations with products like the BitTorrent File System (BTFS) and the SUN network will provide new development possibilities for decentralized infrastructure.
Community and Social Channels
Telegram | 7.3K Members
Reddit | 920 Members
Twitter | 9.1K Followers