Troy (TROY)
A Global Prime Broker Specialized in Crypto Trading and Asset Management
KEY METRICS
| Ticker | TROY |
| --- | --- |
| Issue Price | $0.005 |
| Initial Circ. Supply | 1,290,000,000 TROY (12.90%) |
| Total Supply | 10,000,000,000 TROY |
| Project Website | https://troytrade.com/ |
PROJECT OVERVIEW
Troy is a global prime broker specializing in crypto trading and asset management. Troy provides crypto brokerage services for institutional clients and professional traders including spot & margin trading, derivatives, data, custody, lending and staking in a single account.
Troy is building a sustainable network of brokers who delegates customized brokerage services directly to clients in different target regions.
WHAT IS TROY?
Project Mission
Troy provides full-stack crypto financial and brokerage services for institutional clients and professional traders.
Project Value Proposition
Troy provides a uniquely valuable user experience:
Localized brokerage services for different regulatory policies and user habits across geographies.
Diversified cryptocurrency baskets across exchanges also calls for cross-exchange settlement.
Troy aims to build a healthy and sustainable economic model by offering a full stack of integrated crypto trading, custody and asset management services. The revenue model includes:
Trading commissions and fees for settlement and custody services.
Spreads on client's margin financing positions, cash or token financing.
Fees for value-added brokerage services including asset management, automated risk management, data analytics services, etc.
Key Highlights
Aggregated Trading: Troy provides users with full access to the aggregated liquidity of a group of crypto exchanges. Some key functions include smart order routing, flexible account management, dark pools, settlement service and automatic risk management.
Data Analytics: Troy supports customer's decision making with blockchain data, trading data, market data, social data and media data optimized by AI and quantitative models.
Diversified Brokerage Service: Troy offers a range of services including real-time fund transfer and settlement, margin trading, OTC, etc.
Full-Stack Asset Management Solutions: Troy is powered by co-location and low-latency access service to improve high-frequency trading algorithm performance. It also provides exposure to quantitative solutions with straight through processing, precise tick historical data and strategy assessment system.
Token Overview & Use Cases
The TROY token functions as a native utility token of the Troy platform, with potential use cases including:
The means of access to features in Troy Trade as a platform token and will be burnt dynamically by rebalance of supply and demand.
Staking for maintaining global broker-to-broker networks.
TOKEN SALE & ECONOMICS
KEY METRICS
| Token Name | TROY |
| --- | --- |
| Token Type | BEP-2 |
| Private Sale Allocation | 12.00% of tokens |
| Private Sale Token Price | $0.007 / TROY |
| Private Sale Amount Raised | $8.40MM |
| Binance Launchpad Sale Allocation | 8.00% of Tokens |
| Binance Launchpad Sale Price | $0.005 / TROY |
| Amount to be Raised in Binance Launchpad Sale | $4.00MM |
Token Supply Distribution
Private Sale tokens comprise 12.00% of total token supply.
Binance Launchpad Sale tokens comprise 8.00% of total token supply.
Team & Advisors tokens comprise 10.00% of total token supply.
Ecosystem tokens comprise 10.00% of total token supply.
Mining Rewards tokens comprise 60.00% of total token supply.
Private Sale
Conducted in August 2019, for a total raise of ~$8.40MM worth of USDT at ~$0.007 per token, selling 12% of total token supply.
Binance Launchpad Sale Overview
Sale will be conducted in November 2019 for a total raise of ~$4.00MM worth of BNB at ~$0.005 per token, selling 8% of total token supply. TROY/BNB exchange rate will be determined prior to day of sale.
Token Governance & Use of Funds
As of November 2019, Troy has used approximately 10% of TGE funds according to the allocations below:
30% Development
30% Stabilization Fund
20% Ecosystem
20% Compliance
All funds raised in crypto are either self-custodied and stored in multi-sig wallets, requiring at least 2 out of 3 signatures from the management team or are stored with a qualified custodian. Spending of the funds requires approval of the board of directors.
TROY Token Distribution
TROY Token Release Schedule
The following chart represents the number and breakdown of all TROY that are to be released into circulation on a monthly basis.
ROADMAP & PROGRESS
Roadmap & Achievements
| PLANNED DATE | MILESTONE | COMMENTS |
| --- | --- | --- |
| 2019: Q2 | Integrated with 30+ crypto exchanges globally, developed and deployed five new types of quantitative algorithms | N/A |
| 2019: Q2 | Initialized the commercialization of Troy Project, completed product design and identified technical solutions | Project Overview |
| 2019: Q3 | Finished the development of public infrastructure, core multi-account functionality, transactions, wallets, and risk management | Available for clients to use on Website |
| 2019: Q3 | Completed Private Sale | Medium |
| 2019: Q4 | Launched Global Financial Partnership and Ecological Community programs | Medium |
| 2019: Q4 | Launch Troy Trade V1.0 public version | Medium |
| 2019: Q4 | Key features development: Margin Trading/Futures and Derivatives/Quant Strategies | N/A |
Updated Roadmap
Q1 2020
Launch Troy Trade V2.0 public version
Satisfy compliance and regulatory requirements of target regions
Establish strategic partnership with traditional financial firms and brokers
Q3 2020
Launch Broker SaaS Platform
Expand the global introducing broker network and engage in on-boarding introducing brokers partners
Q2 2020
Implement decentralized trading and settlement functions
Develop APIs and adopt off-chain channel techs
Commercial Partnerships and Business Development Progress
TEAM OVERVIEW
TRADING DATA
Liquidity
The TROY token is not actively traded on any exchanges as of the published date of this report. The token will be available through the Binance Launchpad portal.
TECHNICAL OVERVIEW
Github Overview
Troy currently has 14 Private Github repositories.
Private Github Repositories
PRODUCTS & METRICS
Through a microservice and distributed architecture, stability, scalability, and security of the system can be guaranteed. Troy is divided into several core subsystems, each subsystem runs independently and can call one another. Main subsystems includes user subsystem, market subsystem, market subsystem, trade subsystem, management subsystem, gateway subsystem, common components, etc. The trade subsystem is the core subsystem, which contains the order transaction module, asset accounting module and scheduled scheduling, etc.
Users can create their new trading accounts on the Troy Trade platform with full functions of depositing, withdrawing and transferring their crypto assets. Users can also choose to link their existing trading accounts on crypto exchanges to Troy via APIs. Additionally, users can authorize other users to trade on their accounts. All authorization and management of accounts can be monitored by account owners using the risk management module.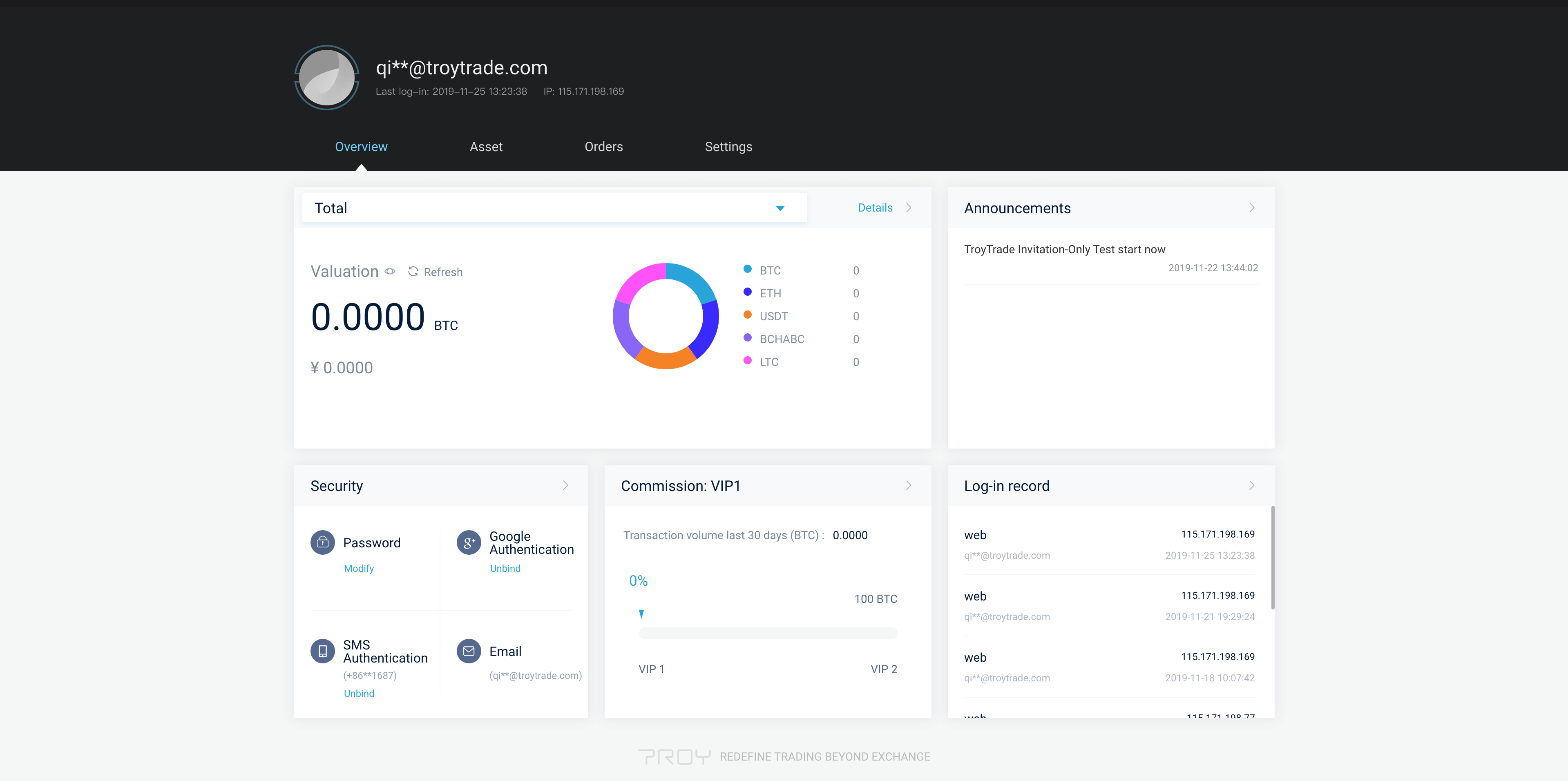 In the trading interface, users can easily toggle between different accounts and execute cross-exchange trades. On the same page, the data monitoring and strategy trading panels enable users to observe real-time market changes and leverage the mainstream trading execution algorithm to improve trading efficiency.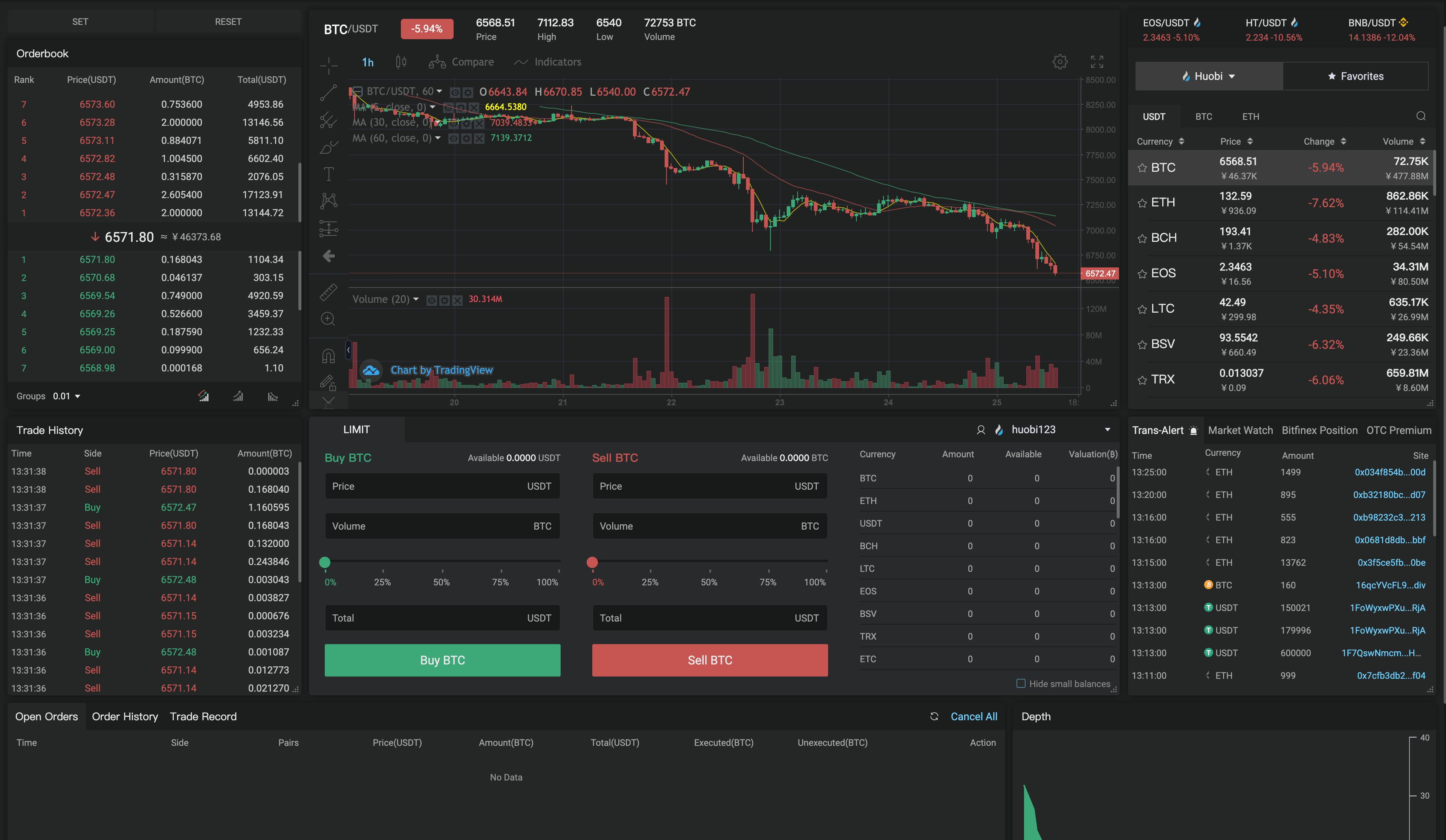 Data analysis module provides users access to data of all the top-ranked exchanges, including spot trading, margin trading, and onchain data.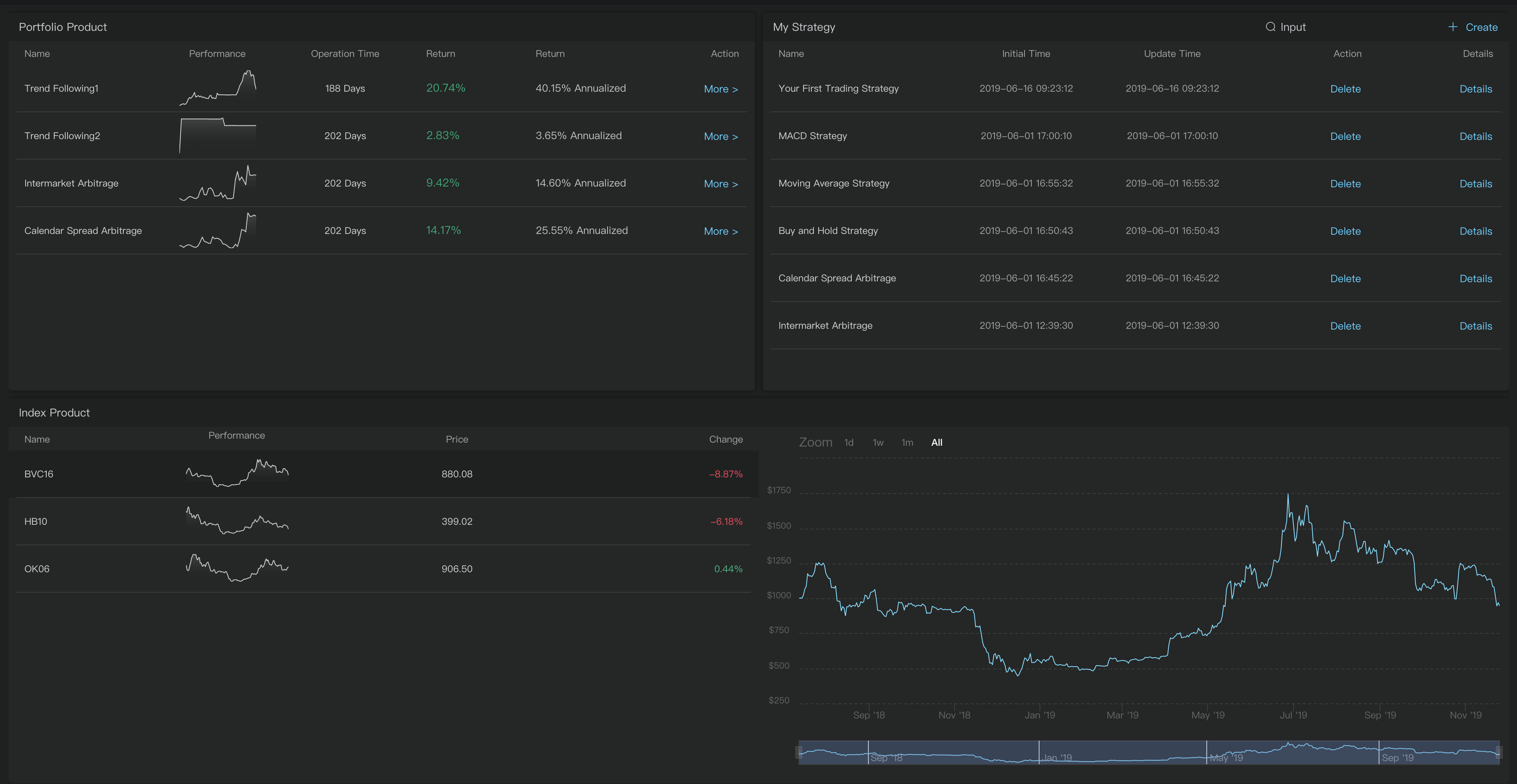 Troy's max average daily trading volume during this period reached ~$100 million, and the number of max daily orders executed was ~$2 million.
In the beginning, Troy will mainly focus on the Asian market, including Japan, Korea, China, Singapore and other south Asian countries. Troy will continue to expand into other regions as the ecosystem grows.
Troy's community mainly consists of:
Crypto Investors & Traders: The direct user base of Troy.
Brokers: Brokers of Troy which build the global broker network for settlement.
Stakers & Relayers: Responsible for updating and locking orders in the network as ordinary nodes and supernodes.
Exchanges: The providers of crypto assets, liquidity and custody service.
Ecological Partners: Blockchain projects and reputable financial firms that contribute their resources to the Troy ecosystem.
Troy's current community growth strategies include:
Media exposure: Troy will release additional articles on Forbes, The Block, CoinDesk, CoinTelegraph and many other leading media channels.
Multi-party partnership programs: Troy has announced the Global Financial Partnership Program and Global Ecological Community Program to accelerate the development of the platform.
Bounty program and ambassador program: Troy has announced the Troy Token Challenge and Troy Hercules Ambassador Program to increase more crypto user base and promote the project.
Troy's future community growth strategies include:
Incentive mechanism: Troy will explore multiple incentive mechanism to attract users. Methods includes mining rewards, staking rewards, token burns, etc.
Product-oriented integration partnerships: Troy will integrate with liquidity providers, wallets, and exchanges to expand user bases and distribute TROY tokens.
License applications and acquisitions: Troy will open more fiat channels for customers, including KRW, JPY, USD and EUR, etc.
Community and Social Channels
Troy community and social channels stats as of Nov 25, 2019
Telegram | 27.3K Members
Telegram Announcement | 5.4K Members
Twitter | 2.2K Followers
Medium

APPENDIX
Advisors
Documents
AMAs & Videos