TomoChain (TOMO)
The efficient blockchain powered by Proof of Stake Voting
KEY METRICS
| Ticker | TOMO |
| --- | --- |
| Price | $0.4625 (4,552 sats) |
| 24H Mkt. Cap ($MM) | $28.83MM |
| 30 Day Avg. Mkt. Cap ($MM) | $31.56MM |
| 24H Volume ($MM) | $1.22MM |
| 30 Day Avg. Volume ($MM) | $2.03MM |
| Circ. Supply | 62,365,000 (62.37%) |
| Total Supply | 100,000,000 TOMO |
| All-time High USD | $2.09 (4 May 18) |
| All-time High BTC | 21,449 sats (4 May 18) |
| Project Website | https://tomochain.com/ |
PROJECT OVERVIEW
Raised $9.3MM via private & public token sales from September 2017 to March 2018
Public blockchain network which aims to achieve scalability while maintaining decentralization
Utilizes Proof of Stake Voting ("PoSV") to incentivize token-holders to play an active part in staking
RECENT NEWS
August 2019: Mainnet launch for TomoZ, an on-chain protocol that allows users to pay transaction fees with TRC-21 tokens
June 2019: A cross-chain bridge was created to bring TOMO tokens to Binance Chain
May 2019: Constant, a P2P lending platform, announces support for TOMO tokens
May 2019: Partnership with Contentos to explore decentralized advertising
April 2019: Release of TomoChain Client v1.4
KEY HIGHLIGHTS
PoSV Consensus: A Proof of Stake based blockchain protocol with a fair voting mechanism, rigorous security guarantees and fast finality.
Double Validation: When a block is created by a masternode, it must be verified by another masternode that is randomly selected before being added to the blockchain.
TomoZ: Zero friction protocol which allows users to pay transaction fees with TRC-21 tokens.
TomoX: A secure and efficient relayer-masternode decentralized cryptocurrency exchange protocol.
WHAT IS TOMOCHAIN?
TomoChain is a public blockchain which aims to achieve high transaction speeds without compromising decentralization. TomoChain does this by utilizing a consensus method called Proof of Stake Voting ("PoSV") which incentivizes token-holders to play an active part in staking across a network of 150 masternodes, and to monitor their performance and governance actively.
Project Mission
TomoChain's vision is to become the infrastructure of choice for the next-generation of global open finance. TomoChain aims to be a strong contender to attract further financial innovations in the crypto finance industry.
Project Value Proposition
With its PoSV consensus mechanism, TomoChain provides a much faster and cheaper way to build financial dApps and issue tokens, while keeping the network decentralized and secure.
TOKEN SALE & ECONOMICS
KEY METRICS
| Token Name | TOMO |
| --- | --- |
| Token Type | Native and BEP2 |
| Seed Sale 1 Allocation | 15.65% of total supply |
| Seed Sale 1 Price | 0.125 USD |
| Seed Sale 1 Date | September 2017 |
| Amount Raised in Seed Sale | 1,956,250 USD |
| Private Sale Allocation | 31.45 % of total supply |
| Private Sale Price | 0.20 USD |
| Private Sale Date | February 2018 to March 2018 |
| Amount Raised in Private Sale | 6,290,000 USD |
| Public Sale Allocation | 4.00% of total supply |
| Public Sale Price | 0.25 USD |
| Public Sale Date | 1st March 2018 |
| Amount Raised in Public Sale | 1,000,000 USD |
| Circ. Supply | 62,365,000 (62.37%) |
| Total Supply | 100,000,000 TOMO |
Token Supply Distribution:
Seed Sale tokens comprise 15.65% of total token supply.
Private Sale tokens comprise 31.45% of total token supply.
Public Sale tokens comprise 4.00% of total token supply.
Team & Advisors tokens comprise 15.90% of total token supply.
Token Treasury tokens comprise 16.00% of total token supply.
Mining Rewards tokens comprise 17.00% of total token supply.
Seed Sale Overview
The Seed Sale was conducted in September 2017 for 0.125 USD / TOMO at an average rate of 1,000 USD = 1 ETH and raised a total of 1,956,250 USD, for 15.65% of the total token supply. The Seed Sale was conducted in ETH and USD, and raised a total of 1,561.25 ETH and 395,000 USD.
Private Sale Overview
The Private Sale was conducted from February to March 2018 for 0.20 USD / TOMO at an average rate of 850 USD = 1 ETH and raised a total of 6,290,000 USD, for 31.45% of the total token supply. The Private Sale was conducted in ETH and USD, and raised a total of raised a total of 7,058.8 ETH and 290,000 USD.
Public Sale Overview
The Public Sale was conducted on 1st March 2018 for 0.25 USD / TOMO at an average rate of 800 USD = 1 ETH and raised a total of 1,000,000 USD, for 4% of the total token supply. The Public Sale raised a total of 1,250 ETH.
Token Governance & Use of Funds
As of August 2019, TomoChain has used approximately 50% of TGE funds according to the allocations below:
50% Product and engineering
30% Marketing and business development
20% Administration
TomoChain holds most of its funds in multi-sig wallets. Unlocking funds would require the approval of 2 high-level managers.
TOMO Token Release Schedule
The following chart represents the number and breakdown of all TOMO tokens that are to be released into circulation on a monthly basis.
TOMO Token Overview & Use Cases
TOMO is the native cryptocurrency of TomoChain and will be the reserve cryptocurrency for all third-party dApps running on TomoChain. Being the protocol token for the TomoChain infrastructure, TOMO will be needed by all parties utilizing TomoChain to build dApps or issue and integrate cryptographic tokens into their dApps.
In addition to the above, TOMO tokens will also be used as:
Funding for the development of TomoChain and its ecosystem (TomoScan, TomoMaster, TomoWallet, etc.)
Reward to incentivize the building of the TomoChain engine/ecosystem
Decentralized governance instrument of the TomoChain network
ROADMAP & UPDATES
Original Roadmap & Achievements
| PLANNED DATE | MILESTONE | ACTUAL DATE | TIMING | COMMENTS |
| --- | --- | --- | --- | --- |
| 2018: Q1 | TomoChain Testnet 1.0 | 2018: Q1 | On time | This testnet was deployed in TomoChain's private github |
| 2018: Q3 | TomoChain Testnet 2.0 | 2018: Q3 | On time | Medium |
| 2018: Q4 | TomoChain Mainnet | 2018: Q4 | On time | Medium |
| 2019: Q3 | TomoZ Public Testnet | 2019: Q3 | On time | Medium |
| 2019: Q3 | TomoZ Mainnet | 2019: Q3 | On time | Medium |
Updated Roadmap
Real-time updates of work in progress can be found here.
Commercial Partnerships and Business Development Progress
TEAM OVERVIEW
TRADING DATA
Liquidity
TOMO is currently trading on ~10 markets, according to Coinmarketcap. Core trading pairs are TOMO/BTC, TOMO/ETH, TOMOB/BNB, and TOMO/USDT.
TECHNICAL OVERVIEW
Github Overview
TomoChain has a total of 74 public and private repos.
Key Public Github Repositories
Key Private GitHub Repository
Mobile Wallet for iOS platform
1 Contributors
134 commits

Mobile Wallet for Android platform
6 Contributors
883 commits
PRODUCTS & METRICS
Popular dApps running on TomoChain includes the following:
TomoMaster
TomoMaster is the staking governance dApp of TomoChain, which allows TOMO holders to apply for masternode candidates, or to vote/stake for candidates by using Ledger, TomoWallet, Metamask, and TrustWallet.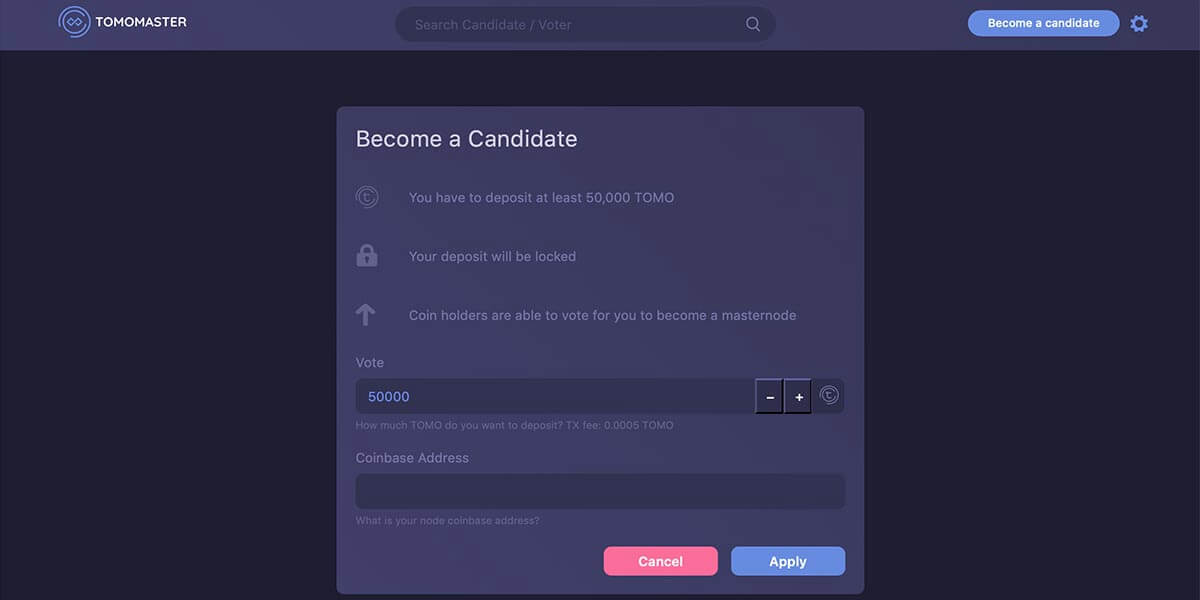 TomoSwap
TomoSwap is a decentralized exchange platform on TomoChain. TomoSwap will be the transactional layer that allows assets on TomoChain to be converted and transferred seamlessly between users and dApps.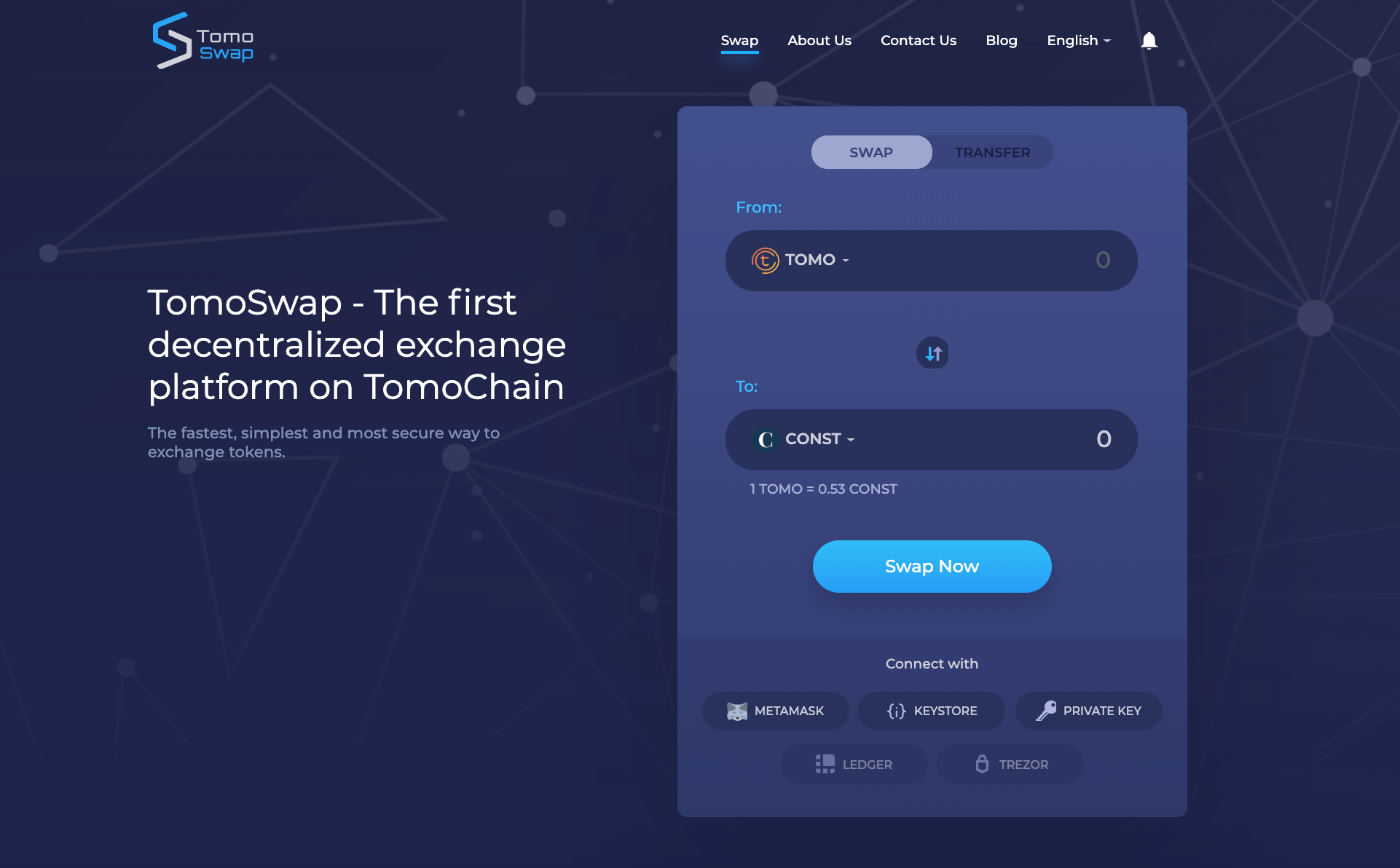 TomoStats
TomoStats shows the various metrics regarding the blockchain network including the current number of masternodes, masternodes performance, TPS, block-time, confirmation time, finality and other metrics.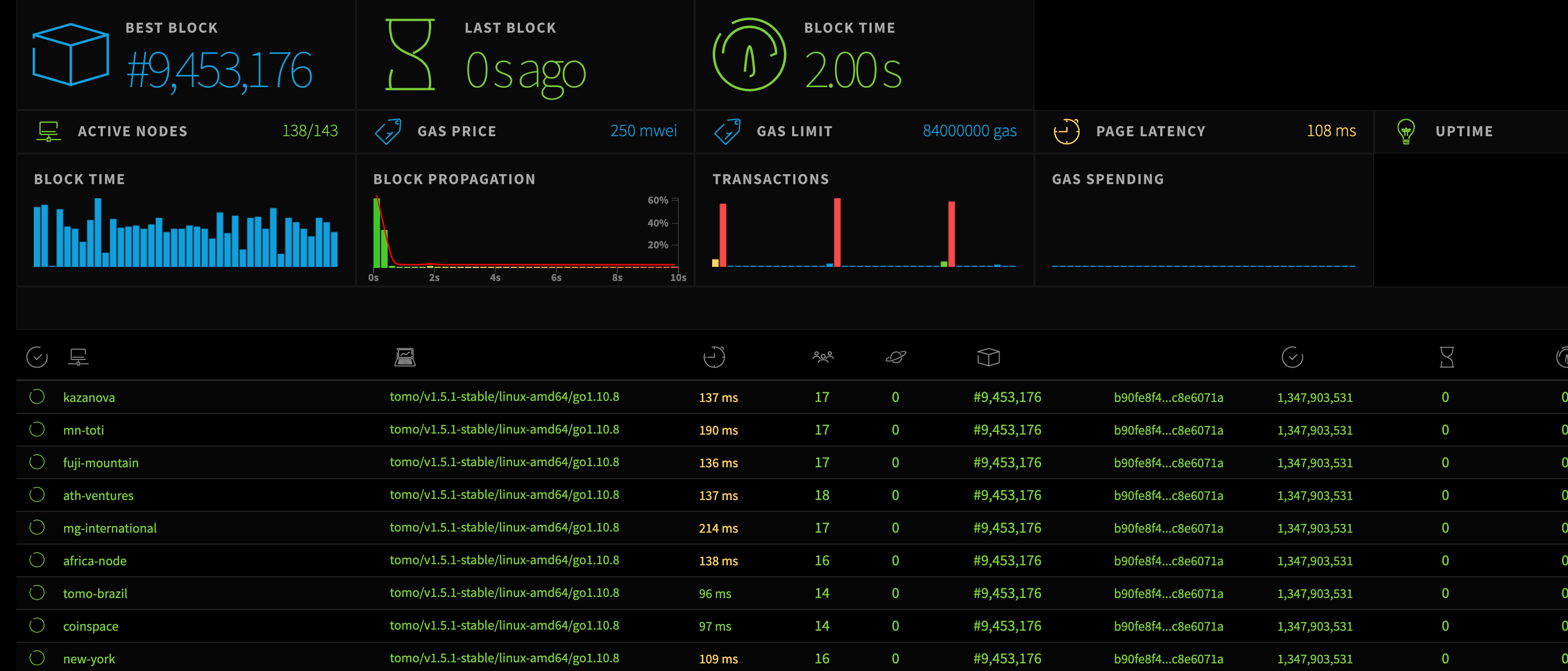 TomoWallet
TomoWallet is the official mobile wallet of TomoChain. TOMO token holders can use TomoWallet to store TOMO, vote for masternodes, track rewards and play with dApps on TomoChain.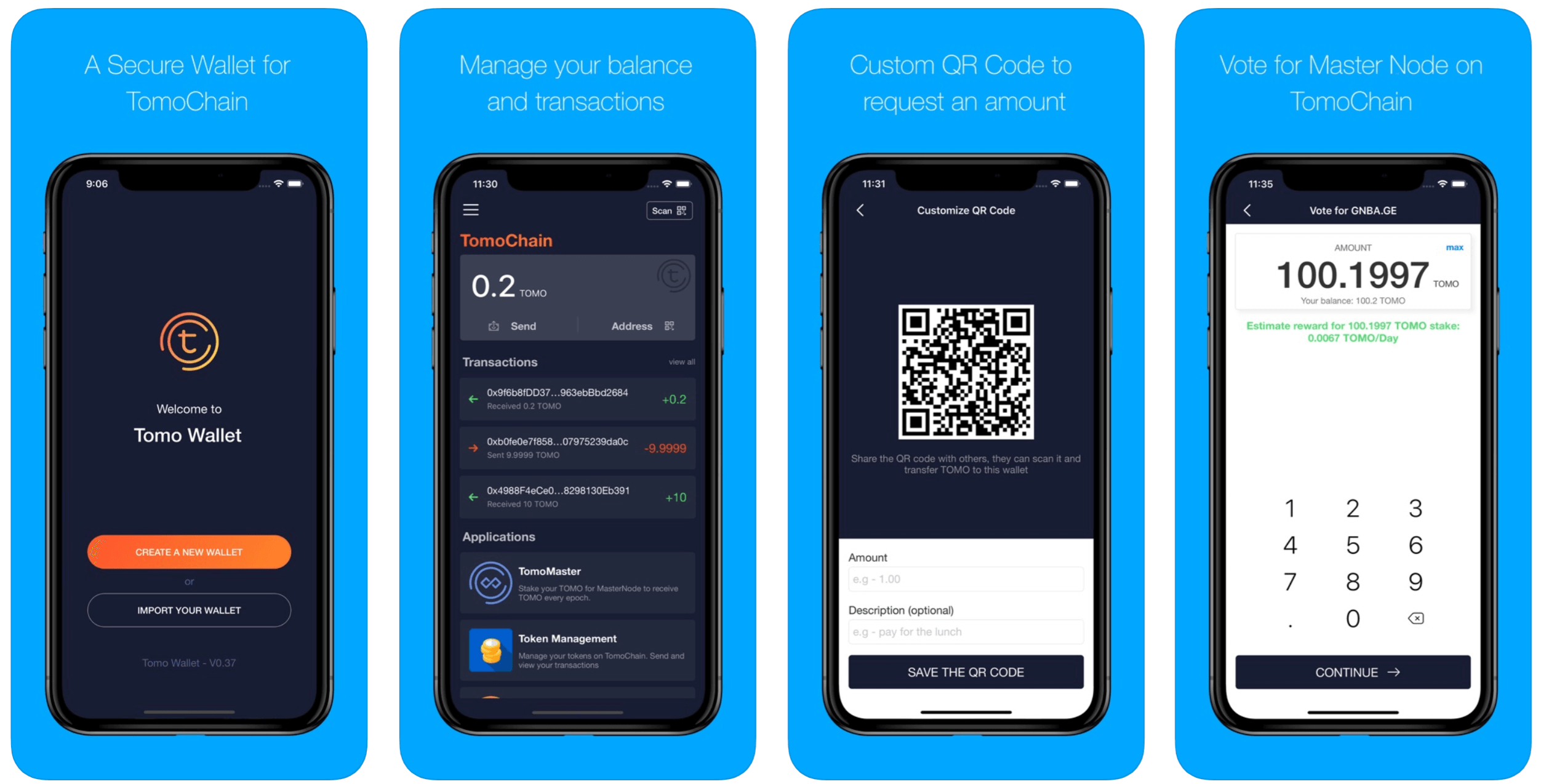 TomoZ
TomoZ is an on-chain protocol that allows users to pay transaction fees with the same token the user is transferring.

Triip Protocol
The Triip dApp allows users to earn TIIM tokens, the native token for Triip Protocol issued on the TomoChain blockchain, in exchange for providing travel plans and submitting travel proofs. Travelers can register a Triip Protocol profile and plan trips without revealing personal information. After submitting travel plans, the user will receive rewards in TIIM. The user can then spend TIIM tokens on travel deals and offers.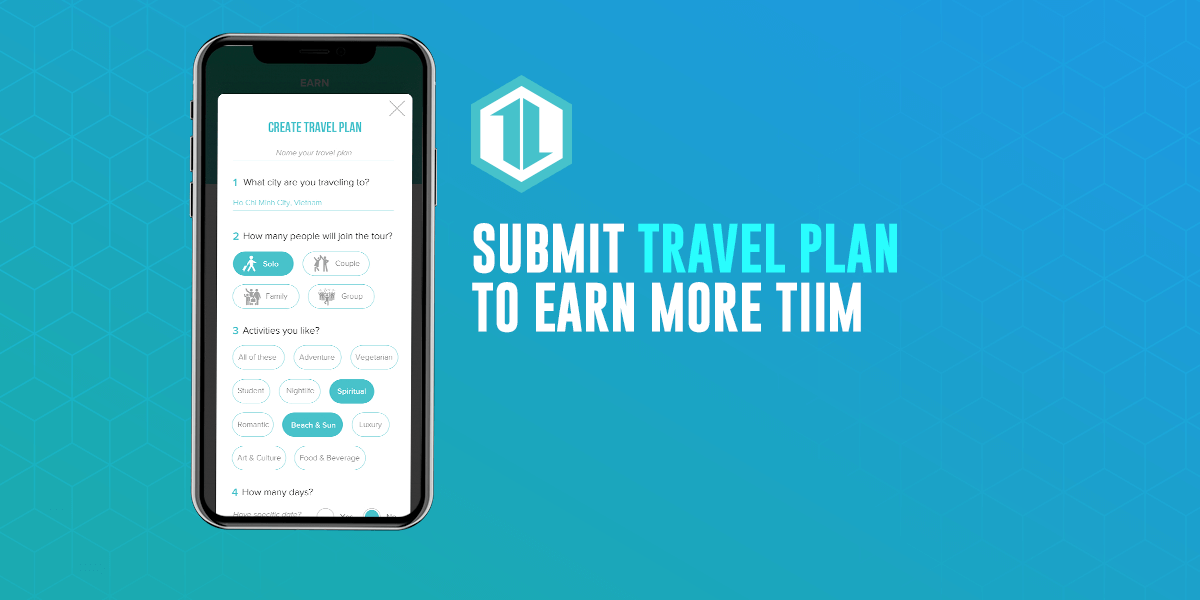 BLOCKCHAIN & NETWORK DATA
Masternodes
The TomoChain blockchain is produced and maintained by a maximum of 150 masternodes in a consistent manner through PoSV consensus mechanism. Masternodes store the entire blockchain state, propose blocks, and are required to lock up at least 50,000 TOMO tokens. Masternodes are selected by voting, which is done through the TomoMaster dApp.
Reward Mechanism
Since the block rewards in the Tomochain network is evenly distributed for each block regardless of the amount of stake a masternode might have, for each 900 blocks, a checkpoint block is created which contains no transactions and only rewards. To claim the rewards, the masternodes have to to scan all of the created blocks in this 900 blocks and count the number of signatures. The higher number of signatures one masternode has made, the more reward he earns out of this reward block.
Rewards in this reward block are distributed in the following manner:
Infrastructure Reward: 40% of rewards goes to masternodes.
Staking Reward: 50% of rewards goes to the pool of all voters. A voter will receive reward proportional to the amount of work the masternode he voted for has done over the last 900 blocks.
Foundation Reward: 10% of rewards goes to a special account controlled by the Masternode Foundation, a decentralized autonomous organization. The Masternode Foundation will be set up in 2020. All Foundation rewards will not be used until that time.
Double Validation Process
Similar to existing PoS-based blockchains, in the TomoChain network each block is created by a block producer (masternode). However, under PoSV consensus mechanism, TomoChain requires the signatures of two masternodes on a block in order to push a block to the blockchain. One masternode will be the block creator, the other masternode will be randomly selected to validate the block produced by the former masternode.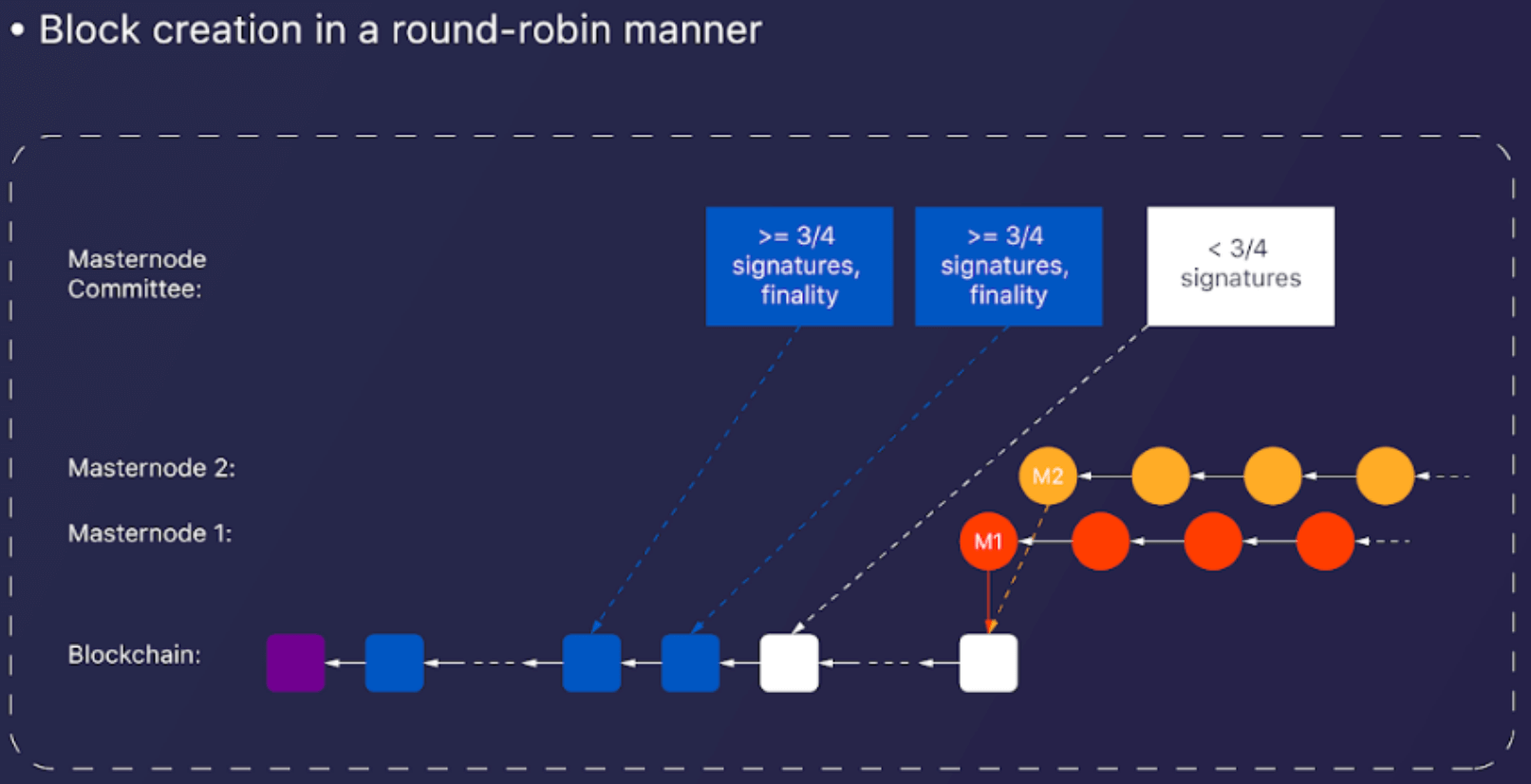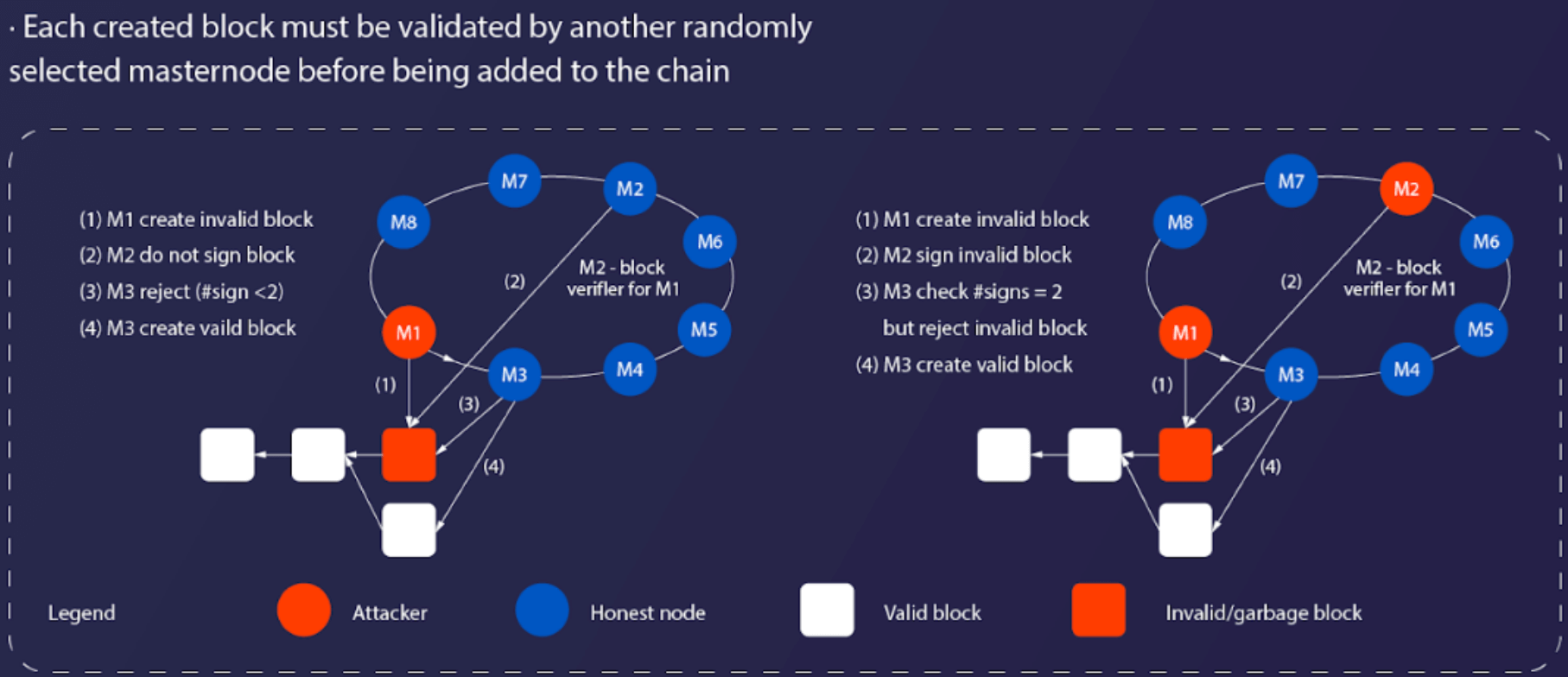 TomoChain aims to use this Double Validation technique to enhance the stability of the blockchain by diminishing the probability of producing "garbage" blocks while maintaining system security and consistency.
The following graph is a high-level demomstration of the TomoChain network: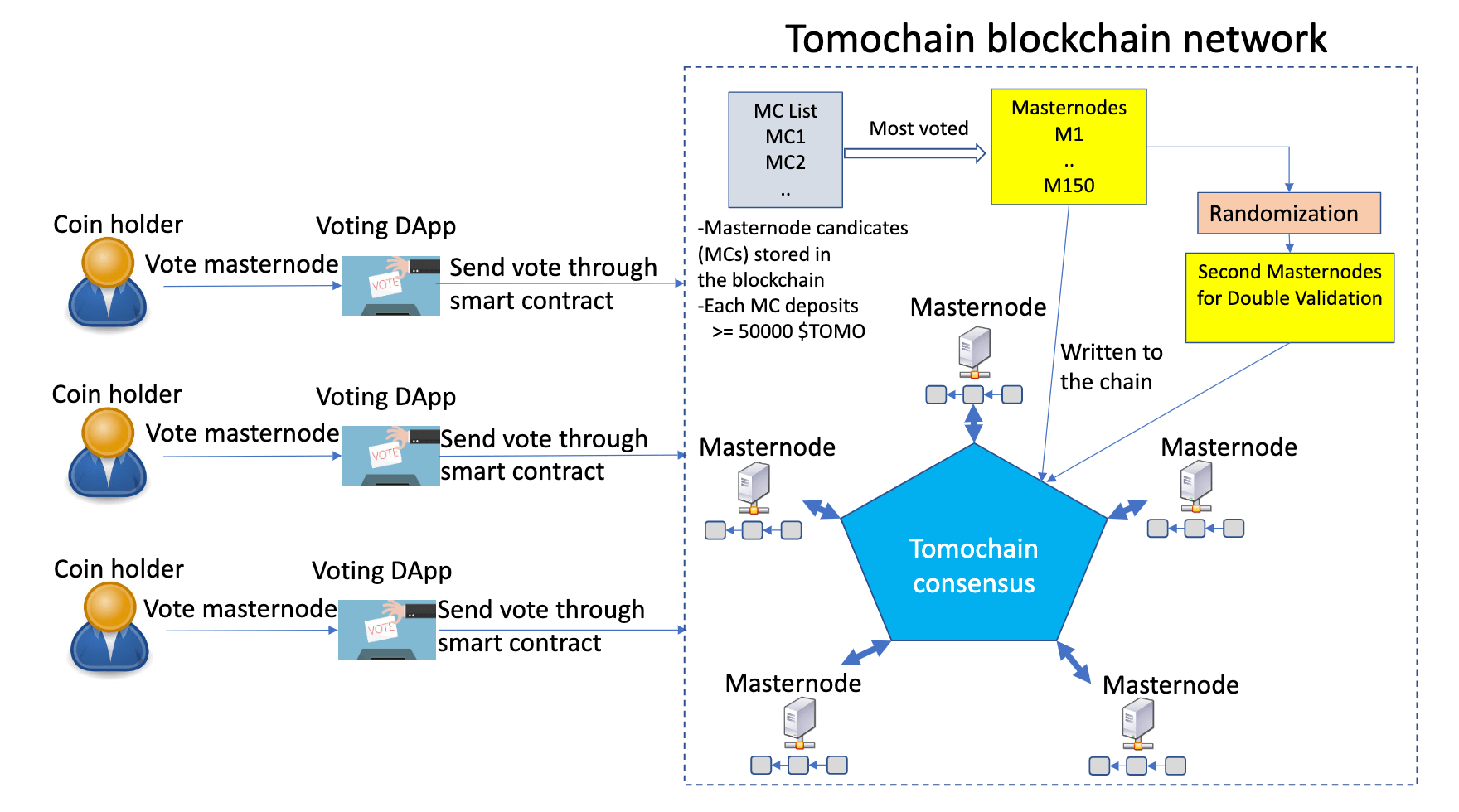 For developers, the TomoChain team focuses on growing the community by actively reaching out and educating developers about the benefits of the platform. TomoChain incentivizes developers to build dApps on its blockchain through a wide range of initiatives including hackathons, developer meetups, online/offline developer training courses, creating a developer portal with detailed documentation and tools, partnerships with top tech universities, etc.
For non-technical users, the team frequently connects with the community through daily announcements of news and events, weekly updates, monthly updates, monthly AMA series and offline meetups. The team also runs engagement activities such as games, challenges, and giveaways campaigns.
TomoChain's community is spread globally, with US, Germany, Japan, and Vietnam being the main user bases.
Community and Social Channels
Telegram (English) | 10.3K Members
Telegram (Japanese) | 478 Members
Telegram (Vietnamese) | 1K Members
Twitter (English) | 16.4K Followers
Facebook (English) | 7.6K Subscribers
Facebook (Vietnamese) | 2.1K Followers
Reddit | 1.3K Members
Medium (English)

APPENDIX
Advisors