THETA Network (THETA)
End-to-End Infrastructure for Decentralized Video Streaming
KEY METRICS
| Ticker | THETA |
| --- | --- |
| Price | $0.1275 (3,269 sats) |
| 24H Mkt. Cap ($MM) | $127.53 MM |
| 30 Day Avg. Mkt. Cap ($MM) | $107.16 MM |
| 24H Volume ($MM) | $17.96 MM |
| 30 Day Avg. Volume ($MM) | $15.98 MM |
| Total Supply | 1,000,000,000 THETA |
| All-time High USD | $0.29 (30 May 18) |
| All-time High BTC | 4,866 sats (10 Mar 19) |
| Project Website | https://www.thetatoken.org/ |
KEY HIGHLIGHTS
Raised $20.0MM via private token sales in 2017
Facilitated more than 500,000 sessions of video streaming on SLIVER.tv by incentivizing users to share computing and bandwidth resources as caching or relay nodes
Utilizes Aggregated Signature Gossip Scheme to reduce communication overhead
Mainnet launches on 15 March 2019
RECENT NEWS
Feb 2019: Theta wallet released for Android and iOS with Mainnet swap support
Dec 2018: Theta testnet Phase II complete
Dec 2018: Theta Network partners with Korean video platform Pandora.tv
Nov 2018: Theta mainnet source code and new whitepaper release
Nov 2018: Theta Labs announced launch of test channel with Korean cable news network Maeil Broadcasting Network ("MBN")
Aug 2018: Theta announced the initial results of its testnet
Jun 2018: Theta Labs announces a $2MM dApp Development Fund to support developers on Theta Network
WHAT IS THETA?
Theta Network ("Theta" or "the Project") aims to create a more efficient way to deliver all types of content and data in an incentivized, global, peer-to-peer mesh network.
The tokens on the Theta blockchain are used as an incentive to encourage individual users to share their redundant computing and bandwidth resources as caching or relay nodes for video streams.
This design aims to improve the quality of stream delivery and solves the "last-mile" delivery problem - the main bottleneck for traditional content delivery pipelines, especially for high resolution high bitrate 4k, 8k and next generation streams.
With sufficient network density, the majority of viewers will pull streams from peering caching nodes, allowing video platforms to significantly reduce content delivery network ("CDN")costs. By introducing tokens as an end-user incentive mechanism, the Theta Network aims to allow video platforms to deepen viewer engagement, drive incremental revenues, and differentiate their content and viewing experience from their competitors.
Key Features of Theta Network
Multi-Level Byzantine Fault Tolerant ("BFT"): A modified BFT consensus mechanism which allows thousands of nodes to participate in the consensus process, while supporting high transaction throughput (1,000+ TPS).
Resource Oriented Micropayment Pool: An off-chain "Resource Oriented Micropayment Pool" that is purpose-built for video streaming. It aims to allow a user to create an off-chain micropayment pool that any other user can withdraw from using off-chain transactions, and is double-spend resistant.
Aggregated Signature Gossip Scheme: Theta proposes an Aggregated Signature Gossip Scheme which significantly reduces communication overhead and messaging complexity.
TOKEN SALE & ECONOMICS
KEY METRICS
| Token Name | THETA |
| --- | --- |
| Token Type | ERC-20 at TGE |
| Private Sale Allocation | 30% of Total Supply |
| Token Sale Date | 26 Sep 2017 to 27 Dec 2017 |
| Token Sale Price | $0.067 |
| Amount Raised | $20.0MM |
| Total Supply | 1,000,000,000 |
Token Supply Distribution:
Private sale tokens made up 30% of total token supply.
Team was allocated 7.49% of total tokens issued (unlocked in Jan 2019).
Advisors received 1.23% of issued tokens.
Partners received 12.5% of issued tokens.
Network Seeding received 12.5% of issued tokens.
Labs Reserves constitutes 36.28% of issued tokens.
Private Token Sale:
Conducted on 26 Sep 2017 to 27 Dec 2017 for 300,000,000 THETA and raised a total of $20.0MM at ~$0.067 per token, selling 30% of total token supply.
Token Governance
Theta's tokens are held at the corporate level and governed by the Theta Labs board of directors. All tokens are held in cold storage in hardware wallets.
THETA Token Release Schedule
The following chart represents the number and breakdown of all THETA tokens that are to be released into circulation on a monthly basis.
THETA Token Overview & Use Cases
THETA Token Utility:
Validator nodes (block production) or Guardian nodes (block finalization) can stake THETA tokens, and can earn TFUEL (the 2nd token in Theta ecosystem) as a reward.
THETA is the governance token of the protocol, so it represents voting share on protocol decisions, upgrades, and more.
TFUEL Token Utility:
TFUEL is used as the "gas" of the Theta protocol, and is used to pay for transactions and (in the future) smart contract deployment and operations.
It is also the currency of microtransactions for users to pay relayers for videos shared with them.
ROADMAP & UPDATES
THETA has been on time for most communicated milestones. The team explains the two late milestones as impacted by the partnerships with Samsung VR, MBN, and CJ Group, which were very resource-demanding.
| PLANNED DATE | MILESTONE | ACTUAL DATE | TIMING | COMMENTS |
| --- | --- | --- | --- | --- |
| 2018: Q1 | Integration with SLIVER.tv platform | 2018: Q1 | On time | Medium |
| 2018: Q2 | Theta testnet launched | 2018: Q2 | On time | Medium |
| 2018: Q2 | Users sharing bandwidth via Theta protocol on SLIVER.tv | 2018: Q2 | On time | Medium |
| 2018: Q3 | Theta channel on 3rd party (Samsung VR) | 2018: Q3 | On time | Medium |
| 2018: Q4 | Theta channel on 3rd party (MBN) | 2018: Q4 | On time | Medium |
| 2018: Q4 | Release of Theta wallet | 2019: Q1 | Late | Medium |
| 2018: Q4 | Launch Theta mainnet | 2019: Q1 | Late | Will be launched on 15 March 2019 |
Updated Roadmap
Q1 2019
Release Theta wallet for Android OS, Apple iOS, and web (completed)

Transition majority of SLIVER.tv streamers and channels to Theta (in-progress)

Launch Theta Mainnet on March 15th

Complete Theta token swap

Complete Theta Fuel distribution to existing Theta token holders (1:5)

Release Guardian Node Onboarding Program light client Q2 2019

Beta release of Universal Edge Cacher client

Launch 3rd party Validator partner program

Enhance Mesh Streaming Network scalability

Launch Developer tools for Theta mainnet integration

Beta release Android mobile SDK integration with initial partners Q3 2019

Launch support for video on demand ("VoD") in Theta Mesh Streaming Network

Launch Guardian node functionality and onboard initial group of community-run Guardian nodes

Beta release support for Android-based set-top boxes and smart TVs

Introduce Guardian nodes into the Validator node set on rotating basis

Launch smart contract support Q4 2014

Expand Theta content delivery beyond video to support all forms of data (e.g., file updates, game patches, video ads, audio, etc) 2020 and beyond

Power global data content delivery including static and dynamic web content

Integrate Theta data delivery into IoT devices, smart TVs, smart cars, and other data transfer-rich applications

Optimize Theta Network to leverage new 5G infrastructure and applications
Commercial Partnership and Business Development Progress
Samsung VR Testnet Collaboration: Samsung VR integrated Theta's beta testnet video delivery solution on their website in Sep 2018 and has been testing user token rewards while watching VR content in return for contributing their excess bandwidth. Medium
CJ Hello Testnet Collaboration: CJ Hello, a cable and internet service operator, has worked with Theta on integration of mesh streaming and blockchain incentives for a variety of use cases around video streaming on various device platforms. Medium
Maekyung Broadcasting Network ("MBN"): MBN, the leading Korean business and economic media company, integrated Theta's beta test-net video delivery solution into their 24/7 online TV channel broadcast stream. Medium
TEAM OVERVIEW
TRADING DATA
Liquidity
The THETA token is listed on more than 10 exchanges. Core crypto trading pairs include THETA/BTC, THETA/ETH, THETA/BNB, and THETA/USDT. Currently, the only fiat trading pair is THETA/KRW.
TECHNICAL OVERVIEW
Github Overview
THETA has 8 public repositories and 15 private repositories. Overall, the Project has frequent commits to the collection of repositories. Below is information on the project's top repositories:
Top Public Github Repositories
Top Private Github Repositories
Reference implementation of the Theta Mesh Delivery Protocol
8 Contributors
336 commits

Reference implementation of the Theta mobile wallet
2 Contributors
238 commits

BLOCKCHAIN & NETWORK
For end users, Theta's focus is on providing a seamless way to interact with and contribute to the Theta ecosystem. These include products such as the wallet, block explorer, edge cacher nodes, and Guardian nodes.
The official Theta wallet is available on mobile for iOS and Android, and also on web. The Theta wallet is used for community members to participate in the mainnet token swap, and will operate as a secure way for users to hold THETA and TFUEL.
The block explorer has recently undergone an upgrade, and additional features will continually be added in the future.
Recently, an alpha build of the Edge Cacherwas developed. The Edge Cacher will allow users with adequate technical specs to serve as a dedicated relay node, able to serve orders of magnitude more video data than current relay methods.
Guardian nodes allow users to contribute to consensus of the network by finalizing blocks that Validator nodes have proposed. Prior to the full rollout of the Guardian nodes, users have the opportunity to participate in the Guardian Node Onboarding Program, where users' equipment are evaluated based on tech specs, node uptime, and other criteria.
Across live testnet channels, including SLIVER.tv, Samsung VR, and MBN, there are in aggregate over 500,000 unique sessions where a user shared video stream / bandwidth with another local user, the Theta Network management team states. Each time a video segment was shared, a microtransaction was recorded on the Theta testnet.
Since the mainnet is yet to launch as of writing, the Theta management team was only able to offer an estimation of key statistics:
The network should be able to support tens of Validator nodes and hundreds to thousands of Guardian nodes
On chain TPS could reach at least 500 TPS, supporting 10,000+ TPS for bandwidth sharing reward since our blockchain provide native off-chain transaction support
Average transaction fee could be low, with a minimum of 10-6 TFUEL per transaction
6 seconds block period
Block size of up to 8,192 transactions per block
6 second average block finalization time
Token Function and Usage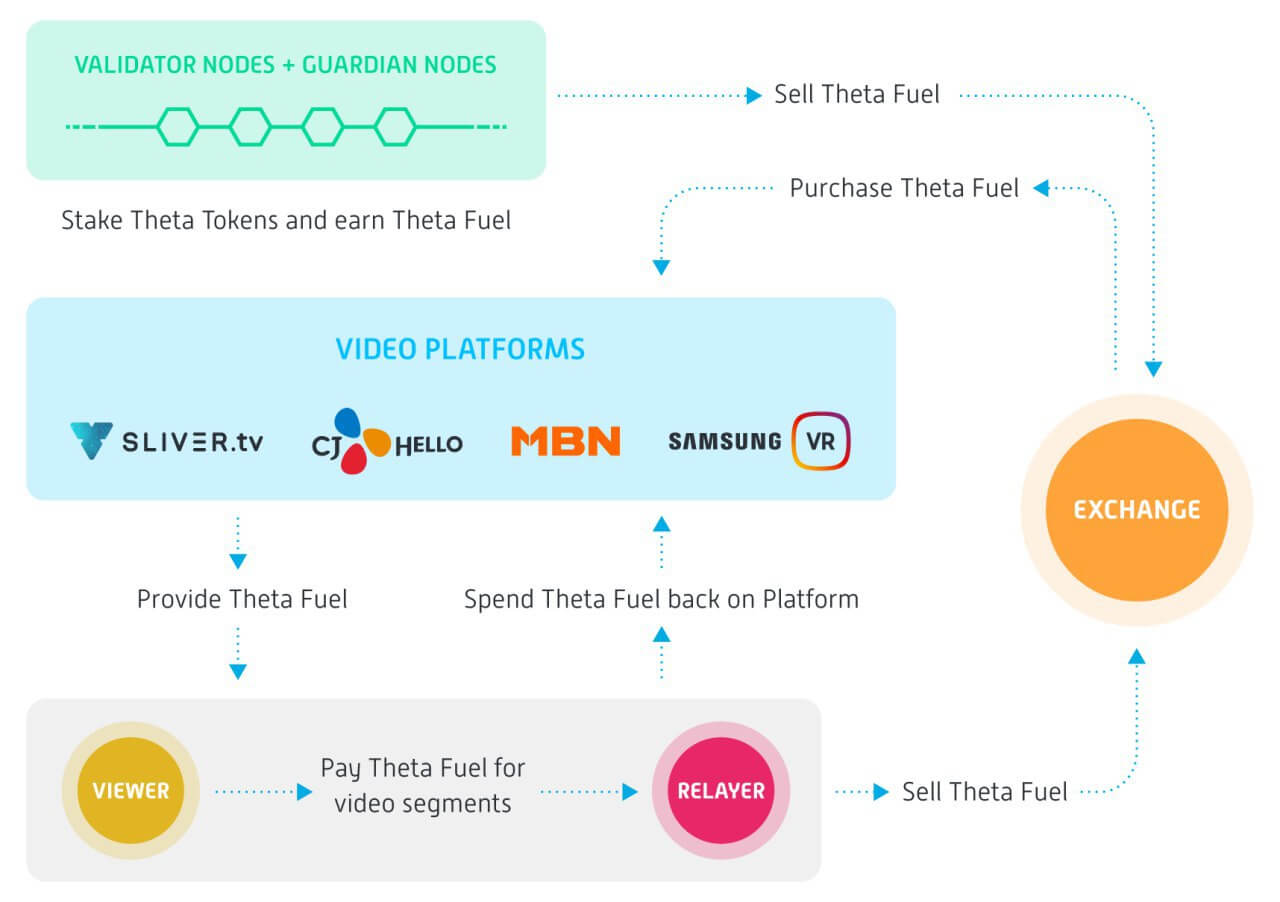 In Theta's Multi-Level BFT consensus, 10 – 20 Validator nodes make up a smaller committee to produce and validate new blocks to be added to the Theta blockchain. Guardian nodes are a second node type that make up a "second line of defense" of up to 1,000s of community-run nodesthat download and examine the Theta blockchain and try to reach consensus on finalized checkpoints.
The name "Multi-Level BFT consensus mechanism" reflects the fact that the Validator/Guardian division provides multiple levels of security guarantee. With thousands of nodes, it is substantially more difficult for attackers to compromise blockchain integrity, and thus the blockchain has a much higher level of security. The design is aimed to achieve a good balance among transaction throughput, consistency, and level of decentralization.
Validator and Guardian nodes stake THETA and participate in block production and transaction processing. In return they earn TFUEL, which powers bandwidth/video relaying. Video platforms demand TFUEL and provide it to their users to allow video relaying on their platform. Relayers earn TFUEL as a reward for relaying, and spend it back on the video platform for premium content, subscriptions, etc.
Validator nodes have a minimum stake amount of 10,000,000 THETAand will originally be run by Theta Labs, with close partners and video platforms to follow in Q2 2019. Later in this year, when the Guardian node functionality goes live, some Validator slots will be filled by community-run Guardian nodes on a rotating basis.
The minimum number of tokens to operate a Guardian node is 100,000 THETA. The team states that having a relatively high minimum token requirement for nodes would enhance security, as it makes attacks expensive.
The supply of TFUEL token will grow by a rate per year set at the protocol. The initial target is a 5% annual increase in supply, which can be adjusted by protocol consensus. The new supply from each block will be distributed to each Validator and Guardian node on a stake-weighted basis. For instance, if a node stakes 5MM out of a total 500MM staked THETA, it will earn 1% of the new TFUEL generated each block.
Block rewards for Guardian nodes are distributed every 50 blocks since that is the block finalization interval. There is no difference between the stake-weighted amount of rewards for Validator nodes and Guardian nodes; both earn according to their proportion of stake versus total amount of THETA staked in the protocol. By virtue of the large minimum requirement of tokens, Validator nodes will earn much more in TFUEL rewards in nominal terms. There are no tiers to rewards earnings aside from the aforementioned differences.
Currently, the primary markets for Theta Network are in the U.S. and Korea, with China also becoming increasingly important. Theta Network is a U.S. company and the investors of Theta are primarily U.S. based.
To engage their community, the Theta team has previously held community events in Seoul back in June 2018 with Zilliqa, Kyber, IoTeX, and Quantstamp.
The Theta management team believes the launch of the Guardian node Onboarding Program as well as the upcoming Universal Edge Caching noodes would give them an edge in community development.
Community and Social Channels
Telegram (English) | 11K members
Twitter (English) | 65K followers
Facebook (English) | 64K likes
Medium | 2K followers
Reddit | 433 + 3.8k subscribers in previous subreddit

COMPETITOR OVERVIEW
The Theta Network will be competing in the peer to peer video service space. The team lists the following projects as potential competitors:
Key Comparables: Peer to Peer Video Service
| NAME | TICKER | DESCRIPTION | MAINNET | COMMENTS |
| --- | --- | --- | --- | --- |
| Theta Network | THETA | Decentralized video straming powered by users and blockchain technology | X | Testnet has been live since June 2018, with mainnet launch set for March 15th. |
| LBRY | LBC | Decentralized digital content market place | ✓ | Founded in 2015; besides video, the platform also supports other forms of digital contents such as text and music. |
| Viewly | VIEW | Tokenized video platform aiming to provide a more fair and efficient means of content delivery and monetization | X | Launched Viewly Alpha in summer 2017 and token sale in February 2018. |
| Livepeer | LPT | Decentralized live video broadcast platform and crypto token protocol | ✓ | Founded in 2017, the project aims to allow anyone to build video into their own App or website. |
| Flixxo | FLIXX | Community based video distribution | ✓ | Launched Alpha in 2017 and the fully functional platform in 2018. |
| Peer5 | N/A | Serverless P2P content delivery network for video live streaming | N/A | Charges user for service, not a blockchain network. |
Four key differentiating factors of THETA when compared to its competitors include:
SLIVER.tv, with 3MM monthly active users ("MAU"), as first app built on Theta. More than 500,000 users have shared bandwidth on SLIVER.tv, with corresponding microtransactions taking place on Theta testnet blockchain
Partnerships with live testnet channels with Samsung VR and MBN
Testnet has been live since June 2018, with mainnet launch set for March 15th
Relative to Peer5 and other non-blockchain content delivery network competitors, incentivization makes Theta unique in creating a robust community-driven P2P network
APPENDIX
Advisors
Source: Theta Management | Data as of 14 Mar 2019