Pundi X (NPXS)
A hardware & software platform that enables seamless, physical payments in cryptocurrency
KEY METRICS
| Ticker | NPXS |
| --- | --- |
| Latest Price | $0.00092 USD (18 Satoshis) |
| Current Market Cap | $130.79 MM |
| 30 Day Avg Market Cap | $202.92 MM |
| 24H Volume | $10.34 MM |
| 30 Day Avg Volume | $13.75 MM |
| Circulating Supply | 142,603,994,148 NPXS (~50.9%) |
| Total Supply | 280,711,919,230 NPXS |
| All Time High Price | $0.0139 (06/16/2018) |
| Top 10 Indiv. Wallets | 13.19% |
| Project Website | https://pundix.com/ |
KEY HIGHLIGHTS
Raised a total of $30.5MM across private sale, public pre-sale, and public sales which began in Oct 2017 and were finalized in Jan 2018, selling 20% of the total token supply
Shipped first 5,000+ XPOS units globally in Sep 2018
Provided PoS systems in Sep 2018 to support ULTRA Taiwan as the first major outdoor music festival (30,000+ attendees) to accept crypto payments
RECENT NEWS
Nov 2018: Announced Singapore as new global corporate headquarters
Nov 2018: Partnered with KuBitX for XPOS distribution to emerging African markets
Oct 2018: Partnered with emCredit, the UAE's official, state-owned credit bureau, to offer blockchain-based payments on the Pundi XPOS
Sep 2018: Distributed 5,000 XPOS devices and tens of thousands of XPASS cards globally
Sep 2018: Vic Tham, the former COO (Asia Pacific) at Bank of America, joined the project as Chief Investment Officer
Sep 2018: Finalized 1 : 1,000 swap of PXS and PXSEM for NPXS and NPXSXEM
Jun 2018: NPXS listed on Binance
WHAT IS NPXS?
Pundi X ("Pundi" or the "Project") is an ecosystem comprised of hardware and software products that facilitates blockchain-based payments in physical retail stores. The core technology offering is the Pundi XPOS, a PoS hardware system for merchants that facilitates cryptocurrency payments and transactions through mobile wallets and bank cards. As an all-in-one solution for retailers, the XPOS device can support retail intelligence, inventory management, order management and loyalty programs.
Pundi X's mission is to make cryptocurrency more accessible by allowing stores to buy, sell and accept cryptocurrency, while simultaneously empowering blockchain developers and token holders to use cryptocurrency at any physical store in the world.
The Pundi X portfolio consists of several additional products that support and drive adoption of the XPOS hardware systems as highlighted below:
NPXS and NPXSXEM tokens
The XPASS card
dApps
The XWallet
The f(x) blockchain
The XPhone
An illustration of the crypto payment transaction flow using the XPOS device is shown below: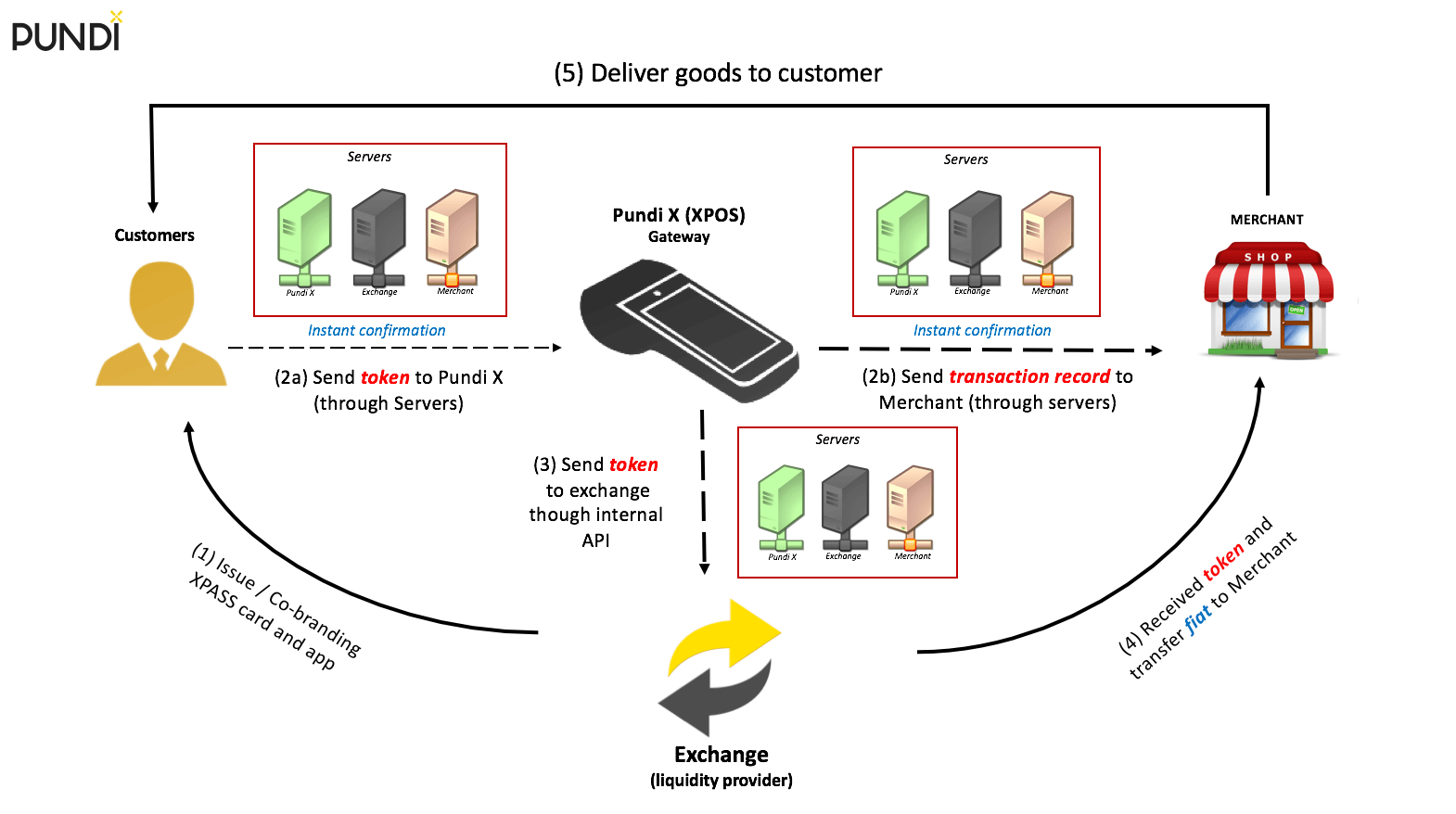 Source: Pundi X Management Team
TOKEN SALE AND ECONOMICS
KEY METRICS
| Token Name | NPXS |
| --- | --- |
| Token Type | ERC-20 |
| Public Sale Completion | 21 Jan 2018 |
| Private & Public Sale Allocation | 20% of Total Supply |
| Amount Raised | $30.5MM |
| Circulating Supply | 142,603,994,148 NPXS (56.10%) |
NPXS Token Overview
NPXS is the native utility token that functions within the Pundi X ecosystem and has several core use cases, including:
Payment for goods and services from merchants through XPOS
Listing tokens in the XPOS
Merchant payments for loyalty programs and ads
Crypto-related transactions on the XPOS burn a portion of NPXS tokens (reducing total supply and functioning as price support)
More on the NPXS revenue & token burn model can be found here
Token Governance & Use of Funds
ICO funds are held in a cold wallet, bank account and in a mix of BTC, ETH and USD. As of 19 Nov 2018, Pundi X has used ~15% of their ICO funds based on the following split:
Marketing: 15%
Project Development: 50%
Team: 15%
Licensing: 10%
Partnerships: 10%
NPXS Token Sale:
A total of $30.5MM was raised across all NPXS public and private token sale tranches that was completed on 21 Jan 2018.
Private sale: Raised $8.5MM from 7 Oct 2017 - 28 Oct 2017
Public sale: Raised in three tranches
Pre-sale: Raised 14,000 ETH (~$4MM) from 7 Oct 2017 to 28 Oct 2017
Extended Pre-sale: Raised 6,060 ETH (~$2MM) from 21 Nov 2017 to 24 Nov 2017
Public Sale: Raised 18,644 ETH (~$16MM) on 21 Jan 2018
Token Supply Breakdown
Private Sale tokens unlocked 31 Oct 2017 (20,000,000,000 NPXS)
Public Sale tokens all unlocked by 31 Jan 2018 (36,151,038,894 NPXS)
Token Bonuses allocated to early investors all unlocked 31 Dec 2017 (13,431,454,894 NPXS)
Company tokens unlocked 31 Jan 2018 (28,075,519,001 NPXS)
Monthly Token Release tokens began unlocking on 31 Jan 2018 and will continue to be released on a monthly basis until 31 Dec 2020 (196,485,361,335 NPXS total will be distributed monthly over 3 years)
Monthly Token Release Mechanism
Pundi has created an incentive structure to encourage token holders to stake their tokens by reserving ~70% of total token supply to be distributed on a monthly basis to token holders who hold NPXS tokens in their own ERC-20 wallets. Pundi will take random snapshots of token holder wallets and allocate tokens to holders based on the following formula:
[(The average of the daily lowest NPXS amount of the month X 10%) + (the daily average NPXS amount of the month X 90%)] X 7.316%
Further detail on the mechanism and formula can be found here.
NPXS Token Release Schedule
The chart below represents the number and breakdown of all NPXS tokens that are and will be released into circulation on a monthly basis from Oct 2017 (Private Sale) to Dec 2020, at which point all NPXS tokens will be in circulation. After a large initial unlock of private sale, public sale and team tokens, the circulating supply will steadily increased as tokens are released on a monthly basis to reward NPXS holders who stake their tokens. Company tokens includes allocations for team & advisors.
NPXS Token Holder Concentration
The following chart represents the top 20 wallets holding NPXS tokens, of which 7 belong to the team and / or an exchange.
ROADMAP & UPDATES
Pundi X has successfully completed the majority of their announced milestones within the communicated timeframes and has achieved some additional milestones not disclosed in the original roadmap, including the successful adoption of XPOS at a major event. Pundi has also released an updated roadmap with key milestones through Q2 2019.
| PLANNED DATE | MILESTONE | ACTUAL DATE | TIMING | LINK |
| --- | --- | --- | --- | --- |
| 2018: Q1 | Begin offering XPOS for individual pre-orders | 2018: Q1 | On Time | Medium |
| 2018: Q1 | Established London office | 2018: Q1 | On Time | N/A |
| 2018: Q2 | Deliver 300,000 XPASS cards | 2018: Q2 | On Time | Medium |
| 2018: Q2 | Completed Pundi X Foundation setup | 2018: Q2 | On Time | N/A |
| 2018: Q3 | Establish Tokyo and Seoul offices | 2018: Q3 | On Time | N/A |
| 2018: Q3 | Establish offices in South America | 2018: Q2 | 1Q Ahead | N/A |
| 2018: Q3 | Completed NPXS swap | 2018: Q3 | On Time | N/A |
| N/A | XPOS adoption at a large event | 2018: Q3 | Not Planned | Medium |
Updated Roadmap
Q4 2018
Began international series of XBlockchain summit in Indonesia for gov't officials, business executives, and developers
Completed working XPhone prototype
Secured partnerships to introduce the XPOS to the government and public sector
Launched XWallet, a mobile app for digital currency payments
Fielded orders for 20,000 XPOS units
Q1 2019
Kick off the international series of XBlockchain summit in China
Grow XWallet and XPASS card adoption rate to increase transactions on the XPOS
Establishing new local branch offices
Introduce the XPOS and XPASS as a medium for charitable donations via a partnership with a major non-profit organization
Q2 2019
Expand the international series of XBlockchain summit to South America
Launch Function X testnet and mainnet
Deliver XPhone to the consumer market
Commercial Partnership and Business Development Progress
As a hardware project, Pundi X has a dual community / commercial growth strategy that involves expanding XPOS distribution partner networks and growing global user bases that are interested in purchasing retail goods using crypto assets. Pundi X must secure key commercial partnerships that can provide the necessary distribution channels for the XPOS devices to drive both near and long-term adoption and achieve the 100,000 rollout by 2021. Most recently, Pundi X has secured orders for the distribution of 5,000 XPOS devices globally as an initial step in this growth strategy. These deals must be replicated with major distribution players in key markets to further build the network and deliver value to merchants and consumers.
Merchant Installations & Commercial Progress:
5,000 XPOS devices have begun shipping globally across Asia, Europe and South America. Distributors and partners include: BitCapital (Brazil), Manticora (Colombia), UTRUST (Switzerland), Ebooc (Dubai), and ULTRA (Taiwan).
Additionally, tens of thousands of XPASS cards were distributed in Sep 2018 at events such as ULTRA Taiwan, Consensus Singapore, and AMCHAM Korea.
Partnerships & Integrations
American Chamber of Commerce Korea: AMCHAM will support, introduce and promote Pundi X solutions to its 1,800 members
Ebooc (official supplier to emCredit, a subsidiary of the UAE Department of Economic Development): Partnership to provide several applications for consumers to pay for government services using XPOS systems at shopfronts for the UAE's official state-owned credit bureau.
NEM: Deal to deploy 20,000 XPOS running the NEM blockchain.
Ubivelox: Technology partnership to further XPOS and XPASS technology development and distribution
BitCapital: One of the largest OTC dealers in Brazil for cryptocurrencies and is currently developing a payments infrastructure network that will provide seamless crypto-to-fiat transactions. 1,000 XPOS devices are expected to be distributed in retail outlets across Brazil through BitCapital.
Manticora Capital: Manticora Capital is a Colombian cryptocurrency investment fund with an extensive network in Colombian retail. Manticora Capital will distribute 1,000 XPOS devices in stores across the country.
UTRUST: Swiss-based UTRUST will commit to acquiring 1,000 units of the Pundi XPOS.
Tokens accepted in the XPOS: BNB, NEM, XLM, QTUM, WAN, ZEC, ADI, DGX, DGD, ACT, and XVG
Regional Merchants
Pundi is accepted at a variety of regional merchants. Here are some sample locations and purchases from Singapore, Netherlands, and Taiwan
TEAM OVERVIEW
Pundi X's key advisors can be found in the Appendix.
TRADING DATA
Liquidity
The NPXS token is listed on 10+ exchanges and core trading pairs include NPXS/BTC, NPXS/ETH, NPXS/KRW and NPXS/USDT. Core fiat trading pairs include NPXS/KRW & NPXS/INR.
Volume & Market Cap
NPXS has a ~$13.8MM 30 day avg. trading volume and ~$202.1MM 30 day avg. market cap (data as of 19 Nov 2018).
TECHNICAL OVERVIEW
Unlike other projects devoted to maintaining a public chain, Pundi X, as a hardware-focused project for private sales, does not regularly update a public, open-source codebase, and did not share a GitHub repository with Binance Research. The project cited security requirements and protection of sensitive data as the rationale for not publishing open-source code.
While Pundi did not provide Github repositories or an overview of their code base, the team was able to provide images of their hardware offerings infographics that will be displayed in the Product & Metrics section below.
PRODUCT & METRICS
The Pundi product portfolio has several components that support and promote both token adoption and Pundi PoS hardware device usage.
XPOS Device
Interface supporting both in-person transactions in cryptocurrency including BNB, BTC, ETH, and NPXS
System can also accept traditional forms of payment such as Visa, MasterCard, Apple Pay, Samsung Pay, American Express, E2Pay, Alipay, Go Pay, and WeChat
XPOS device owners are rewarded NPXS tokens for processing transactions and these tokens are paid out via the company's reserves
XPOS supports a native application store
Advertisers, developers and ad networks can place ad content on XPOS devices, cards, and receipts
Merchant Revenue Model:

Merchants capture 1% as a fee for processing transactions
Can sell crypto & XPASS cards
Setup inventory & loyalty programs, ads and print smart receipts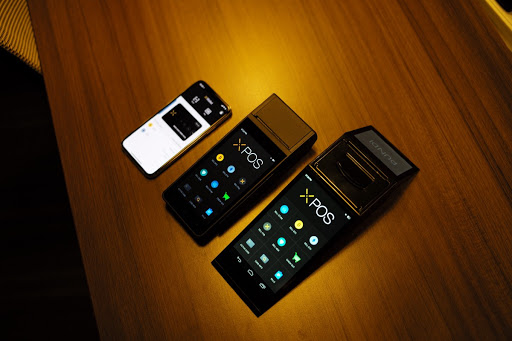 Source: Pundi X Management Team
NPXS Token
NPXS is used as a form of payment within the Pundi X ecosystem for a variety of products and services including loyalty programs, ads run through XPOS and claimed goods and services from merchants
Advanced deposits of NPXS are required for tokens to be listed on the XPOS, these are held for certain periods for relay purposes.
100% of Pundi X revenue generated through transaction fees on the XPOS system will be used to permanently remove NPXS tokens from circulation through token burning
The transaction flow of the NPXS token within the Pundi ecosystem is highlighted in the illustration below: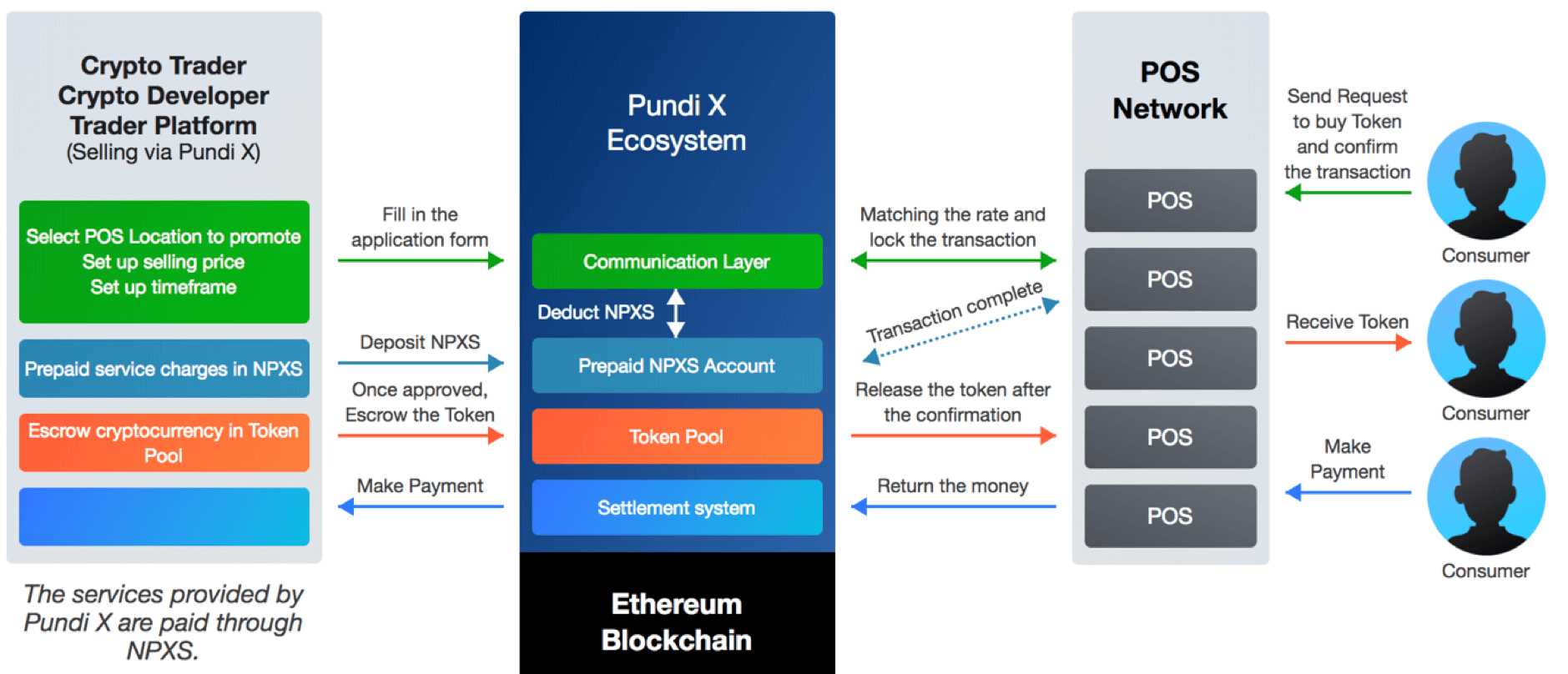 Source: Pundi X Management Team
NPXSXEM Token
The NPXSXEM token can be used within the XPOS devices specifically built on the NEM blockchain as part of a strategic partnership with NEM created to leverage crypto communities in Asia where NEM has a large presence.
The development of 20,000 units of the NEM XPOS, a device integrated with the NEM blockchain.
The project is still designed to benefit NPXS with 10% of all proceeds used in NEMXPOS transactions being NPXS.
XWallet
Android and iOS mobile app to store selected assets such as NPXS, BTC, BNB, ETH, and others
Payments can be made through XWallet app at stores using the integrated QR code
XPASS Card
Contactless smart card that allows users to store and spend multiple cryptocurrencies at merchants with the XPOS device
Cardholders are entitled to special discounts
XPASS card can be used to conduct transactions (analogous to a metro top-up card) as it holds the private key information inside
f(x) Blockchain
The f(x) ecosystem consists of 5 elements:
Function X FXTP (Web protocol): Decentralized transmission protocol (P2P)
Function X Docker: Open source platform for developers to build, ship and run dApps
Function X IPFS: Storage
Function X Public Blockchain: High performance, secure public blockchain.
Function X Operating System: An Android-modified, blockchain-enabled operating system that allows users to seamlessly switch between f(x) Blockchain and Android modes, giving them the choice of using their phones with a traditional operating system with Android apps and traditional telecommunications, or blockchain mode for decentralized applications and blockchain-based calls and messaging. The ability to switch between each interface is shown in this video.
XPhone
Operates on a new communication protocol enabling a decentralized ecosystem that supports phone, text and data transfer allowing users to have complete control over data shared on their smartphone.
Data transmission and SMS handling with Function X blockchain tech
Decentralized storage space
The key to Pundi X's success is growing the community of users interested in crypto payments at retail stores, demand which will then encourage merchants to install XPOS hardware. Pundi X is currently engaged in a variety of strategic initiatives to attract users to the platform that include educating their community about the technology, with a particular focus on Southeast Asia, South Korea and South America.
At this stage, Pundi X is primarily running campaigns targeted at the Telegram communities to incentivize their most active community members and drive use of the NPXS token. The first of these promotions was five free trips to XBlockchain for their most active and engaged Telegram users (as determined by moderators) followed by a dance competition to win a trip to ULTRA Taiwan 2018.
COMPETITOR OVERVIEW
Key Comparables
As a blockchain PoS system, Pundi has a core set of competitors across both hardware and software PoS systems that have begun rolling out crypto offerings and integrations.
| NAME | TYPE | DESCRIPTION | COMMENTS |
| --- | --- | --- | --- |
| Ingenico Group (EPA:ING) | Hardware / Software | Provides payment solutions through in-store, mobile and online channels worldwide | Partnered with BitPay in 2015 to allow retailers to accept Bitcoin via PoS terminals |
| Square (NYSE:SQ) | Hardware / Software | Provides payment and point-of-sale solutions internationally | Received patent in August 2018 for merchants to accept crypto payments & exchange into a currency of choice |
| Verifone Systems | Hardware / Software | Designs, markets and services electronic payment systems for consumers, merchants and financial institutions | Upcoming partnership with Graft Network to add the application to select Verifone terminals that allow crypto payments |
| Cryptune | Hardware / Software | PoS system with mobile, handheld & desktop hardware options including data analytics software | PoS system will allow for the acceptance of over 1,000 different cryptocurrencies |
| Coinify | Software | Software integration that allows merchants to accept 15+ cryptocurrencies and issues payouts in Bitcoin or local currencies | 30,000+ merchant signups; 70+ countries; Partnerships with IBM, Forbes, Blockchain and Abra |
| Poppy | Software | Poppy is a platform that runs on Clover, a cloud-based PoS software that stores utilize to accept forms of payment such as Mastercard and Visa. Clover users who download the Poppy application can transact with Tron (TRX) and other Tron tokens | Poppy is also launching TronCard, a credit card that will be used exclusively within Poppy terminals |
| CortexPay | Hardware / Software | Android-based PoS device that accepts payments and can be used to purchase BTC, DASH and LTC | Initially rolled out in March 2015 and has successfully processed 100,000+ BTC transactions |
APPENDIX
Token Allocation Snapshot
| | Public Sale | Private Sale | Company | Monthly Token Release | Total |
| --- | --- | --- | --- | --- | --- |
| Token Allocation | 36,151,038,894 | 20,000,000,000 | 28,075,519,001 | 196,485,361,335 | 280,711,919,230 |
| % of Total Supply | 12.88% | 7.12% | 10.00% | 70.00% | 100.00% |
| Token Price ($) | $0.00073 | $0.00043 | - | - | - |
| Amount Raised ($) | $22,000,000 | $8,500,000 | - | - | $30,500,000 |
To browse all on-chain transactions, the Token Address is 0xa15c7ebe1f07caf6bff097d8a589fb8ac49ae5b3.
Advisors
Lon Wong | President, NEM.io Foundation Ltd | Founder and CEO, Dragonfly Fintech
Jeffrey Jones | Board Chairman at AMCHAM Korea | Board of Directors GM Korea | Chairman at Ronald McDonald House Charities of Korea
Kenji Sasaki | Co-founder at Cardano | CEO of Next Chymia Consulting | Corporate Officer at Emurgo