LTO Network (LTO)
Hybrid Blockchain for Data Security and Business Collaboration
KEY METRICS
| Ticker | LTO |
| --- | --- |
| Price | $0.0527 (559 sats) |
| 24H Mkt. Cap | $12.07MM |
| 24H Volume | $0.92MM |
| 30 Day Avg. Volume | $0.65MM |
| Circ. Supply | 229,053,494 LTO (50.52%) |
| Total Token Supply | 453,402,411 LTO |
| All-time High in USD | $0.2226 (25 February 2019) |
| All-time High in BTC | 5,733 sats (25 February 2019) |
| Project Website | https://www.ltonetwork.com/ |
PROJECT OVERVIEW
Raised 4.03MM USD in EUR via private & public token sales from October 2017 to January 2019.
Data can be shared privately from node to node in a permissionless Leased-Proof-of-Stake blockchain network.
Implemented Live Contracts to facilitate business workflows of users.
RECENT NEWS
KEY HIGHLIGHTS
Private data sharing: Data can be shared peer-to-peer between the nodes of specific participants, rather than with the whole network.
Permissionless private chains: Event-chains can be customized to model any business process logic.
Anchor-optimized public chain: The LTO Network blockchain is optimized to store large amounts of anchor data.
Human-readable Live Contracts: Workflow is graphically presented in the form of Finite State Machine so that they can be understood by non-technical users.
Linked data: Data can be excluded from private chains and only shared on demand, while the public chain only stores hashes of information.
WHAT IS LTO NETWORK?
The LTO Network is a hybrid blockchain platform featuring Business-to-Business functionalities. Live Contracts were built to optimize business workflow. Combining private chains and a public Leased-Proof-of-Stake blockchain, the LTO Network enables General Data Protection Regulation ("GDPR") compliant blockchain solutions. LTO Network is also developing a range of applications such as Proofi, FillTheDoc, and LetsFlow.
Project Mission
LTO Network aims to foster blockchain adoption by increasing security of applications and automating business processes. The project is building blockchain solutions with both privacy and transparency in mind.
Project Value Proposition
LTO Network separates data sharing from network consensus, and builds a decentralized public layer as well as a customizable private layer. The team aims to build and enable other blockchain solutions which are GDPR compliant and can easily integrated with existing systems that businesses already have in use.
TOKEN SALE & ECONOMICS
KEY METRICS
| Token Name | LTO |
| --- | --- |
| Token Type | Native, BEP2, and ERC20 |
| Seed Sale Allocation | 14.34% of total token supply |
| Seed Sale Token Price | 0.0215 USD |
| Private Sale Date (start to end) | October to December 2017 |
| Amount raised Seed Sale | 1.40MM USD |
| Private Sale Allocation | 14.37% of total token supply |
| Private Sale Token Price | 0.023 USD |
| Private Sale Date (start to end) | November to December 2018 |
| Amount Raised Private Sale | 1.65MM USD |
| Public Sale Allocation | 7.33% of total token supply |
| Public Sale Price | 0.03 USD |
| Public Sale Date (start to end) | January 14th to 16th 2019 |
| Amount Raised Public Sale | 0.98MM USD |
| Current Circulating Supply | 229,053,494 LTO (50.52%) |
| Total Token Supply* | 453,402,411 LTO |
*Originally, 72,500,000 LTO tokens were allocationed to the Public Sale. However, not all tokens were sold. 39,267,891 unsold tokens in the Public Sale were burnt, reducing the total token supply from 500,000,000 to 460,732,109. Additionally, for every mainnet to Ethereum token swap, a small number of LTO tokens will be burned, resulting in a total token supply of 453,402,411 as of the time of writing.
Token Supply Distribution:
Seed Sale tokens comprise 14.34% of total token supply.
Private Sale tokens comprise 14.37% of total token supply.
Public Sale tokens comprise 7.33% of total token supply.
Team tokens comprise 18.75% of total token supply.
Advisors tokens comprise 4.41% of total token supply.
Foundation tokens comprise 11.03% of total token supply.
Network Incentives tokens comprise 11.91% of total token supply.
Mergers & Acquisitions tokens comprise 17.86% of total token supply.
Seed Sale Overview
The Seed Sale was conducted from October to December 2017, at a rate of 0.0215 USD / LTO and raised a total of 1.40MM USD, selling 65,000,000 LTO tokens. 78.00% of the round was done in EUR, with the remaining 22.00% done in a range of cryptocurrencies including BTC, ETH, Waves and others. All cryptocurrencies received were converted to EUR immediately after the sale.
Private Sale Overview
The Private Sale was conducted from November to December 2018 for at a rate of 0.0227 USD / LTO, with 120 USD = 1 ETH and raised a total of 13,750 ETH equal to 1.65MM USD, selling 72,500,000 LTO tokens. All ETH received were converted to EUR immediately after the sale.
Public Sale Overview
The Public Sale was conducted from January 14th to 16th 2019 at a rate of 0.0295 USD / LTO, with 123 USD = 1 ETH and raised a total of 7,990 ETH equal to 0.98MM USD, selling 33,232,109 LTO tokens. All ETH received were converted to EUR immediately after the sale.
Token Governance & Use of Funds
As of writing, LTO Network has spent 70.00% of 4.03MM USD worth of EUR raised, according to the allocations below. However, the company has been generating income from prividing customized services to businesses, and does not rely solely on its initial funding.
47.00% Sales & Marketing
33.50% Software Development
19.50% Admin & Others
The private key of the team wallet is stored in a secure vault only accessible by the founders. Moving or using tokens require approval of at least 2 out of the 3 executives of the LTO Network.
LTO Token Release Schedule
The following chart represents the number and breakdown of all LTO tokens that are to be released into circulation on a monthly basis. The LTO Network team has no intention to use the Foundation tokens besides using them for governance-related voting.
LTO Token Overview & Use Cases
Gas fees for data anchoring, token transfer, and other transaction types.
Staking token as part of the Leased-Proof-of-Stake model.
Governance token for on-chain voting.
In the future, the project team will explore other options for increasing the utility of the LTO token, such as being a fundraising vehicle for startups in the LTO Network ecosystem.
ROADMAP & UPDATES
Original Roadmap & Achievements
| Planned Date | Milestone | Actual Date | Early / Late | Commentary |
| --- | --- | --- | --- | --- |
| 2019 Q1 | Mainnet Layer 1 Launch | 2019 January | Early | Medium |
| 2019 Q2 | Layer 1 open-source | 2019 Q3 | Late | GitHub |
| 2019 Q3 | Layer 2 Live Contracts open-source | 2019 Q3 | Early | GitHub |
| 2019 Q4 | Launch of Proofi Beta | 2019 Q4 | On Time | Blog |
| 2019 Q4 - 2020 Q1 | Release of improved Integrator Portal | In Progress | In Progress | YouTube |
| 2019 Q4 - 2020 Q1 | Release of new transaction types which enable Self-Sovereign Identity ("SSI") on-chain | In Progress | N/A | N/A |
| 2020 Q1 - 2020 Q2 | Release of Proofi with improved KYC, platform integrations, and API documentation for developers | In Progress | N/A | N/A |
| 2020 Q2 | Release of Sponsored Accounts, which allows parties to use the Mainnet without needing to buy tokens themselves | In Progress | N/A | N/A |
| 2020 Q2 | Release of LetsFLow with workflow tools for centralized and decentralized use cases | In Progress | N/A | N/A |
| 2020 Q4 | Release of Leased-Proof-of-Importance consensus mechanism | In Progress | N/A | N/A |
Late Milestones
Announcement of open sourcing of the network's Layer 1 was delayed due to the marketing decision to jointly announce this with the release of Smart Accounts.
Updated Roadmap
The goal for the LTO team is to bring more transactions and validators to the network, amplifying network effects of different solutions. As part of the Ecosystem V development, LTO Network will keep building the Integrator Portal as the marketplace for Software as a Service ("SaaS") solutions, and promoting its own products to increase blockchain adoption. Some of the modified major milestones include:
Improving the functionalities of the Integrator Portal: Q1 2020
Upgrading Proofi: Q1-Q2 2020
Upgrading LetsFlow: Q2-Q3 2020
Developing Ecosystem V: 2020 and beyond
Commercial Partnerships and Business Development Progress
TEAM OVERVIEW
TRADING DATA
Liquidity
As of the time of writing, ERC20 and BEP2 LTO tokens are traded on six exchanges. Core crypto trade pairs include LTO/BTC, LTO/ETH, LTO/USDT, and LTO/BNB.
TECHNICAL OVERVIEW
GitHub Overview
LTO Network has two GitHub organization accounts. As the company started in 2014, 87 public repositories and 46 private ones have been stored in the company GitHub. A dedicated account with 33 public repositories was later created for public chain code, API docs, etc. The team has been using both directories simultaneously.
Key Public GitHub Repositories
Key Private GitHub Repositories
PRODUCTS & METRICS
The business strategy of LTO Network focuses on two major features: external parties building and integrating existing products, and developing LTO Network's products which enable companies to benefit from the advantages of blockchain technology, without having to worry about the downsides of decentralization.
End-User Products
FillTheDoc: FillTheDoc provides contract automation for professionals. It can fetch data from multiple systems and processes into one or more documents. All data will be securely anchored on the LTO Network. As of the time of writing, FillTheDoc is already available for use.
Proofi: Proofi provides unique digital signatures for online communications to prevent online fraud. It is currently in closed-beta, and after its planned release in February 2020, Proofi will be integrated with other platforms and social media tools.
LetsFlow: Aimed to become Zapier of the blockchain world, LetsFlow is envisioned as a platform for building centralized and decentralized workflows. The product is under development, with the planned released date being March 20th, 2020.

BLOCKCHAIN & NETWORK DATA
LTO Network establishes a permissionless private network through a hybrid blockchain. Anyone can set up a node and participate in the network. However, only hashes are shared with all nodes on the network, while data is shared peer-to-peer between nodes. Therefore businesses can benefit from the blockchain technology while having data privacy.
Permissions on a Permissionless Network
LTO Network has no network-wide permissions or authoritative nodes. Instead, both read and write privileges are specified in a Live Contract. Authorized participants subscribe to a Live Contract through a node of their choice. Only that node will receive a copy of the data associated with the contract.
Private Event Chains
An event chain is a hash chain of related events. The private layer consists of ad-hoc event chains — one for each Live Contract. Unlike transactions that are arranged in a block, events are directly appended to the event chain and directly broadcasted to the nodes of all participants.
Live Contracts
The genesis event of an event chain is a Live Contract, which contains the initial set of participants, as well as logic and rules of the collaboration. The logic is defined as a workflow process and modeled as a Finite State Machine. This makes it understandable for both humans and machines.
In order to describe the complete business process and collaboration agreement, Live Contracts may contain off-chain instructions, which are typically modeled in a way where one party executes and other parties validate. For instance, one party makes a bank transfer and submits an event that has done so. The receiving party checks to the balance of its bank account and submits an event when the money is received.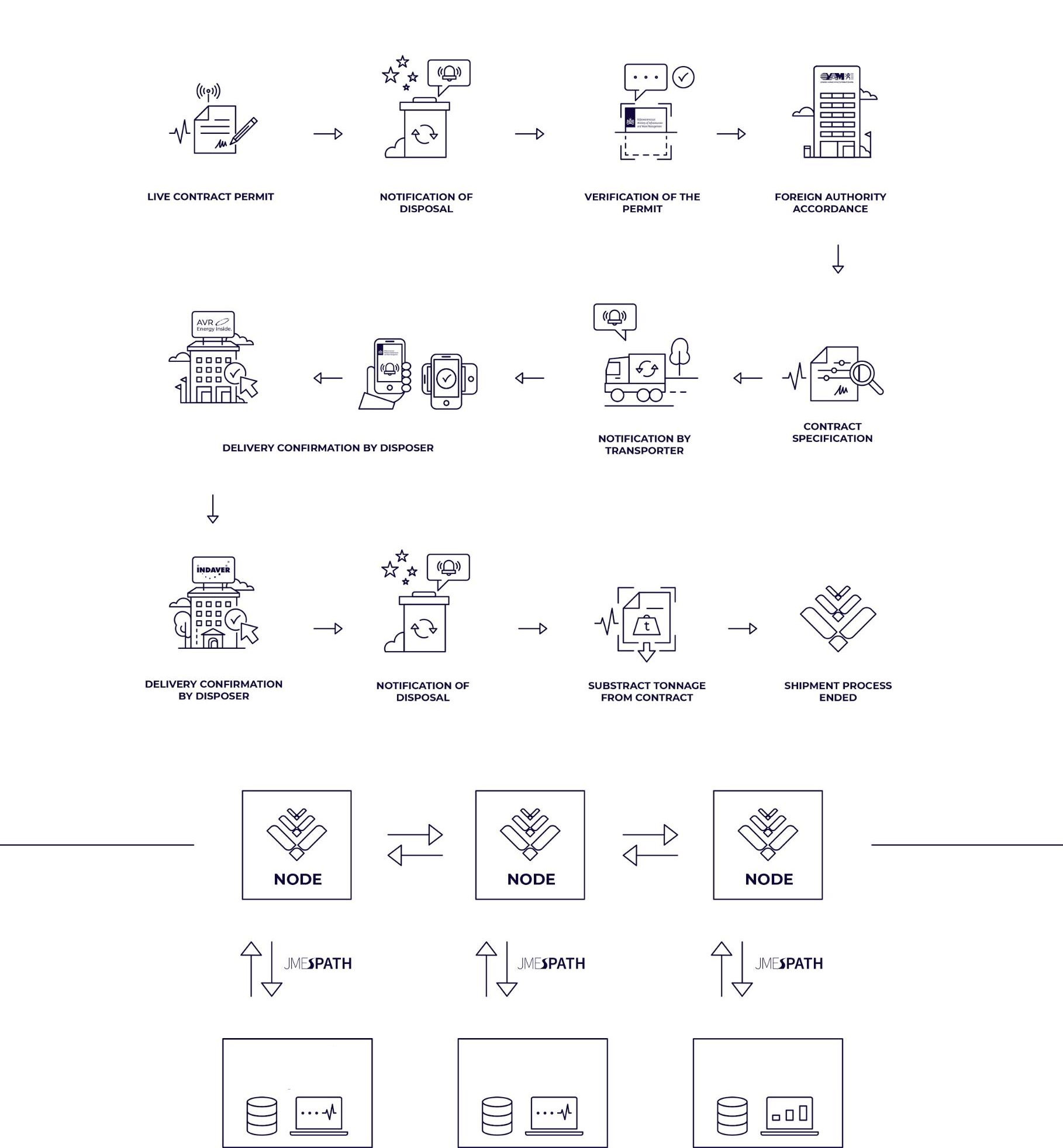 Consensus on the Private Layer
Due to the potential bias and the limited number of participants associated with a Live Contract, LTO Network does not rely on any type of majority consensus to resolve conflicts. By default, all participants are on equal footing, with no authoritative party. To come to a consensus, each event is anchored by writing a hash of the event on the public layer of the blockchain. The order of events can be derived from the order of transactions on the public chain.
Linked Data
Having a single ad-hoc chain per process allows erasing information when required by privacy regulations. However, sharing all data related to a process with all participants does not meet privacy requirements.
Linked data allows the exclusion of some data from a private event chain, as only a hash of the data is shared with all participants. The node of the participant that owns the data is assigned as the controller, with other nodes being data processors. A processor may request a copy of the linked data, and this is only supplied if the current state of the workflow shows that there is a task where that data is required. The processor will receive a copy under specific terms, which are automatically logged to comply with privacy regulations.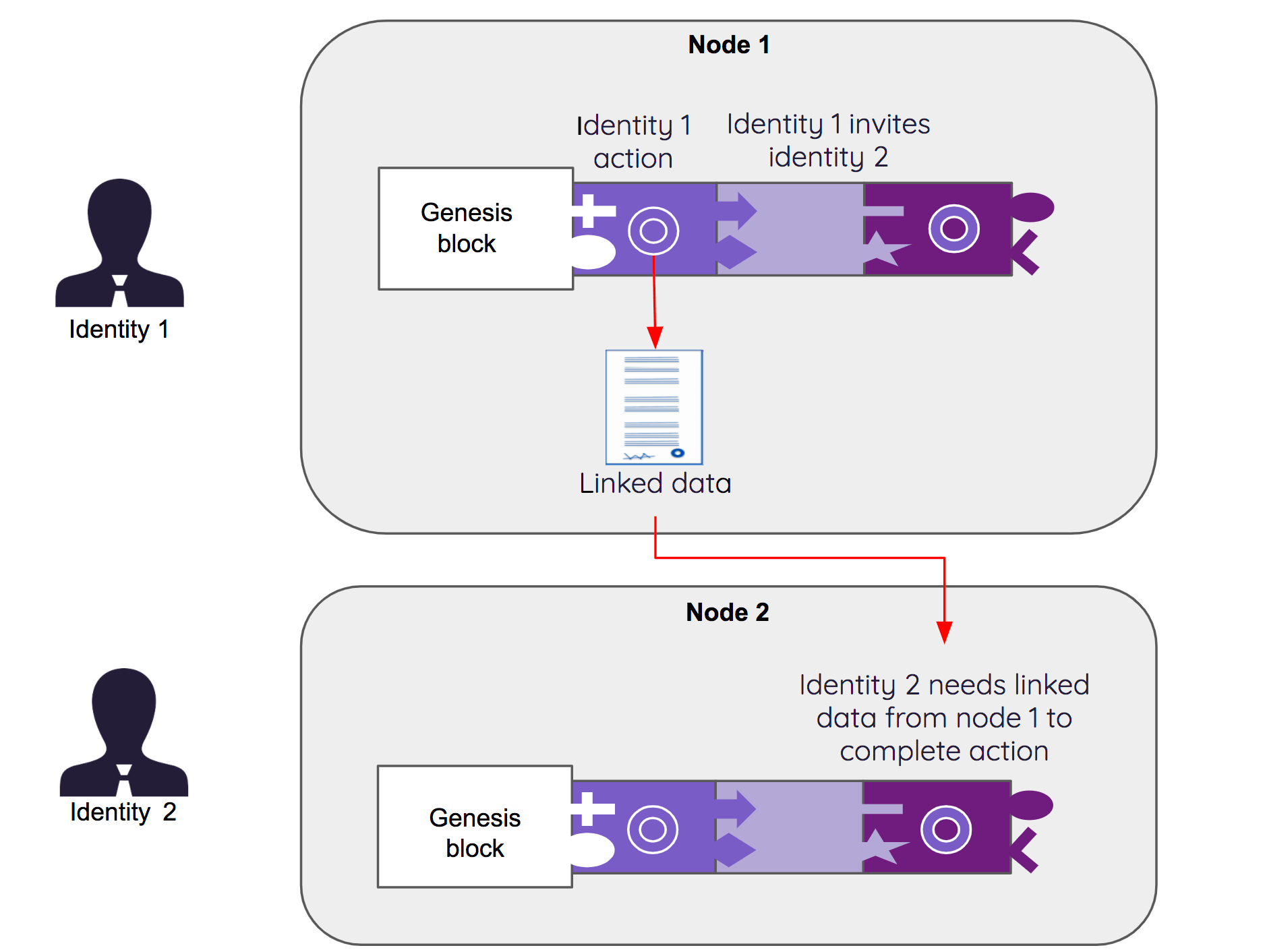 Data Anchoring and Consensus on the Public Blockchain
The public layer is a digital notary for hashes. By applying the NG Protocol, transactions on the LTO Network are acknowledged within 2 seconds, making data anchoring on blockchain a viable solution for businesses.
Consensus on the public layer is done via Leased-Proof-of-Stake, which allows the community to secure the network and share network fees generated by organizations as rewards. The leasing mechanism allows anyone to participate in staking without needing to run a node. The consensus model will later be changed to Leased-Proof-of-Importance to mitigates the risk of centralization.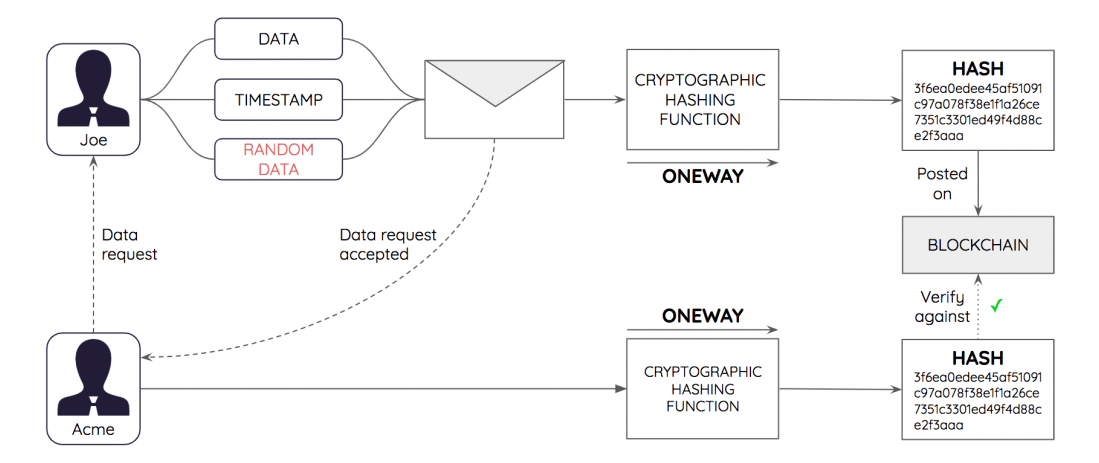 The majority of token holders and business partners for the LTO Network are located in Europe, US, and Russia. Currently, the team will focus its community development effort first in these regions, and expand to other places as the network grows.
Current community growth strategies of LTO Network include:
Producing articles and tutorials to better educate the community
Engaging with the community consistently via online groups and local meetups
Hosting hackathons to attract developers
Publishing educational articles on a regular basis
Future community growth strategies of LTO Network include:
Working with business-to-business service providers in China looking for hybrid solutions
Collaborating with retail-focused applications in Korea
Initiating staking and node incentivizing competitions
Engaging with opinion leaders in the enterprise world
Adding more system integrators and independent software vendors to Ecosystem V
Community and Social Channels (Data as of February 6th 2020)
Twitter (English) | 10.1K Followers
Blog (English) | 793 Subscribers
Telegram (English) | 14.1K Members
Telegram News (English) | 4.8K Members
Reddit (English) | 363 Members
LinkedIn | 669 Subscribers
YouTube (English) | 267 Subscribers

APPENDIX
Documents
Products
Blog Articles
Advisors