Kyber Network (KNC)
On-chain liquidity protocol that allows decentralized token swaps
KEY METRICS
| Ticker | KNC |
| --- | --- |
| Latest Price | $0.13 USD (0.00004 BTC) |
| Current Market Cap | $17.73MM |
| 30 Day Avg Market Cap | $27.14MM |
| 24H Volume | $1.03MM |
| 30 Day Avg Volume | $3.50MM |
| Circulating Supply | 150,982,698 (70.02%) KNC |
| Total Supply | 215,625,349 KNC |
| All Time High Price (USD) | $5.70 (10 Jan 2018) |
| All Time High Price (BTC) | 0.000440 BTC (4 Feb 2018) |
| Project Website | https://kyber.network/ |
KEY HIGHLIGHTS
Raised ~$52MM in public and private token sales between August and September 2017
Kyber Protocol mainnet launched in February 2018
72,496 transactions processed since mainnet beta launch, with an average of 239 per day
RECENT NEWS
Dec 2018: Developed a permissionless orderbook reserve, allowing both the deployment of token reserves and contribution of liquidity in a permissionless manner
Dec 2018: Developed an Automated Market Maker reserve, allowing the calculation of conversion rates entirely on-chain and reducing costs incurred by reserve managers
Nov 2018: Launched Kyber Trading API, a REST API that gives users access to on-chain liquidity with minimal smart contract experience
Oct 2018: Initiated the Wrapped BTC ("WBTC") Community Initiative alongside BitGo, Republic Protocol, and many more ecosystem partners
Oct 2018: Introduced the KyberWidget, a simple way to buy and sell tokens directly within DApps and websites. CoinGecko was the first project that used the KyberWidget
WHAT IS KNC?
Kyber Network ("Kyber" or the "Project") is an on-chain liquidity protocol that can be used for a wide variety of inter-token use cases. The protocol allows decentralized token swaps to be integrated into any application, enabling value exchange to be performed between all parties in the ecosystem. Using this protocol, developers can build innovative payment flows and applications, including instant token swap services, ERC20 payments and financial DApps.
The project's mission is to make any tokens usable anywhere and become the transaction layer for the decentralized economy.
Key Features of Kyber Protocol
On-chain Settlement: Atomic and immediate on-chain settlement
Trustless Transactions: Trustless and transparent transactions
Ease of Use: The bundling of multiple value exchanges into a single step for users
Seamless Integration: Straightforward integration with DApps, as interaction with off-chain components is not needed and there is minimal security and development overhead
Source: Kyber Network Management Team
TOKEN SALE & ECONOMICS
KEY METRICS
| Token Name | KNC |
| --- | --- |
| Token Type | ERC-20 |
| Private Sale Allocation | 33.55% of Total Supply |
| Private Sale Token Price | $0.375 |
| Private Token Sale Date | 15 Aug 2017 |
| Private Sale Amount Raised | $27MM (104,054 ETH) |
| Public Sale Allocation | 26.70% of Total Supply |
| Public Sale Token Price | $0.44 |
| Public Token Sale Date | 15 Sep 2017 |
| Public Sale Amount Raised | $25MM (195,946 ETH) |
| Circulating Supply | 150,982,698 |
Token Supply Distribution:
Private Sale & Early Investor tokens all unlocked in September 2017 (74,803,953 KNC)
Public Sale tokens all unlocked September 2017 (57,568,314 KNC)
Team and Advisor tokens (41,982,255 KNC) will be vested over 2 years with a one year lockup (16,070,001 KNC unlocked September 2018) and then released quarterly beginning in December 2018 (4,017,500 KNC released quarterly through September 2019); 9,842,253 remaining team tokens are reserved for new team members and will be issued & unlocked as needed
Reserve tokens will be used on an ongoing basis to fund operations (42,580,754 KNC); 800,000 reserve tokens were released in September 2018
Token Sales
Private Token Sale Completed on 15 Aug 2017 for 72,352,094.23 KNC at a rate of 695 KNC = 1 ETH, raising 104,054 ETH at ~$0.375 per token, selling 33.55% of total supply.
Public Token Sale Conducted on 15 Sep 2017 for 57,568,314 KNC at a rate of 600 KNC = 1 ETH, raising 95,946 ETH at ~$0.44 per token, selling 26.70% of total token supply.
KNC Token Overview
KNC is an ERC20 token that is used by reserve managers to pay transactions fees required to execute trades (operate a reserve) and awarded to third parties for generating trade volume. Kyber charges a small fee in KNC each time an exchange happens on the network, then burns the KNC tokens collected as transaction fees.
Over time, as more trades are executed, additional fees will be generated and more KNC tokens will be burned, thus reducing overall token supply.
KNC is an ERC20 token built entirely on the Ethereum blockchain, with a successful public mainnet launch in Q1 2018.
Source: Kyber Network Management
Token Governance & Use of Funds
The tokens and ETH raised are stored in multisig wallets, and the private keys are held by co-founders and advisors.
KNC Token Release Schedule
KNC Token Use Cases
Decentralized Token Swaps:Users can conduct decentralized token swaps on websites such as CoinGecko, KyberSwap and Easwap, or within their own wallets such as imToken, MyEtherWallet, Trust Wallet and Coinbase Wallet.
Payments: Users can pay for goods and services with any ERC20 token Kyber supports, while the vendor can receive payment in their desired token. For example, on Etheremon, players can catch monsters and pay for services with ERC20 tokens, entirely within the game.
Decentralized Finance: Index funds and financial DApps such as Melonport and Betoken can leverage Kyber's protocol to liquidate or rebalance their portfolio in a seamless, transparent and verifiable way. In addition, exchanges (both centralised and decentralised), traders and arbitrage bots can use the Trading API to leverage the liquidity offered on Kyber to match orders, or to arbitrage for profit.
ROADMAP & UPDATES
Kyber has successfully completed all of their key announced milestones within the communicated timeframes. The project has also recently shared an updated roadmap with key milestones through Q2 2019.
| PLANNED DATE | MILESTONE | COMMENTS |
| --- | --- | --- |
| 2019:Q2 | Release of working MVP of Kava CDP system | Medium |
| 2019: Q2 | Release of public testnet 1.1 | Medium |
| 2019: Q2 | Kava Founder Rewards Program to incentivize users to run validator nodes | Github |
| 2019: Q2 | Release of public testnet 2000 | Github |
| 2019: Q4 | Release of public testnet 3000 | The final public testnet before mainnet |
| 2019: Q4 | Mainnet launch | N/A |
| 2019: Q4 | Release of Beta CDP System | Available for developers to use at HackAtom DeFi in San Francisco |
| 2019: Q4 | Implement on-chain vesting for validators | Github Pull Request |
| 2020: Q1 | Public testnet 4000 with Beta CDP system and Bug Bounty Program | First cross-chain assets integrated into CDP system on testnet |
| 2020: Q2 | Cross-chain assets in CDP system on mainnet | N/A |
| 2020: Q2 | Integrate custodial BTC Peg into CDP system testnet | N/A |
| 2020: Q3 | Integrate both custodial and non-custodial BTC Peg into CDP system mainnet | N/A |
Updated Roadmap
Q4 2018
Coordinated with BitGo and Republic Protocol to launch WBTC
Launched Kyber Trading REST API
Developed Automated Market Maker reserve and permissionless orderbook reserve functionality
Q1 2019
Release WBTC, to be used as a means to promote liquidity transfer from Bitcoin to Ethereum, and vice versa
Permissionless reserves that will allow users to list any tokens without asking for approval
Q2 2019
Support for advanced financial instruments like options and fixed income products
Creating a DAO for governance around the protocol that will be accomplished via several iterations
Integrations
Wallet Integrations:

MyEtherWallet
Coinbase Wallet
imToken
Trust Wallet

KyberWidget: Enables payments in ERC20 tokens on DApps and websites; CoinGecko is the first project utilizing the KyberWidget.
Etheremon: Integrated with Etheremon, a popular decentralized virtual monster game, to enable users to pay for monsters in supported ERC20 tokens.
Decentraland: Integrated with Decentraland, the decentralized virtual reality platform, giving LAND purchasers the option to pay in various ERC-20 tokens during the LAND auction.
Melonport: Integrated with Melonport, allowing fund managers to leverage the liquidity provided by Kyber. Users are also able to rebalance their Melon fund portfolio using Kyber in a transparent and verifiable manner.
WBTC: Announced the Wrapped BTC initiative with founding partners that include BitGo and Republic Protocol.
TEAM OVERVIEW
Kyber has 48 employees, 32 of which are developers. Key staff members are shown below.
Kyber has 6 advisors that can be found in the Appendix.
TRADING DATA
Liquidity
The KNC token is listed on 13 exchanges including Binance, Bithumb, Poloniex, OKEx, Huobi, UpBit and Kyber. Core trading pairs include KNC/BTC, KNC/ETH, KNC/USDT, and KNC/KRW.
Volume & Market Cap
KNC has a ~$3.47MM 30-day avg. trading volume and ~$27.1MM 30-day avg. market cap (data as of 11 Dec 2018).
TECHNICAL OVERVIEW
Github Overview
Kyber Network has a total of 58 Github repositories. Of these, 32 are public repositories that host the Kyber Network code base and 26 are private repositories used primarily for analytics and internal administrative matters and not related to the public protocol. Overall, the Project has regular commits to the collection of repositories with a diverse and active set of contributors.
Top Public Github Repositories
NETWORK OVERVIEW
Kyber has an independent tracker to document all activities that pertain to KNC and the Kyber Network, such as the amount of KNC burnt, the transaction volumes of popular token pairs, and total transaction volume over time.
The Kyber Network tracker can be found here.
Of note, ETH has been the dominant traded token over the last year followed by DAI and KNC.
At of the time of writing (December 2018), the number of unique addresses that access Kyber Network everyday through integrated interfaces such as KyberSwap, MyEtherWallet, Coinbase Wallet, imToken, Trust Wallet, and others amount to approximately 300, with an average trade value of approximately $490.
Product & Platform
Various platforms and use cases exist that can leverage Kyber's liquidity protocol, such as wallets, websites, vendors, trading programs and DApps. Projects powered by Kyber include the following:
Source: Kyber Network Management
One such platform is Kyber's end user retail product, KyberSwap.
KyberSwap
KyberSwap is a simple and secure token swap platform. Users can instantly convert ETH to ERC20 tokens, or one ERC20 token to another through KyberSwap, with no deposits or order books. The process for converting tokens using KyberSwap is highlighted below:
1. Select an option to unlock wallet

2. Choose conversion pair
3. Confirm the token pair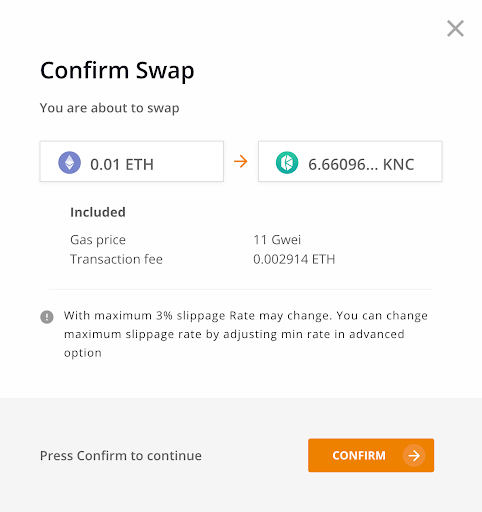 Kyber Network has a global reach with social communities in many languages and a growth strategy that is driven by 3 main pillars:
New token listings to provide additional liquidity
Integration with vendors, wallets, DApps and reserves
Participation in conferences and meetups to target developer communities
Kyber is currently focused on growing a community of developers who can build useful decentralized applications ("DApps"), platforms and products that leverage the liquidity protocol. In order to achieve this, Kyber has created a developer portal with the necessary documentation and tools for seamless integration. In addition, Kyber has targeted key developer touch points, sharing information about the protocol at various hackathons and tech events such as ETHGlobal, DevCon, and BlockchainEXE. Kyber is also participating in the Future of Blockchain hackathon, educating student developers from Cambridge, Oxford, Imperial, LSE, UCL, and KCL.
For the non-technical community, Kyber works with integrated projects and token teams to run joint community engagement campaigns that both educate and reward members. As an example, Kyber has collaborated with Etheremon (blockchain game) and CoinGecko (data aggregator) for community giveaways, via outreach channels such as Telegram, Reddit, Twitter and others. Additionally, promotional materials are translated into different languages (Chinese, Korea, Japanese, and Vietnamese) to address global user bases This strategy is designed to continuously share content around integrations that reinforce the direction of the protocol.
Kyber has a global and diverse community, with over 135,000 followers across social media platforms including Telegram, Twitter, Medium, Reddit, WeChat, and Facebook.
Telegram (English) | 11,400 members
Telegram (Developers) | 400 members
Telegram (Korean) | 3,100 members
Telegram (Chinese) | 2,600 members
Telegram (Vietnamese) | 2,000 members
Telegram (Japanese) | 170 members
Twitter (English) | 91,200 followers
Twitter (Japanese) | 730 followers
Twitter (KyberSwap) | 560 followers
Facebook (English) | 7,044 Likes
Facebook (Vietnamese) | 1,080 Likes
Medium | 5,000 Followers
Reddit | 6,600 Subscribers
Youtube | 855 Subscribers

COMPETITOR OVERVIEW
Kyber Network is competing within the decentralized cryptocurrency exchange space and is directly comparable to projects that offer users a way to exchange tokens / coins while maintaining control of their own funds.
Key Comparables
| NAME | DESCRIPTION | MAINNET | COMMENTS |
| --- | --- | --- | --- |
| Kyber Network (KNC) | On-chain liquidity protocol that allows decentralized token swaps. | ✓ | Founded in September 2017; Launched mainnet in February 2018 |
| Shapeshift | Shapeshift is a centralized instant cryptocurrency exchange that connects directly to user hardware and / or software wallets. | N/A | Founded in 2014; Historically has not required users to create accounts but is moving away from the no-account model |
| Changelly | Changelly is a centralized instant cryptocurrency exchange that allows users to purchase a variety of crypto assets. | N/A | Offers fiat to crypto purchases and supports over 130 cryptocurrencies |
| Bancor Network (BNT) | Bancor Protocol is an open-source standard for Smart Tokens, which interconnect to form a decentralized liquidity network. | ✓ | Launched in June 2017 and supports 113 tokens |
| 0x Protocol (ZRX) | An open protocol for decentralized exchanges on the Ethereum blockchain. | ✓ | Launched in August 2017; V2.0 of mainnet launched in September 2018 |
Kyber Network's differentiation points include:
Instant Confirmation: Instant confirmation for transactions sent from on-chain entities such as smart contracts
Operation Certainty: Users know the rate and available liquidity prior to transaction execution and settlement
Lack of Counterparty Risk: Kyber does not custody or control users' funds; all operations that occur on the Kyber protocol can be publicly verified on the blockchain
APPENDIX
Additional Product Detail - Demo & Screenshots
Advisors