Celer Network (CELR)
A layer-2 scaling platform that enables fast, easy and secure off-chain transactions
KEY METRICS (as of 05 Mar 2019)
| Ticker | CELR |
| --- | --- |
| Issuing Price | $0.0067 USD |
| Initial Circ. Supply | 1,965,033,333 (around 20% of Total Supply) |
| Total Supply | 10,000,000,000 CELR |
| Project Website | https://www.celer.network/ |
PROJECT OVERVIEW
Celer Network is a layer-2 scaling platform that enables fast, easy and secure off-chain transactions for payments and generalized off-chain smart contracts.
Founded by four PhDs from MIT, Princeton, UC Berkeley and UIUC, the network enables anyone to quickly build, operate, and use highly scalable decentralized applications through innovations in off-chain scaling techniques and incentive-aligned cryptoeconomics mechanism designs
The Celer team has launched CelerX, a testnet app that showcases the quick transaction process on the Celer Network
KEY FEATURES & HIGHLIGHTS
Zero off-chain smart contract transaction fees
Already achieved 10,000X transaction latency reduction
Accelerates both payment and smart contracts
100X fee reduction for micro-payment on Ethereum comparing to directly transacting on Ethereum
Horizontally scalable as additional nodes join
Provably optimal off-chain payment routing algorithm
First off-chain crypto economics model to ensure safety and high liquidity
Blockchain agnostic (currently supports Ethereum, DFINITY and all EVM based blockchains)
WHAT IS CELR?
Celer Network is a layer-2 scaling platform that enables fast, easy and secure off-chain transactions for not only payment transactions, but also generalized off-chain smart contract.
MISSION
Celer's mission is to bring mass adoption for blockchain by providing a frictionless experience powered by the most advanced layer-2 scalability technology.
VALUE PROPOSITION
Celer provides a two-sided value proposition to both developers and end-users of the network
For users

Instant Interaction: Backed by an advanced off-chain operating network, Celer upgrades the slow dApps on blockchain with a 10,000X faster, interactive user experience. This allows users to engage with dApps for a variety of things such as executing instant payments, trading on decentralized exchanges with no delay and playing games with millisecond latency.
Lots to Play: Celer is the gateway to a fun and interactive decentralized world, where users can find a variety of Celer-accelerated apps powering everything from instant payments to interactive games and prediction markets. New apps are regularly being developed and added by the community.
Spend Less and Earn More: With Celer's off-chain payment capability, users can pay arbitrarily small payments to anyone with zero fee. This translates to instantly higher earning for merchants using Celer Network. In addition, Celer enables advanced off-chain smart contract execution capability.

For Developers:

Easy-to-Build: Celer SDK is available for all platforms: iOS, Android and Web. No need to learn new smart contract language for existing blockchain platform. Minimal efforts to transform existing slow dApps to highly interactive dApps powered by Celer.
Drive Mass Adoption: Through greatly enhancing the user experience, Celer reduces user friction for blockchain applications, thereby accelerating mass adoption of decentralized applications
Ease of Monetization: Popular application does not always mean easy monetization. However, on Celer, application developers can host a full node to join decentralized Celer Network and easily harvest revenue through the application's value flow.
TOKEN SALE & ECONOMICS
| Token Name | CELR |
| --- | --- |
| Token Type | ERC-20 (as of TGE) |
| Seed Sale Allocation | 11.5% of Total Supply |
| Seed Sale Date | April 2018 |
| Seed Sale Price | $0.0065 USD / CELR |
| Seed Sale Amount Raised | $7.46 MM |
| Private Sale Allocation | 15.5% of Total Supply |
| Private Sale Completion Date | August 2018 |
| Private Token Sale Price | $0.0150 USD / CELR |
| Amount Raised | $23.25 MM |
| Launchpad Sale Allocation | 6% of Total Supply |
| Launchpad Sale Price | $0.0067 USD / CELR |
| Launchpad Sale Date | 19 March 2019 |
| Amount Raised Public Sale | $4.0 MM |
| Current Circulating Supply | 1,965,033,333 (~20%) |
Token Supply Distribution:
Seed sale tokens comprise 11.5% of total supply.
Private sale tokens comprise 15.5% of total supply.
Launchpad sale tokens comprise 6.0% of total supply.
Team tokens comprise 18.3% of total supply.
Advisors tokens comprise 1.7% of total supply.
Foundation tokens comprise 17% of total supply.
Marketing & Ecosystem tokens comprise 5.0% of total supply.
Mining Rewards tokens comprise 25% of total supply.
Token Sale Rounds
Seed Sale was completed in April 2018 for ETH at a rate of 76,000 CELR = 1 ETH and raised a total of 15130 ETH (~$7,475,000) at ~$0.0065 per token, selling 11.5% of total token supply.
Private Sale was completed in August 2018 for ETH at a rate of 31400 CELR = 1 ETH and raised a total of 49363 ETH (~$23,250,000) at ~$0.0150 per token, selling 15.5% of total token supply.
Binance Launchpad sale will be conducted on March 19, 2019 CELR for a total raise of ~$4,000,000 USD worth of BNB at ~$0.0067 per token for 6.0% of total token supply. The BNB to CELR rate will be determined on the day of the sale.
For more details about token use cases, please refer to the following Celer resources: Whitepaper, CESC talk, Medium post, and Crypto Economics videos.
Token Governance & Use of Funds
As of 01 March 2019, Celer has used approximately 15% of TGE funds according to the allocations below:
70% Technology Development
15% Marketing
10% Legal
5% Business Development and Misc
Treasury & Strategy
Celer has prioritized progress on their development, and has thus spent a majority of funds for hiring top technical talent.
Tokens are stored in cold wallets with multi-sig support enabled.
CELR Token Ecosystem
The CELR token drives cEconomy, the off-chain cryptoeconomic incentive structure of Celer Network in the following ways:
CELR serves as an incentive for maintaining a stable and abundant liquidity pool in Proof of Liquidity Commitment process.
CELR is used in Liquidity Backing Auction to increase the priority of liquidity backing bids and therefore statistically increase the liquidity interests payout.
CELR is used in State Guardian Network as a membership staking token to protect state availability, provide connectivity oracle and act as a dispute state transition computation engine. CELR token stakers receives service fee for the various services they provided for the network.
CELR token can also be used to pay the service fee and transaction fee to off-chain service providers.
CELR Token Release Schedule
The following chart represents the number and breakdown of all CELR tokens that are intended to be released into circulation on a monthly basis.
Note: The disbursal of PoLC Mining Rewards is subject to change as the project works on incorporating takeaways from its testnet activities.
However, the 25% of total token supply set aside for mining rewards is not slated to change the length in years that the block rewards are spread over.
ROADMAP & UPDATES
Communicated vs. Completed Milestones
Original Roadmap & Achievements
| PLANNED DATE | MILESTONE | ACTUAL DATE | TIMING | COMMENTS |
| --- | --- | --- | --- | --- |
| 2018: Q3 | cChannel: generalized state channel contract release cRoute: continued research and evaluation cOS: SDK private beta release cEconomy: PoLC testnet launch Community: onboard 400 app developers | 2018: Q3 | On Time | cChannel public repo cRoute research continued with the writing of an academic paper SDK was released privately to prepare for ETHSF hackathon release PoLC testnet internally launched on private testnet Celer Network developer course reaches more than 1150 signups |
| 2018: Q4 | cChannel:initial multi-blockchain support (supporting ETH, DIFNITY and all EVM based blockchain) | 2018: Q3 | Early | Added full support for DFINITY in August |
| 2018: Q4 | cRoute: large-scale emulation and algorithm tuning cOS: SDK public v1.0 release cEconomy: PoLC mainnet ready Community: first off-chain service provider launch | 2018: Q4 | On Time | cRoute: Published and presented research paper with a top U.S. university CelerSDK: multiple hackathon hackers have used Android and iOS SDKs PoLC is mainnet compatible in private repo Community: single OSP serving all testnet transactions |
| 2019: Q1 | Public alpha launch of consumer-facing off-chain application platform cWallet (now rebranded CelerX) | 2018: Q4 | Early | CelerX App YouTube Medium |
| 2019: Q1 | Apps: launched two consumer-facing off-chain dApps External wallet integration | 2018: Q4 | Early | Korean wallet CoinUS successfully integrated CelerSDK and waiting for mainnet to launch |
By Q4 2018, some of the projects built on top of Celer included: an off-chain prediction market, a micro services with SLA guarantee, a better IDE UX for developing on Celer Network, a financial derivative trading market with instant order matching, and interactive games on Celer.
Updated Roadmap
Q1 2019
cChannel: enhanced generalized state channels with more use case support
cRoute: initial implementation & testing
cOS: SDK public v2.0 release, focus on integrated flow of mobile and web
cEconomy: PoLC and LiBA security audit, SGN testnet alpha launch
Community: onboard third-party Apps
Q2 2019
cChannel: gradual Ethereum mainnet roll out and continued blockchain expansion and integration
cRoute: test and initial deployment
cOS: SDK public v3.0 release
cEconomy: PoLC mainnet launch
Community: begin to onboard off-chain service providers
H2 2019
cChannel: full cross-chain interoperability
cRoute: production measurement and optimization
cEconomy: SGN and LiBA mainnet launch
cOS: SDK public v4.0 release to enhance UX for real-world use cases
Community: continue to grow Celer-enabled application ecosystem with sustainable new app adoption funnel strategy
Commercial Partnership and Business Development Progress
TEAM OVERVIEW
Celer Network is founded by PhDs from MIT, Princeton, UC Berkeley, and UIUC and has a deeply technical engineering team with years of industry experience from top startups or tech giants like Google, Amazon, Cisco, HP and more. Currently, Celer has 16 full-time team members.
Celer has 3 advisors - additional information on these advisors along with further detail on team backgrounds can be found in the Appendix.
TRADING DATA
Liquidity
Celer Token is not actively traded as of publish date of this report - the token will be available through the Binance Launchpad portal.
TECHNICAL OVERVIEW
Celer has a total of 8 public and 31 private repos. There is no repo that is cloned or forked from another repo.
Celer has only released a portion of their code publicly at this stage of development. The release procedure is done as a single code drop each release; therefore, the number of contributors and the number of commits are all very small. Private repos metrics and overviews are the most informative in learning about the Celer project.
GitHub Overview
Top Public GitHub Repositories
Top Private GitHub Repositories
The majority of Celer's development across the core technology and product suite occurs in private repos. Additionally, the development team recently began to enforce commit squashing (one pull request only counts as a single commit) after the first testnet release at the end of October. As expected, the average commit number dropped after this date as reflected in the charts below and, therefore, does not represent reduced development activity.
PRODUCT & METRICS
In February 2019, the project launched CelerX, the rebranded version of cWallet. CelerX, the mobile user entry point for Celer Network's newest Sirius testnet, now has more than 3,300 users, and more than 28,000 Gomoku games played in total. Users come from 40+ countries all over the world and opponents could potentially come from the United States, China, United Kingdom, India, Germany, Singapore, Japan, Russia, etc. On average, each user spent about 18 minutes on CelerX.
More details can be found here: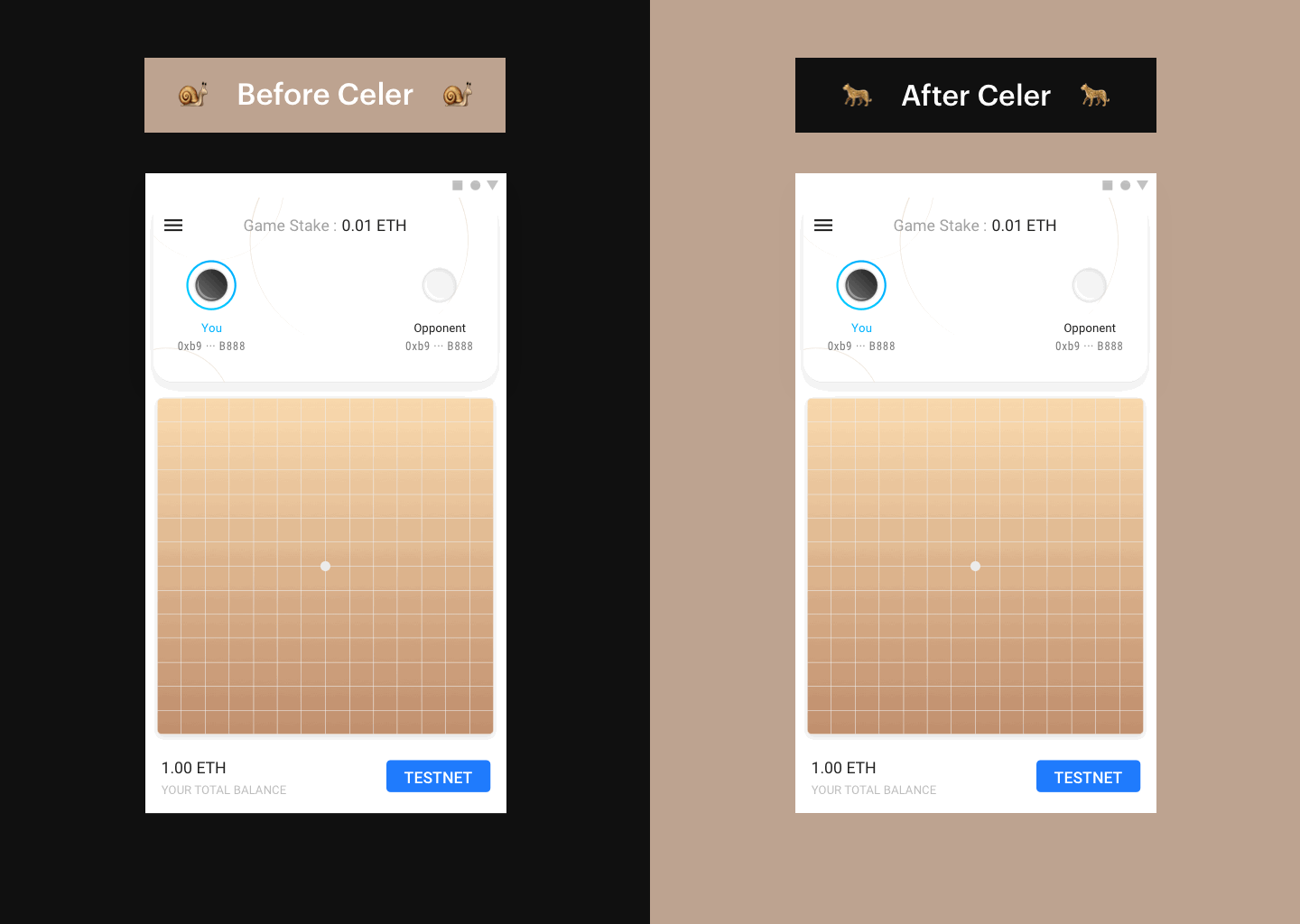 Celer Network released cWallet, a user-facing alpha on Android and iOS platforms in October 2018. In recent updates, cWallet has been rebranded to CelerX. CelerX now allows users to send payment instantly without any transaction fee and also showcase Gomoku, an interactive turn-based board game where users can compete with friends on the outcome of the game and win ETH in an entirely trust-free way. This game is a demonstration of Celer Network's power of off-chain smart contract.
| | | |
| --- | --- | --- |
| CelerX Landing View | CelerX Off-Chain Payment Feature | CelerX Gomoku Game and Off-Chain Payment Feature |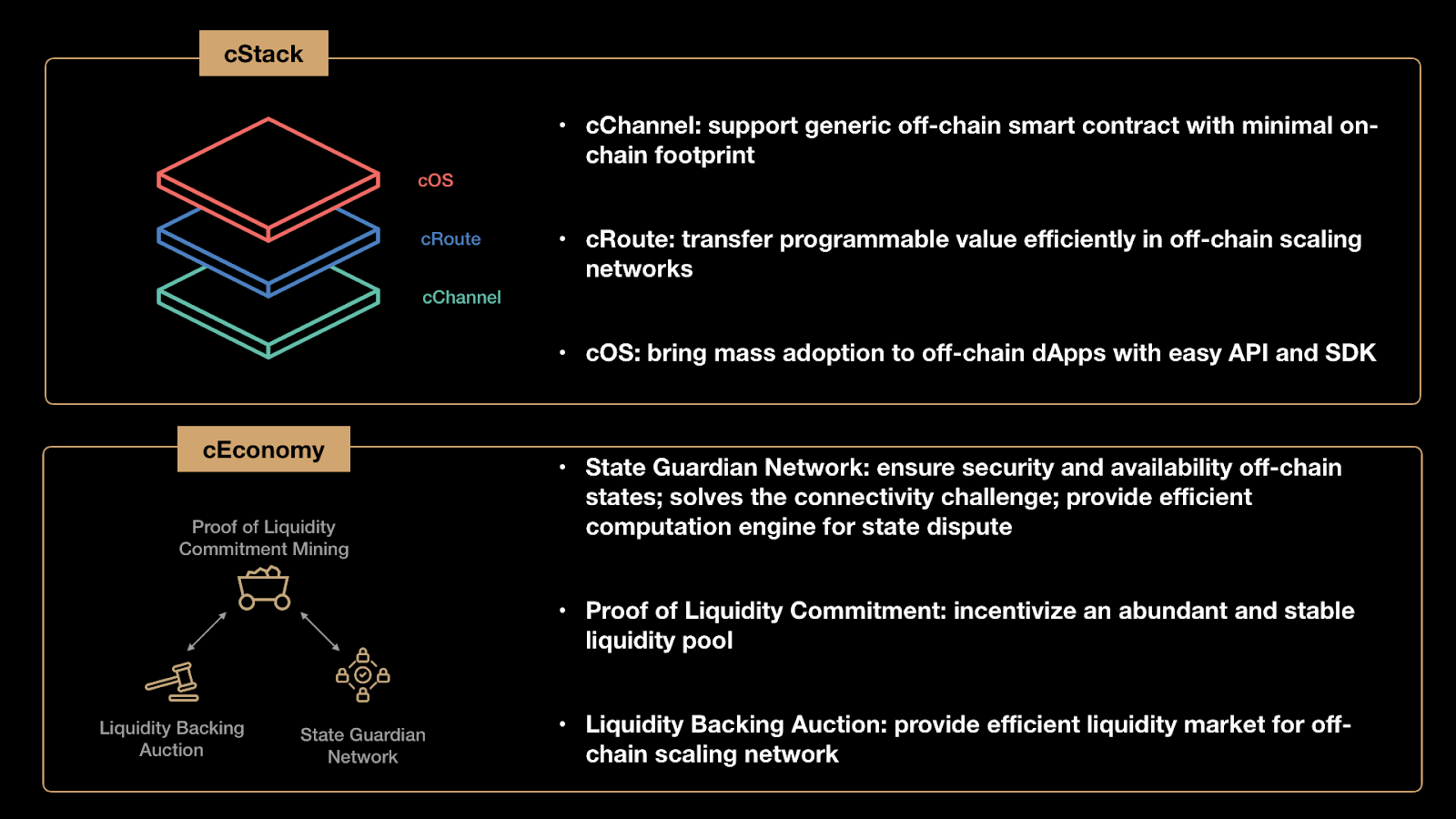 Celer Network's comprehensive cryptoeconomics & technology stack
More details can be found here.
Network Data
With no monetary incentive for people to stay on the testnet, CelerX has reached 3,300 Monthly Active User (MAU). The highest Daily Active User (DAU) recorded is 396. In total, there are 28,924 Gomoku games played monthly with 9 games played per user, on average. The off-chain transactions were carried out with millisecond-level latency, which encouraged an 21% 7-day user retention rate in the app.
On the current testnet, Celer achieved 20ms blockchain transaction confirmation latency. As of now, the project is running the testnet so there is no fee involved. However, when Celer switches to mainnet, the transaction fee on Celer is going to be completely free for most of the blockchain transactions (off-chain smart contract). On the Centauri testnet, Celer has processed ~1.1 million off-chain transactions.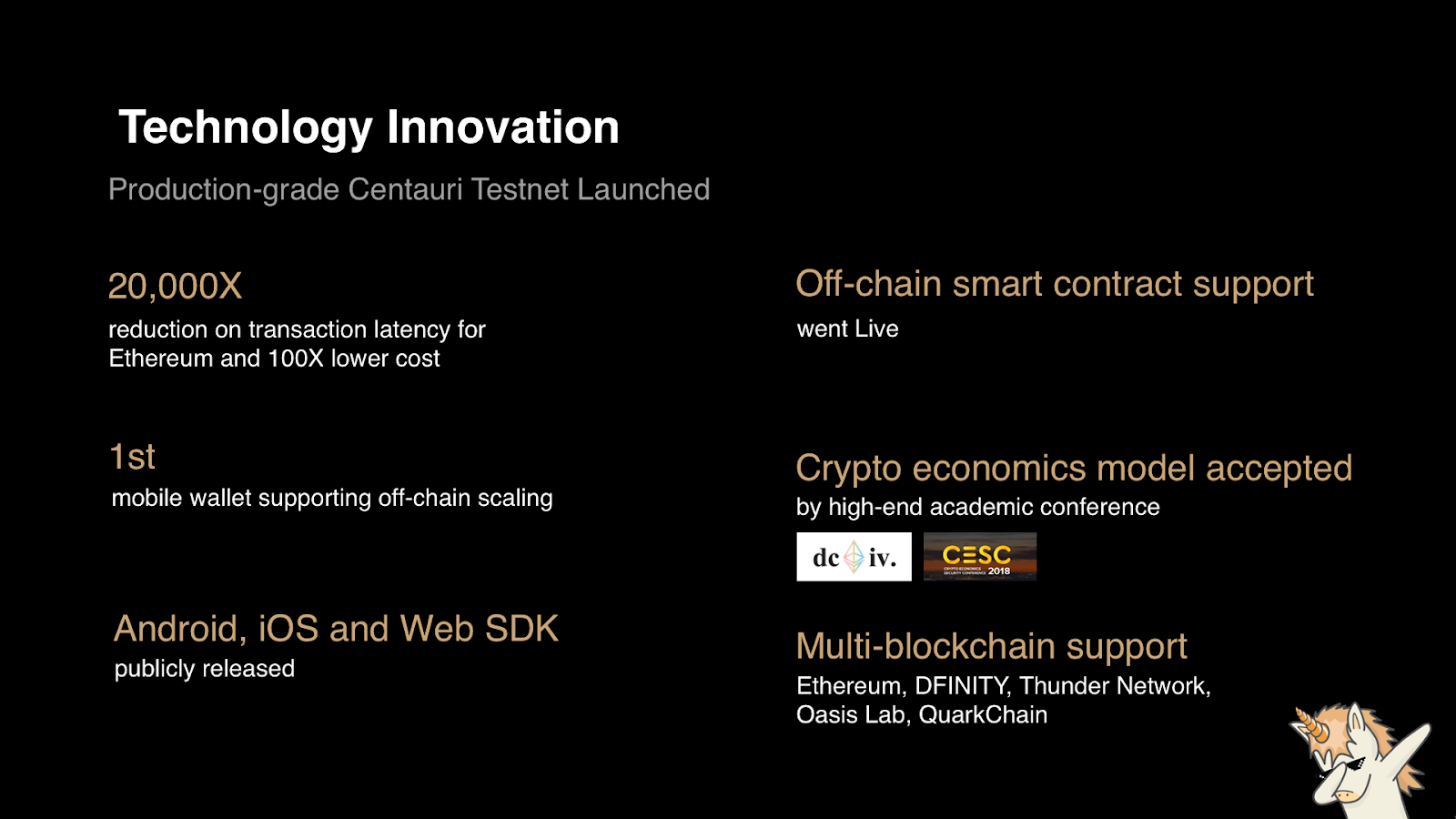 Celer Network Sirius Testnet User Statistics
Example hackathon projects built on top of Celer include:
Celer has a robust community development and growth strategy targeted at both end users and developers designed to successfully build a thriving blockchain ecosystem based on a staged rollout model.
In the first stage, Celer is focused on general market education and developer community building. The community's organic growth has been cultivated through long-term general education materials posted in Medium, Reddit and many other channels.
Celer has spent the majority of their efforts thus far in cultivating a strong developer community. To lower the barriers to entry for developers, the Celer team released a full-stack 12-lesson course to teach Ethereum Solidity dApp development. Registering over 2,000 students, the team also leveraged access to the students of this course to begin growing its awareness within the developer community. The project has also recently released courses for Celer SDK. With the existing knowledge of the previous course, developers only need to spend another 60 mins and can start to immediately develop based on Celer Network SDK.
The Celer team organizes weekly State Channel Researchers Calls that gather all the teams in the world studying and working on state channel research and development. The purpose of this call is to have a communication channel between multiple teams so they can discuss and arrive at a community standard on the API surface. The project believes community standards are super important for developer adoption as they significantly lower the risk of "wasted work" for early adopters. The project also believes it is important to collaborate in this phase among seemingly competing teams in order to first create a viable market. The researcher call is also a place to discuss the most cutting-edge advancement of off-chain scaling research and a lot of innovative ideas are exchanged during the calls.
Thirdly, the project was invited to several top tier developer-oriented conferences, workshops and hackathons. Celer has also been hosting high-quality developer meetups and gatherings globally. As an example, the project was invited as a speaker at CESC, ETHIS, Off-the-chain Master Workshop and many more high-profile conferences. In Prague, the project hosted a layer-2 meetup which gathered all the teams in the world working on layer-2 scaling into one room to discuss the important issues of layer-2 scaling and challenges ahead. The project was selected from 1000+ submissions to give a talk on Ethereum Devcon 4 about Celer Network, and was invited as judge for the ETHSF Hackathon, ETHSingapore Hackathon and ETHDenver Hackathon in February 2019.
For more details, please see the annual Celer report here.
Celer Social Channels
Telegram (English) | 27K members
Twitter (English) | 7.5K followers
Medium | 60 Articles
Facebook | 2.6K Likes
WeChat (Official Account) (CelerNetwork技术社区) | 9.6K Followers

COMPETITOR OVERVIEW
Key Comparables
| | Celer Network | Lightning Network | Raiden | Loom Network | Liquidity Network | Trinity Network |
| --- | --- | --- | --- | --- | --- | --- |
| Underlying technology | Generalized State Channel Network Side chain with plasma semantic | Payment Channel Network | Payment Channel Network | Side chain with DPoS semantic | Side-chain with plasma semantic | Payment Channel Network |
| Token functionality | See CELR Token Ecosystem | No token | Payment for extra services | SDK licensing Payment for services DPoS Staking for DAppchain | Payment for extra services | Payment for extra services |
| Channel routing algorithm | cRoute: Provably optimal performance, 20X higher performance than shortest path | Onion routing with shortest path on the overlay network | Shortest-path routing | Not applicable to Side chain | Not available | Not available |
| Trust-free off-chain smart contract support | Yes | No | No | No, only with DPoS support | No | Not |
| Multi-blockchain support | Ethereum, DFINITY | Bitcoin | Ethereum | Ethereum | Ethereum | NEO, Ethereum |
| Transaction Finality Latency | Low | Low | Low | High | High | Low |
| Liquditiy Shortage Solution | Liquidity Backing Auction + Proof of Liquidity Commitment | Not available | Not available | Not applicable to DPoS | Not available | Not available |
| Layer-2 state security solution* | State Guardian Network | Not available | Not available | Not applicable to DPoS | Not available | Not available |
| Core implementation | Golang | C++ | Python | Golang | Typescript | Python |
| SDK availability | iOS, Android, Golang, Javascript | iOS, Android and Javascript | Javascript, Python | Javascript, Phaser, Golang, Unity, Cocos | Javascript | Python |
| Mobile wallet support | iOS and Android | iOS and Android | Not Available | Not available | Android and iOS | Android |
| End-user application support | Micro payment Highly interactive esport games; | Micro Payment | Micro Payment | NFT token based games | Micro Payment | Micro Payment |
Note: There are other third-party solutions for state monitoring or "watch tower" solutions available for lightning network. However, they have significant disadvantages of centralization, high liquidity cost, hetereogenous interface for different states and assets, complex on-chain/off-chain interaction and finally a very rigid insurance model.
Celer Network's State Guardian Network is the only solution to above issues. More details can be found in this talk.
Celer Points of Differentiation
Multi-blockchain support
Support not only just payments but also off-chain smart contracts
Provably optimal state routing algorithm with more than 20X performance gain
First and only off-chain crypto economic model to provide state availability, connectivity, dispute resolution and abundant liquidity for off-chain scaling platform, where CELR token plays an indispensable role.
APPENDIX
Additional Resources
Videos
Additional Team Background
| Member | Background |
| --- | --- |
| Raja Daoud | Raja has 21 years of C/C++ experience, 9 years of Python, 3 years of Go, and assembly code optimization experience along the way. He has a long history of working experience from HP from 1995- 2000, Cisco from 2000 to 2003, Amazon from 2003 to 2007, SurveyMonkey from 2007 to 2011, Google from 2011 to 2017, Veriflow from 2017 to 2018. He primarily focus on high performance distributed system design and implementation. He co-designed and co-implemented the peer-to-peer sync protocol and infrastructure for different Vanadium Store models: Graph DB, Hierarchical DB, and Structured Key/Value pairs with nested data subsets, batch operations, blob references, fine-grained ACLs, p2p rendezvous of syncgroups. |
| Zixuan Wang | Rancho Wang received his Master's degree from Nanjing University. He has 6 years of Android app development experience. He worked as the Android dev lead for Nanjing Bank and Jiangsu Bank. He then worked as senior developer for Mogujie, a top e-commerce company in China, where he got 2 patents on a highly optimized Android Crash Protection System to maintain the crash rate of the app below 0.04% while the DAU was reaching 2 million. He has solid experience in app development, security safeguard and performance optimization on mobile devices. He is an early explorer and evangelist of blockchain technology with in-depth knowledge of smart contracts. |
| Yan Zhang | Yan Zhang received his Masters from CentraleSupélec, France. As one of the earliest and major contributors in mobile technology, he developed dozens of innovative and popular mobile products, and led an engineering team that created the world's largest scalable mobile AR UGC platform. |
| Yunjia Dai | Yunjia received his Master's degree from Columbia University. He joined Google display ads in 2014 to develop and evolve ad serving infrastructure for various products including AdSense, DoubleClick for Publisher and DoubleClick Bid Manager. He was the tech lead for display ad serving-reporting API and infrastructure which handle millions of events per second. |
| Jinyao Li | Jinyao received his Masters from Boston University. He was a mobile engineer for a social networking company. He used to lead team to build both Android and iOS application for company. He had plenty of experience on user interaction and view animation development. |
| Xuefeng Zhu | Xuefeng Zhu received computer science bachelor degree from University of Illinois at Urbana-Champaign with highest honor, and received John R. Pasta Outstanding Undergraduate Award. During his undergraduate, he worked with Mo Dong and Professor Brighten Godfrey on non-regret learning network protocol research. After graduated, he joined the network formal verification startup Veriflow founded by Professor Brighten and helped develop web service and web client. His work at Veriflow helped the client network visualization and management scaled up to large network containing thousands of network device. Later he joined Champaign Yahoo and worked on internal tools related to user KPI analysis. He also helped develop and release a open source data analysis report UI framework. In 2017, he worked with Mo Dong to develop a full-stack smart contract courses to Chinese developer community and achieved huge success. |
| Michael Zhou | Michael Zhou received his Master's from MIT. His research focused on programming models targeting massively parallel data flow architecture. At Google, he worked on compilers, static analyzers, virtual machines and development framework that support products serving billions of users. |
| Changfeng Liu | Changfeng Liu received CS Master degree from University of Michigan. He was a research assistant at UMich, UIUC and SJTU working on databases and data mining, and published several papers in top conferences of AI and data management fields. The algorithms designed by him have been adopted in Zenvisage, a data visualization exploration system developed at UIUC, and Acemap, an academic searching system developed at SJTU. He is also a blockchain enthusiast and an experienced developer in smart contract, and served as a teaching assistant in multiple online blockchain courses. He received National Scholarship twice during undergrad and graduated from Shanghai Jiao Tong University with honor. He filed three China patents. |
| Alex Wu | Alex graduated from School of Visual Arts with a Master's in design for Social Innovation because he believes our purpose is to create value for others. His training to work at a system level, using design thinking to facilitate conversation for understanding the context to solve problems has made him a thoughtful designer. Prior to joining Celer Network, he had experience working at Cornell Tech, SAP, and served as design advisor at multiple startups. |
| Taihung Lu | Tai-hung Lu received his Master of Design degree at DAAP of University of Cincinnati. After graduated, he joined SAP as a UX designer for designing and building internal applications. |
| Sirong Li | Sirong Li received her Master's degree in Business Analytics from University of Rochester. She has extensive work experience in market research, advertising, and consumer goods. Sirong is specialized in developing novel market strategies and making agile data-driven business decisions. At a Fortune 500 company TJX, Sirong facilitated organizational transition of the whole department with thousands of employees. At the world-leading marketing firm Ogilvy & Mather, Sirong delivered a series of marketing campaign for a Fortune 500 client and boosted sales significantly. Sirong is also an experienced project manager. She used to lead a team to help the client company to generate brand awareness and increase sales rapidly with various big data and machine learning techniques. |
| Pengying Wang | Windy (Pengying) Wang graduated from Boston University with the dual degree in International Relations and International Management. As the Vice President of MIT-CHIEF, she has led around 50 US-based startups back to China for the roadshow and connected with venture parks. Her business development and marketing experience at MassChallenge and China-US Boston Innovation Center urged her to actively take initiatives in the entrepreneurial ecosystems. |
Medium Articles
The project team recently posted a series of layer-2 crypto economics by Celer Network videos. In the series, they address some of the critical challenges faced by layer-2 scaling solutions, and how Celer Network's products, such as state guardian network, liquidity backing auction and proof of liquidity commitment mining, solve these critical challenges.
Advisors
Dr. Christos Kozyrakis | Professor of Electrical Engineering and Computer Science at Stanford University, a fellow of the ACM and the IEEE. He is broadly interested in secure and energy-efficient distributed systems.
Dr. Alan Mishchenko | Research Scientist at UC Berkeley since 2002. He specializes in building fast and scalable tools for design automation, and developing computationally efficient methods for logic synthesis and formal verification.
Dr. Shoucheng Zhang (late) | Professor of Physics at Stanford University, a fellow of the American Academy of Arts and Sciences and the US National Academy of Science. He founded Danhua Capital in 2013 and served as the Chairman.
The Celer team has provided the following recap of their community activities to date, as well as several recordings of their talks and presentations at past events.
Conferences:
June 10–12, 2018:CPC Crypto DevCon at Computer History Museum: Mo Dong shared how scalability would transform blockchain technology at the "Scalability" panel.
June 26, 2018:Blockchain Connect Conference at Silicon Valley. Mo Dong discussed "Off-chain Scaling Platform: the Inflection Point for Blockchain Mass Adoption".
June 30, 2018:Off The Chain at Berlin, Germany: This event specifically targets those interested in state channels as a scaling solution for cryptocurrencies. Celer was invited to one of the most high-profile research workshops with some of the best researchers in off-chain research field. Xiaozhou Li presented "Rethinking Off-Chain Payment Network Routing" at this master workshop.
July 25, 2018: Co-founder Dr. Qingkai Liang gave a special seminar at the MIT on July 25th. The seminar talked about the technical innovation of Celer Network, including off-chain payment network routing and how scalability would transform blockchain technology.
August 17–19, 2018:Crypto 2018. Mo Dong joined the Crypto 2018 at Santa Barbara. Guests including Vitalik Buterin (Ethereum), Zooko Wilcox (Zcash), Mic Bowman (Intel), and Dawn Song (UC Berkeley), etc. The main discussion was about blockchain development and the future of dApps.
August 28, 2018:Mars Blockchain Summit — Mars Finance. Mo Dong shared his view on future blockchain and how Celer can help blockchain scale at one of the panels.
September 5, 2018:P.O.D - 36Kr: co-founder Xiaozhou Li was invited to P.O.D Meeting in Beijing organized by Odaily and 36Kr. Xiaozhou gave a keynote speech on building and operating internet-scale dApps on Celer Network as well as joined the panel to discuss the roadmap of blockchain technology.For a summary of the talk in Chinese, please click here
September 8, 2018: At Ethereum Industry Summit, Xiaozhou Li was invited to Ethereum Industry Summit in Hong Kong. At this summit, Xiaozhou gave a keynote speech on building and operating internet-scale dApps on Celer Network.
October 5–7, 2018: At ETH San Francisco hackathon, Celer invited all developers to join them to learn how to build highly scalable and responsive dApps with Celer mobile and Go SDK. Celer team served as one of the judges and mentors in the largest Ethereum hackathon. Projects building on top of Celer: off-chain prediction market, micro services with SLA guarantee, IDE UX for developing on Celer Network, and financial derivative trading market with instant order matching,. Hackathon link |Devpost Submissions
October 8–9, 2018: At San Francisco Blockchain Week, Celer hosted a 1.5hr-workshop during the conference, whic taught developers how to build highly scalable and responsive dApps with Celer mobile and Go SDK.
October 10, 2018: 500 blockchain-state of scaling-progress & challenges panel discussion: Mo Dong joined the panel discussion and talked about the latest developments & breakthroughs across scaling solutions; current scaling challenges projects are working on; key milestones for the next 6–12 months; and how new developers, founders, industry experts can get involved.
October 10–11, 2018: Crypto Economics Security Conference, CESC 2018. Mo Dong presented how to use Celer to solve liquidity shortage and state availability challenge in off-chain scaling platform to the crowd.
October 30-November 2, 2018:Ethereum Devcon 4. Celer participated in devcon in Prague. Over 2,500 developers around the world attended Devcon4.
Nov. 1, 2018: at the Devcon4, Mo presented on how to build and operate internet-scale Ethereum dApps on Celer Network to hundreds of developers.
November 2, 2018:iExec Summit event. Mo Dong was invited to join this blockchain and technology themed workshops, talks and discussions. At this event, Mo shared his insight on the future of scalability and how to build blockchain infrastructure.
November 29-30, 2018:BUIDL Seoul 2018: Cofounder Qingkai Liang joined the panel on "Solving the Trilemma with Novel Ideas". Celer also hosted a workshop on building with Celer SDK at the conference.
December 7-9, 2018:ETHSingapore: Celer participated in ETHSingapore as one of the judges for this hackathon. Mo Dong presented to developers on how to use Celer SDK and build scalable dApps on Celer Network. One team built an Interactive game on Celer which attracted a lot of positive feedback. Devpost Submissions
December 9-11, 2018, World Digital Assets Summit and Hacker Arena. Full Hackathon post here
February 15-17, 2019,ETHDenver Hackathon Hackathon post (sample projects included)
Meetups
August 7, 2018, San Francisco:SF Ethereum Developers Meetup
October 8, 2018, San Francisco,The Future of Layer-2
October 12, 2018, San Francisco:Celer SDK Private launch party
October 20, 2018, Beijing:Next Generation Blockchain
October 29, 2018, Prague:The Future of Layer-2
November 5, 2018, Berlin:Technology and Crypto-economics for Blockchain Layer-2 Scalability
November 7, 2018, Paris:Technology and Crypto-economics for Blockchain Layer-2 Scalability
November 8, 2018, Amsterdam:Technology and Crypto-economics for Blockchain Layer-2 Scalability
November 10, 2018, Shenzhen:Building and operating internet-scale dApps on Celer Network
November 11, 2018, Beijing: Building and operating internet-scale dApps on Celer Network
November 13, 2018, Shanghai: Building and operating internet-scale dApps on Celer Network
November 14, 2018, Hangzhou: Building and operating internet-scale dApps on Celer Network
November 16, 2018, San Francisco:Lay the foundation to mass adoption dApps
November 17, 2018, Beijing:Building and operating internet-scale dApps on Celer Network
November 29, 2018, Seoul:Ethereum Layer-2 Scaling Solutions
November 30, 2018, Mountain View:Celer Network Whitepaper Study Group
January 28, 2019, San Francisco:KryptoSF: Let's Recap 2018 & BUIDL for 2019
February 14, 2019, Denver:Chainlink & Celer: Combining real-world and layer-2 scalability
Developer testimonials:
Franky, Battle Bombers Creator:

"I wanted to focus on creating a turn-based PvP game. I built it in iMessage as an extension. So what Celer was great for this specifically was not only the payment layer for being able to say, oh here's your reward, here's your jackpot, but also for building types of games where when you're doing these one-to-one messaging or these turn-based games that you can modify point systems instantly, which is really really awesome."

Xavier, Bears, Bulls, & Bufficorns Creator:

"Once I got it all working, the team was very helpful and helped me a lot. It was very fast to make the transactions and very simple to use. I would definitely consider building more games on Celer SDK."

Artem, Nikita, Kirill, Ethergram Creators:

"We built a wallet within telegram messenger to allow users to send transactions instantly via telegram. Celer SDK is very simple to use. We're really curious to learn about what is under the hood for Celer. Once Celer release more open source, we will be really excited to check it out. We like it that Celer allows people to interact with its API and very simple to use. You don't need to know how it works but you can use it."
Leszek (youngest Celer user):

"CelerX has a really nice use and this is definitely the kind of the dApps that I would want to use in the future."

Ryan:

"With my layer-2 experience, seeing the instant payments and seeing them be final immediately are pretty incredible."

Miran:

"I played the Gomoku game all night. Generally, the Ethereum takes me about two-minute for a small transaction, but for your game, the moment I deployed, the transactions are there!"

Joseph:

"CelerX dApps does feel like a regular app. The experience is pretty awesome, that I've been able to play decentralized games on the state channel level."

Souradeep:

"CelerX helps speed up dApps and reduces the transaction costs. Users will be more acceptable to the blockchain."

Xavier:

"CelerX is very fast to make the transactions and very simple to use."