Band Protocol (BAND)
Data governance framework for Web 3.0 applications
Key metrics (as of September 6th 2019)
| Ticker | BAND |
| --- | --- |
| Issuing Price | $0.473 |
| Initial Circulating Supply | 17,083,333 BAND (17.08%) |
| Total Supply | 100,000,000 BAND |
| Project Website | https://bandprotocol.com/ |
Band Protocol offers a decentralized data oracle by making data readily available to be queried on-chain, using delegated proof of stake ("dPoS") to ensure data integrity. Band Protocol offers the following features:
Decentralized economic incentive: Band Protocol is designed to let data providers have economic and reputation at stake to remain honest.
Scalable: Costs for data providers remain constant regardless of how many dApps are using their data. Once a datapoint is put on-chain, multiple smart contracts can consume the data without added cost to data providers.
Fast data query: Logic can be processed within one transaction, requiring no blockchain confirmation. Data is readily available on blockchain so consuming data can be done synchronously within the same transaction.
Easy deployment: dApps can integrate with Band Protocol using a few lines of code with no major modification. Querying data on Band dataset requires only a function call on a predefined interface.
WHAT IS BAND PROTOCOL?
Project mission
Band Protocol aims to be the go-to data infrastructure layer for Web 3.0 applications by providing decentralized, curated off-chain data to smart contracts through oracles managed by its dPoS consensus mechanism.
Project value proposition
Band Protocol offers fast, low-cost, and synchronous query model for decentralized applications.
Through dPoS consensus mechanism, Band Protocol offers a decentralized network where data providers have both money and reputation at stake.
The BAND token aims to capture the network value of Band Protocol, rather than just being a simple payment token.
TOKEN SALE AND ECONOMICS
KEY METRICS (as of September 6th 2019)
| Token Name | BAND |
| --- | --- |
| Token Type | ERC-20 |
| Seed Sale Token Price | 1 BAND = $0.30 |
| Seed Sale Allocation | 10.00% of total token supply |
| Seed Sale Date | August to October 2018 |
| Amount Raised Private Sale | $2,000,000 |
| Private Sale Token Price | 1 BAND = $0.40 |
| Private Sale Allocation | 5.00% of total token supply |
| Private Sale Date | June to August 2019 |
| LaunchPad Allocation | $0.473 USD (price in BNB TBD) |
| LaunchPad Sale Token Price | 12,368,200 BAND (12.37%) |
| LaunchPad Sale Date | September 2019 |
| Initial Circulating Supply | 17,083,333 (17.08%) |
| Total Token Supply | 100,000,000 BAND |
Token Supply Distribution
Seed Sale Investors comprise 10.00% of total token supply
Private Sale Investors comprise 5.00% of total token supply
Public Sale Investors comprise 12.37% of total token supply
Ecosystem comprises 25.63% of total token supply
Team comprises 20% of total token supply
Advisors comprise 5.00% of total token supply
Foundation comprises 22.00% of total token supply
Seed Sale Overview
The Seed Sale was conducted from August to October 2018 for $0.30 / BAND, and raised a total of $3.00MM, for 10.00% of the total token supply. Only USD was raised in the Seed Sale.
Private Sale Overview
The Private Sale was conducted from June to August 2019 for $0.40 / BAND, and raised a total of $2.00MM, for 5.00% of the total token supply. The Private Sale consists of 1,875,000 USD and 125,000 USDC.
Public Sale Overview
The Binance Launchpad Sale will be conducted on September 2019 for a total of $5.85MM worth of BNB at $0.473 / BAND for 12.37% of total token supply. BAND / BNB exchange rate will be determined prior to day of sale.
BAND Token Release Schedule
Token Governance & Use of Funds
As of September 2019, Band Protocol has used approximately 5% of TGE funds and the team has an expected runway of at least 4 years. Any funds raised will be spent according to the following allocations:
60% technical and business development
20% marketing
10% operation
10% legal and audit fee
Funds are raised in fiat or stablecoins so the team is shielded from crypto price's volatility risk. Stablecoins are stored in multi-signature wallets, requiring at least 2 out of 3 signatures from top management team.
Token Overview & Use Cases
Band ecosystem consists of two token types: BAND token and dataset tokens.
BAND token is the native token of Band Protocol with a fixed supply. It represents the collective value of all datasets inside of Band Protocol. The use cases intended for BAND include but are not limited to:
Collateral to issue dataset tokens: BAND token is used as collateral to issue data tokens with price and supply determined algorithmically by an on-chain continuous bonding curve.
Governance: BAND token is used as a voting token for network governance decisions.
Participation in BandChain consensus algorithm: after Mainnet launch, BAND token will be used as the staking token to secure the network through delegated proof-of-stake consensus mechanism.
Dataset token represents the ownership stake in a particular dataset inside of Band Protocol. The use cases intended for dataset tokens include but are not limited to:
Stake to acquire data provider slots: Data providers are required to maintain certain amount of dataset token to earn slots to provide data, similar to work token model.
Stake for data provider curation: Token holders can participate in the curation of data providers by staking for them using dataset token.
Voting: Dataset token is used as a voting token to collectively decide dataset configurations, such as number of data providers, cost of data query, or minimum stake requirement of data providers.
ROADMAP & UPDATES
Band Protocol has not yet released a public roadmap, and plans to do so after the Launchpad Sale. The table below lists the accomplishments of the Band Protocol team thus far.
Recent Achievements
| Date | Achievement | Commentary |
| --- | --- | --- |
| 2018: Q3 | Whitepaper release | Whitepaper |
| 2018: Q4 | CoinHatcher alpha release | Medium |
| 2019: Q1 | CoinHatcher beta release with token integration | CoinHatcher |
| 2019: Q1 | Revised whitepaper release | Medium |
| 2019: Q2 | Private testnet release | Github |
| 2019: Q2 | Smart contract security audit | Medium |
| 2019: Q3 | Public testnet release | Medium |
Updated Roadmap
Q4 2019
Release Band Protocol on Ethereum mainnet
Release BandChain whitepaper for public reviews
Release financial data feeds on Band Protocol
Q1 2020
Integrate Band Protocol to additional layer-1 blockchains
Release event, on-demand, and identity data feeds on Band Protocol
Release BandChain private testnet
Revamp Band governance portal on Web and mobile platforms
Q2 2020
Release BandChain public testnet
Complete BandChain security audit
Integrate existing dApps and data providers to BandChain architecture
Q3 2020
Release BandChain mainnet
Complete token migration to BandChain
TEAM OVERVIEW
TRADING DATA
As of September 6th 2019, BAND token is not actively traded on any exchange. However, this token will be available through the Binance Launchpad portal.
TECHNICAL OVERVIEW
Band Protocol has a total of 73 public and private repos.
Public Github Repositories
Private Github Repositories
A crypto-news curation portal powered by Band Protocol's Token-Curated Registry
7 Contributors
568 commits

UI and server implementations of Band Protocol's Web3 in-browser wallet
5 Contributors
126 commits

Infrastructure for subscribing to Ethereum and produce GraphQL result in real-time
3 Contributors
109 commits

PRODUCT & METRICS
Data Governance Portal
The Data Governance Portal provides a user-friendly interface to explore datasets in the Band Protocol ecosystem. Users can buy Dataset tokens, stake them for trusted providers, and vote on governance parameters all within one coherent user interface.
Explore Dataset tokens
Instant buy and sell: Users can convert between Band and Dataset tokens at any time without using any counter-parties.
Comprehensive token metrics: Maximizing transparency with built-in summary on market cap, token supply and history of recent transactions.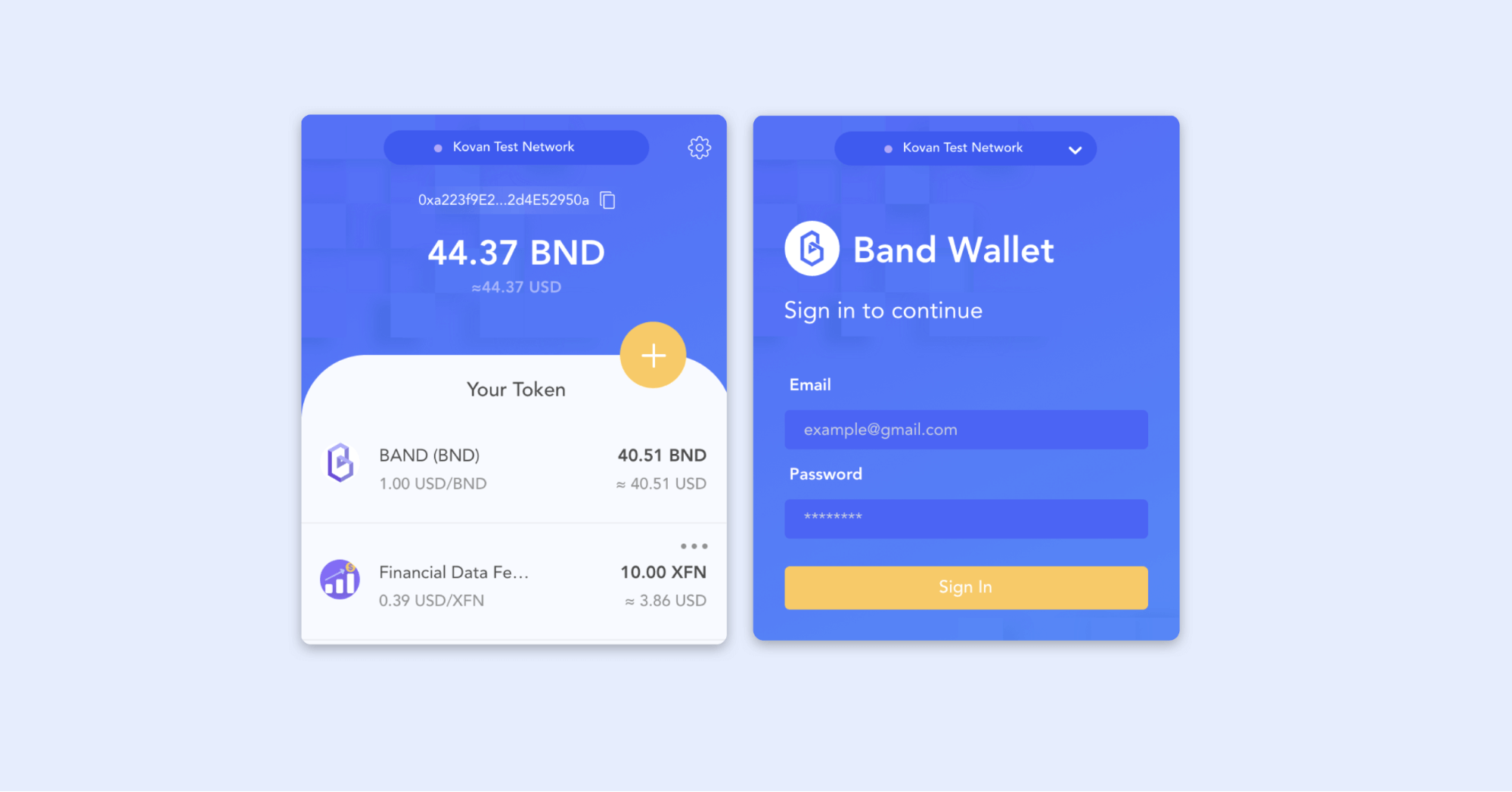 Screenshot of the Data Governance Portal interface
Explore Data
Each data point is visualized through time-series graphs. At any given time, users can see the data without needing to query from a smart contract interface. Data providers and their contributions are also transparently illustrated within.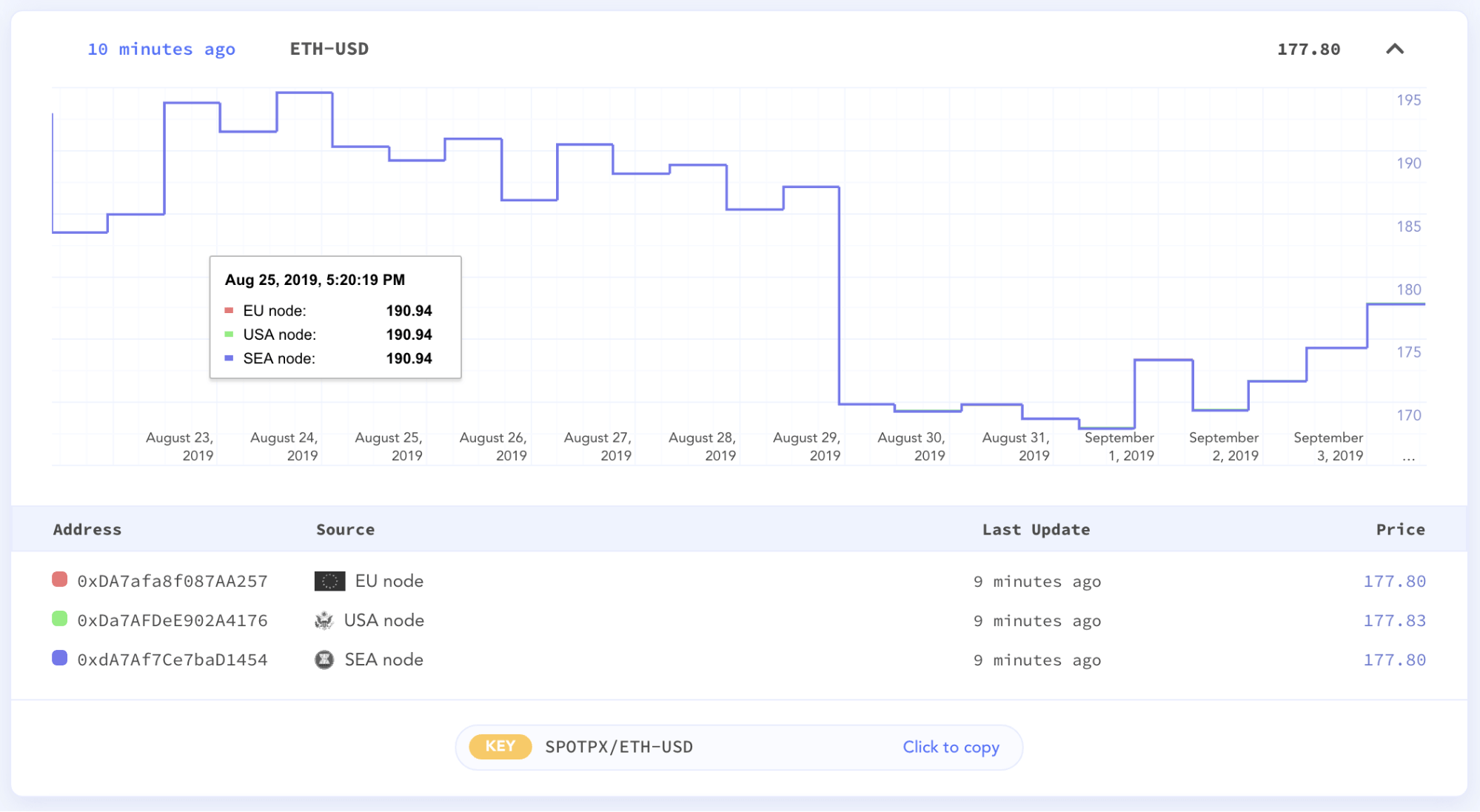 Visualized ETH/USD price data on the Data Governance Portal.
Staking for Data Providers
Users can earn a portion of the data query fee by staking their tokens for trusted data providers. The portal makes it effortless for anyone to deposit and withdraw the stakes.

SEA node, EU node, and USA node are testnet providers run by Band Protocol. The set of actual data providers on mainnet will be different.
Band Wallet
The Band Wallet is a non-custodial Web 3.0 wallet optimized for holding BAND and Dataset tokens without requiring an external browser extension. Once set up, users can transfer BAND tokens acquired from exchanges and buy into Dataset tokens via Data Governance Portal.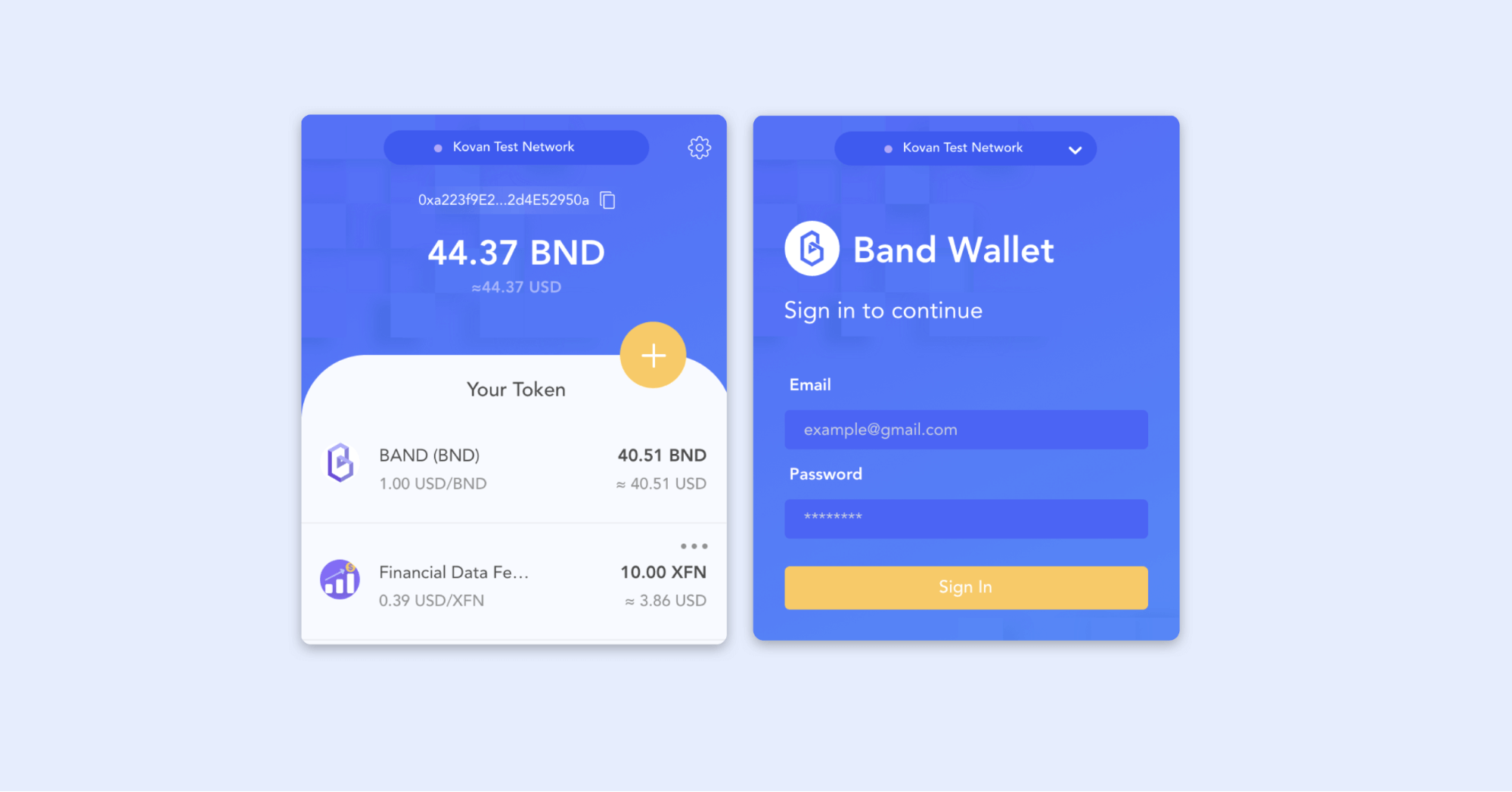 Developer Documentation
Band provides a complete guide for developers to integrate Band Protocol. The documentation includes:
Guide for developers: A step-by-step walk through with detailed tutorials on example integrations.
Guide for data providers: A comprehensive document on how to run a data provider node.
Specifications of available datasets: Complete details on each of the keys and values provided through Band datasets.
CoinHatcher
CoinHatcher is a decentralized news portal for curating high-quality cryptocurrency insights with 30,000 monthly active visitors. The dApp uses Token-curated Registries to filter out fake and lower quality news, leaving audiences with only information approved by the community.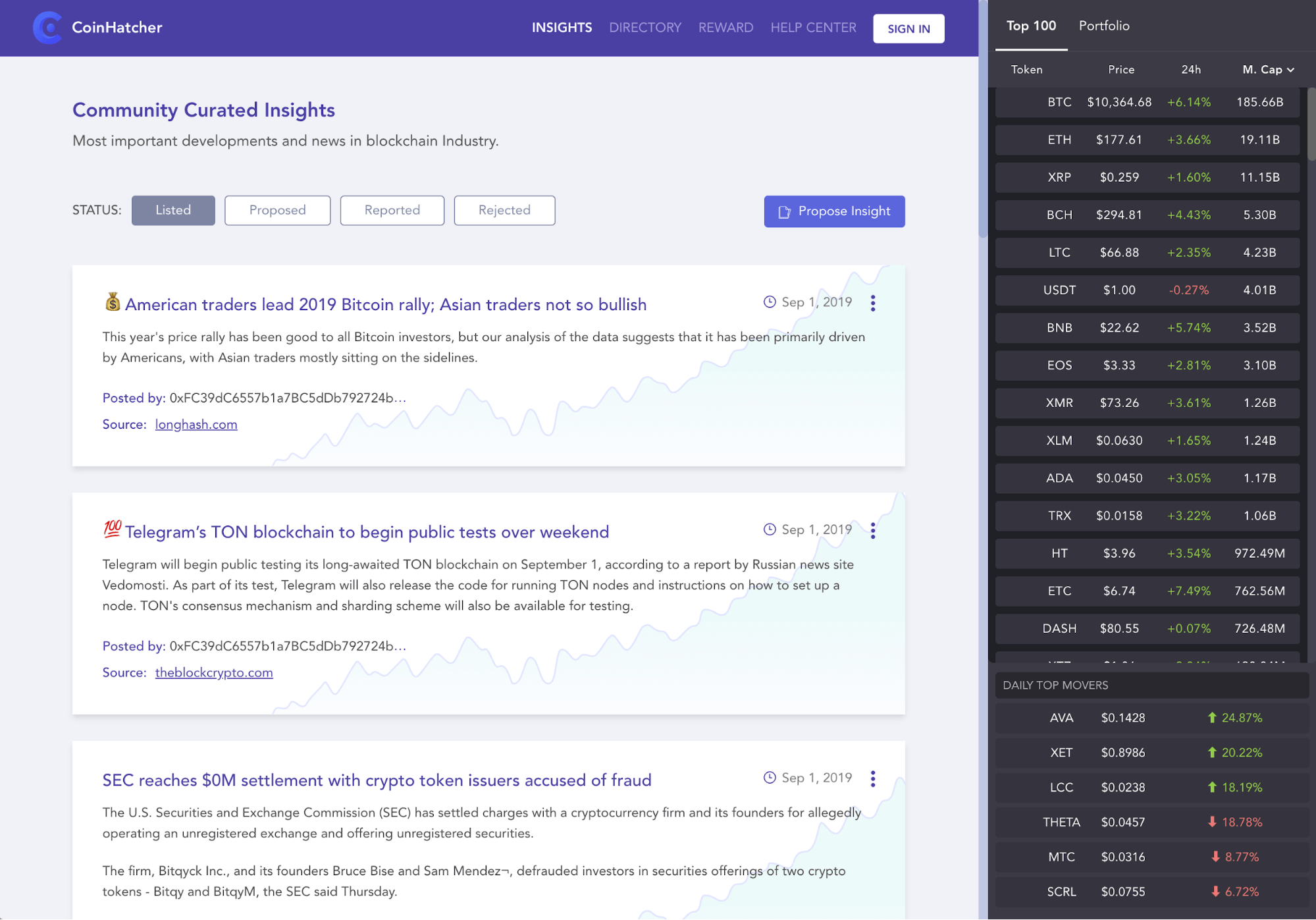 BLOCKCHAIN & NETWORK DATA
Architecture Overview
Band Protocol aims to serve as the data layer of the Web 3.0 ecosystem, bridging real world data to smart contracts. The protocol incentivizes multiple independent parties to work cooperatively to provide trusted data using dPoS style consensus. The Band ecosystem primarily consists of three groups of participants:
Data Providers are specialized entities that independently work on bringing data from the outside world to blockchain securely. Token holders stake for the data providers to give them the right to serve data to the protocol.
Token Holders collectively share the governance stake of Band Protocol. They are responsible for maintaining data quality by voting for trusted data providers. In exchange for their services, they receive rewards paid by the users of the data.
DApp Developers utilize Band Protocol to consume trusted data on their smart contracts without a single point of failure. They pay small fees in exchange for data services.
All fees and rewards are paid using BAND tokens.
Band Protocol utilizes a multi-token model where each dataset is controlled by its dedicated Dataset token. Dataset tokens are issued by collaterizing BAND tokens with a bonding curve. Once created, Dataset tokens are used in the ecosystem to curate and govern oracle data.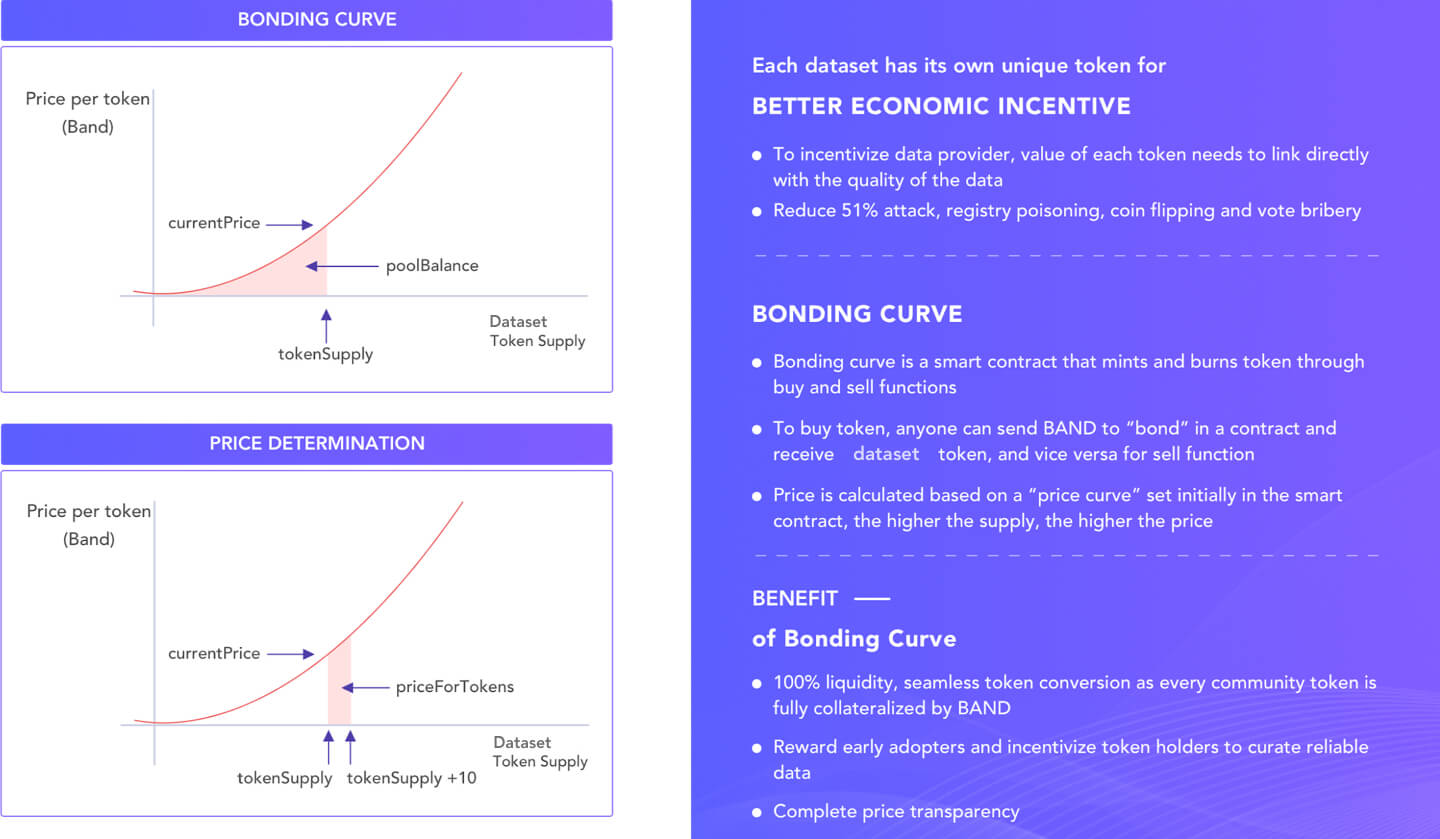 Token-Curated Data Sources
In Band Protocol, Token-Curated DataSources ("TCD") is a method to curate objective data with high volume. The curation of TCD is done through a dPoS consensus mechanism. Token holders collectively elect data providers by staking their tokens in the name of the candidates. Data providers have the authority to provide data to the public with a specified condition, and earn a portion of the fees collected from data queries.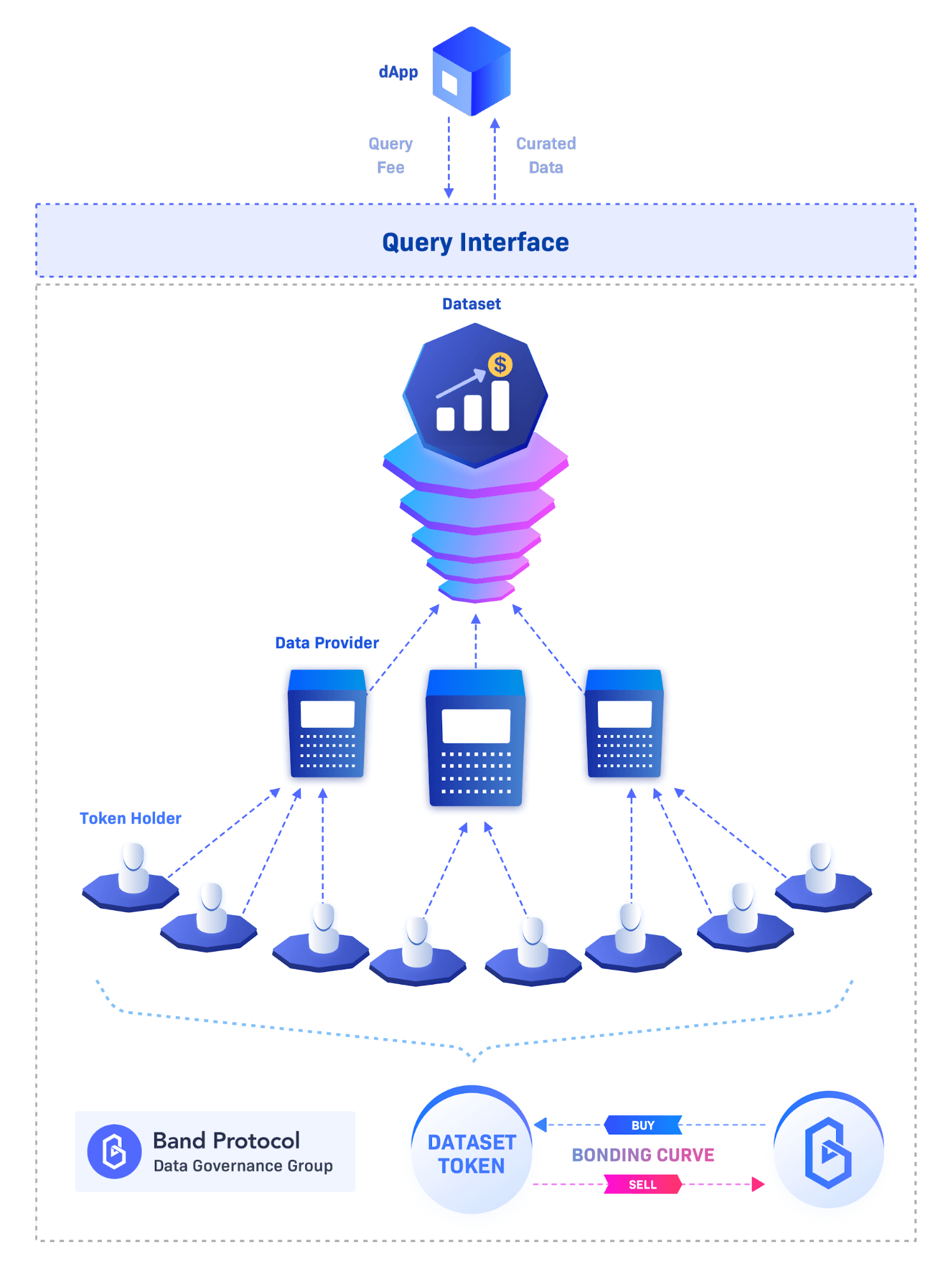 Data providers apply for the authority to provide data to the dataset. Only top providers by total stake are allowed to provide data. They will receive the majority of query fees in BAND for their services.
Token holders stake their tokens for data providers that they trust. They earn a smaller portion of query fees in exchange for securing the list of top trusted data providers.
The initial community development plan will be focused at both dApp developers and general crypto users. Band has created a strong network of developers, starting with the South-East Asian community where developers began building on Band. Band will continue to expand global and local presence with regards to its developer communities.
Band focuses on 3 key groups for future community growth:
General Community Users: Band will focus on educating users on token staking and getting the most value out of holding BAND, along with promoting user-generated content. Band will reward users who contribute positively in community building, content creation and evangelizing Band Protocol through an Ambassador Program. The Band community management team will be available 24/7 to answer questions and facilitate discussions in community channels as well as engaging local events to educate and foster adoption of Band Protocol.
Developer Community: Band focuses on giving developer support through both offline and online channels. By design, developers can integrate Band data with only a few lines of Solidity code. The simplicity of integrating Band Protocol makes it easy for any developer to experiment. With this advantage, Band will organize both online and local hackathons on a regular basis. Promising projects will be eligible for receiving funding and additional support through a Developer Grant Program.
Data Providers: Band's primary focus is to onboard companies that traditionally have had a strong presence working with data portfolios in the legacy Web 2.0 internet. Band will have a dedicated integration team to help companies with integration and maintenance of data feeds. Over time, Band will become more decentralized and let the community drive the growth of data providers.
Community and Social Channels
Telegram (English) | 14.2K Members
Twitter (English) | 2.3K Followers
Medium (English | 990 Members
Facebook (Thai) | 697 Likes
Reddit (English) | 683 Followers

APPENDIX
Tutorial & App Examples
Videos & Interviews