Electra (ECA)
A Proof of Stake (PoS) Blockchain For Peer-To-Peer Digital Payments.
Electra (ECA) is an open-source, Proof of Stake (PoS) blockchain project that aims to facilitate cryptocurrency payments.
Electra also developed ElectraPay, which is a software based solution for online merchants and physical stores to buy and receive payments in Electra coins.
Electra is currently using the SHA256 consensus algorithm, after pivoting from the NIST5 algorithm in 2019.
Electra was released in 2017, and the project did not conduct an ICO, nor IEO fundraising event. Instead, 3.14% of the total coin supply was pre-mined by the foundation to support project development.
Some of the functionalities that the Electra blockchain supports include Atomic Swaps, Lightning Network, and Segregated Witness.
1. What is Electra (ECA)?
Founded in 2017, Electra (ECA) is an open-source blockchain project that aims to facilitate cryptocurrency payments.
Electra seeks to provide an alternative solution to the slow, inflexible, and costly traditional payment services where merchants pay a high merchant discount rate (MDR) of 3% or more for digital payment processing services. Electra allows merchants to pay for transactions at 0.0001 ECA each, which is negligible compared to traditional payments.
Small businesses tend to be very adverse to the high MDR costs, because even for small ticket transactions, merchants may have to pay a flat fee on top of a percentage of each transaction. Customers also experience higher transaction fees when purchases are conducted internationally due to currency conversion fees. Also, merchants typically have to wait for days or even weeks to receive payments.
Electra aims to facilitate micro-payments. To do so, the Electra blockchain has a target block time of 64 seconds and enables merchants to receive payments with transactions being pushed to the blockchain in milliseconds. Merchants can individually decide their transactions' finality based on their comfort level on how many blocks have passed, similar to Bitcoin. Electra's end-to-end, decentralized network also eliminates the need for a middleman between merchants and customers, therefore reducing the possibility of potential data leaks.
Recent news
2. Existing products
2.1 ElectraPay
ElectraPay allows merchants to register and accept online ecommerce payments.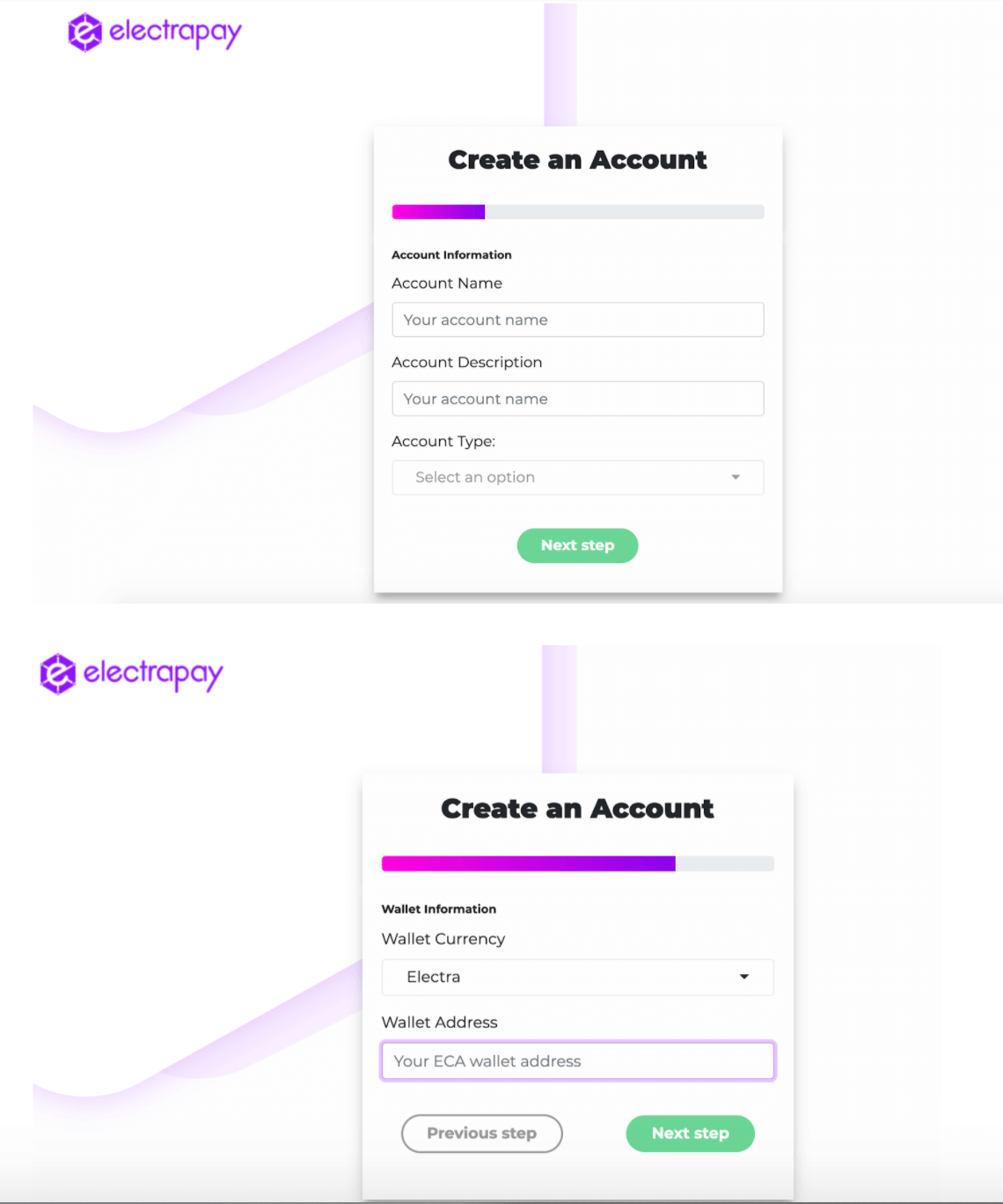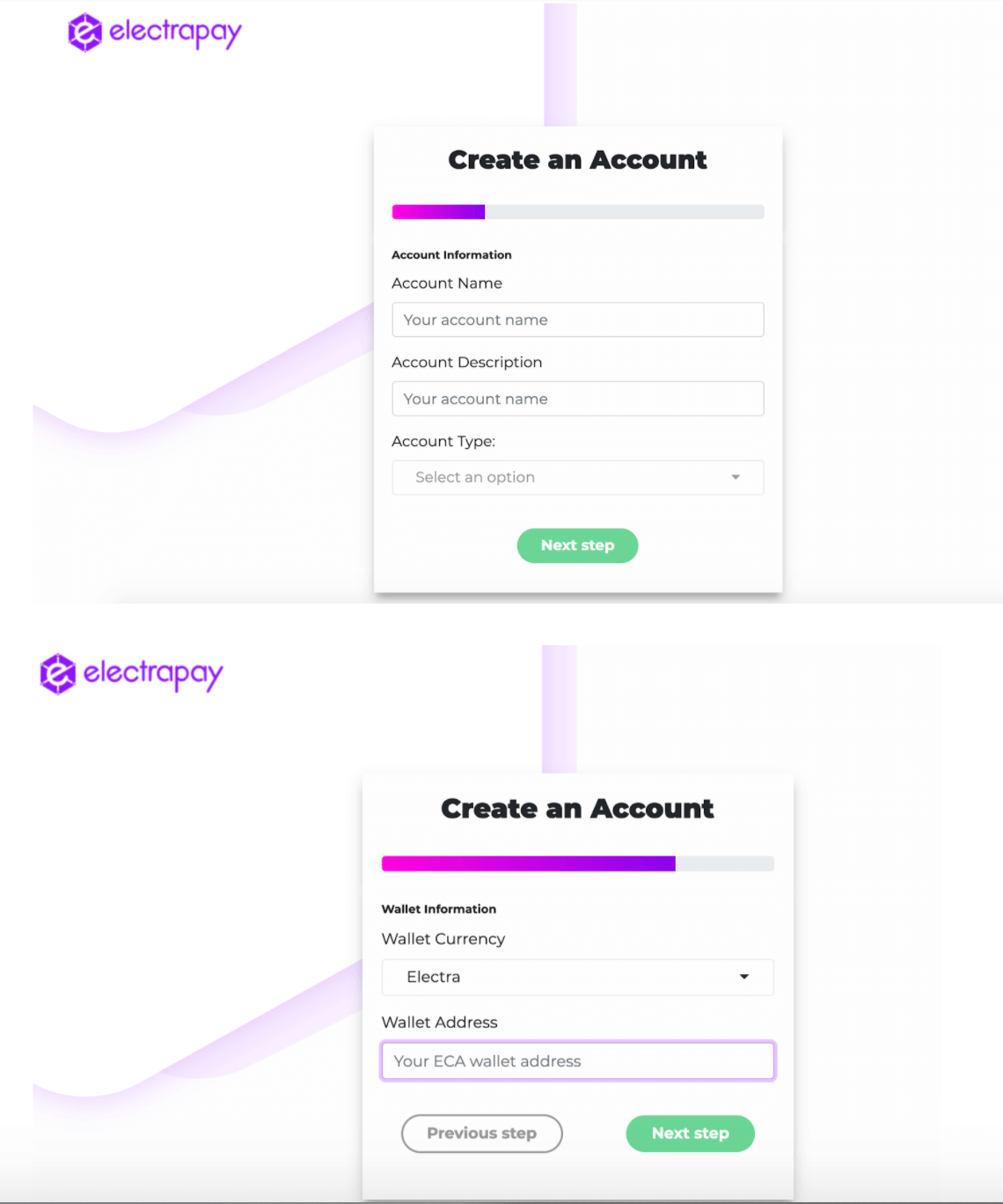 Source: Electra Management Team.
Upon signing up, merchants are able to generate an API Key for eCommerce site. Currently, Electra offers the WooCommerce plugin, which can be used on all WordPress sites. Merchants can track the status of each order via the web portal.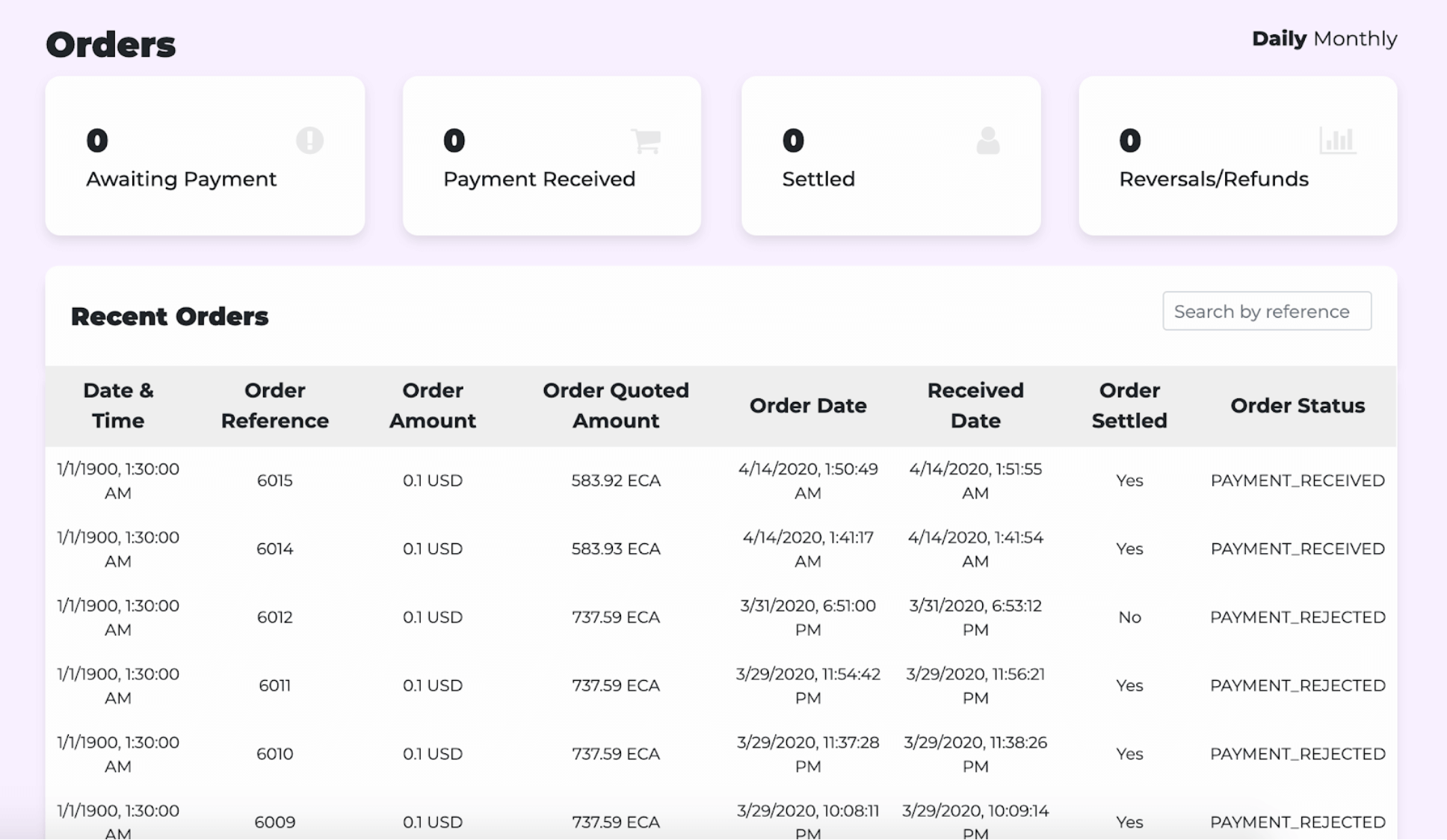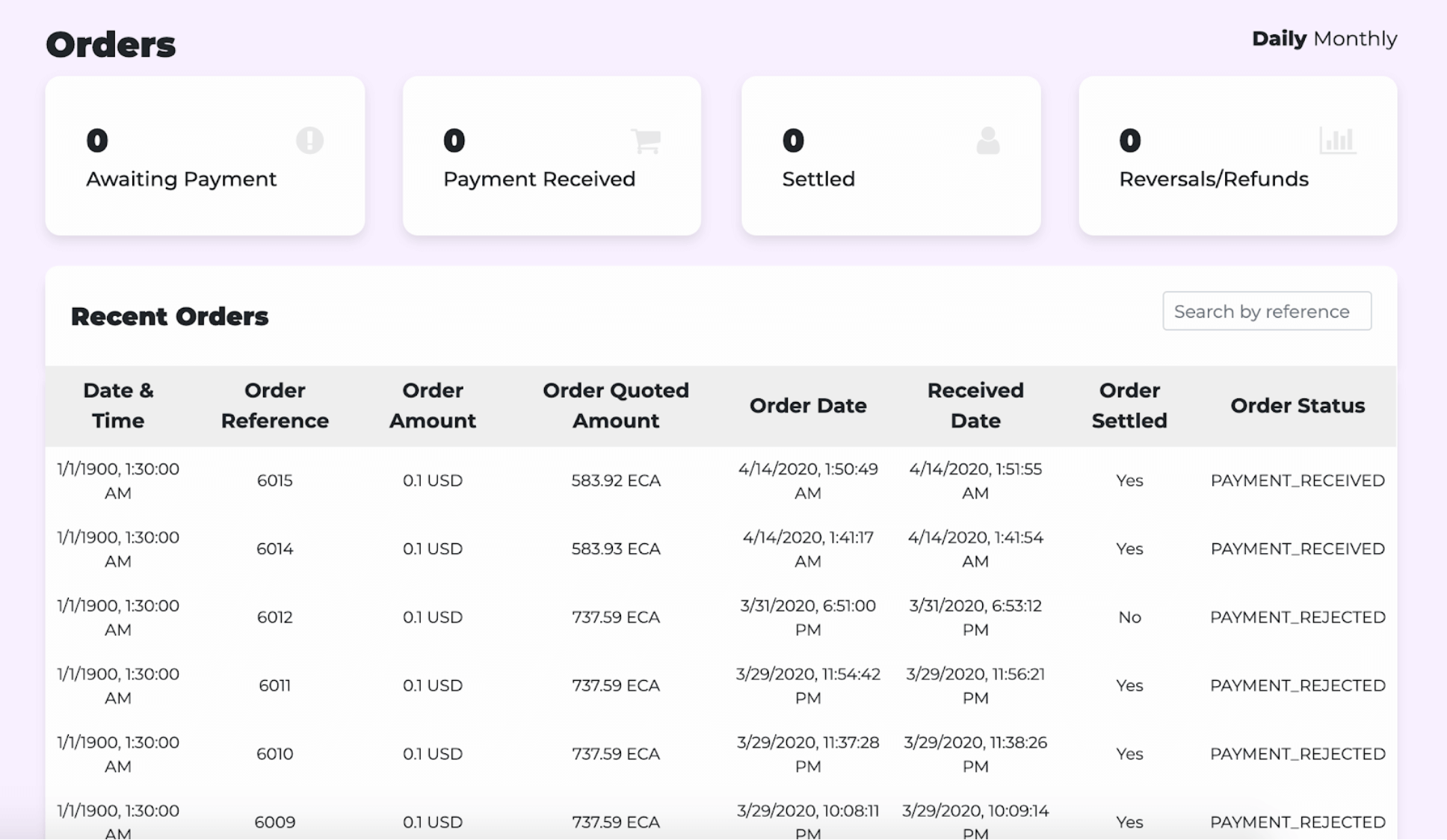 Source: Electra Management Team.
The merchant is also able to view his account information, which he can update as required. Merchants can also see all changes made by viewing the last activities section.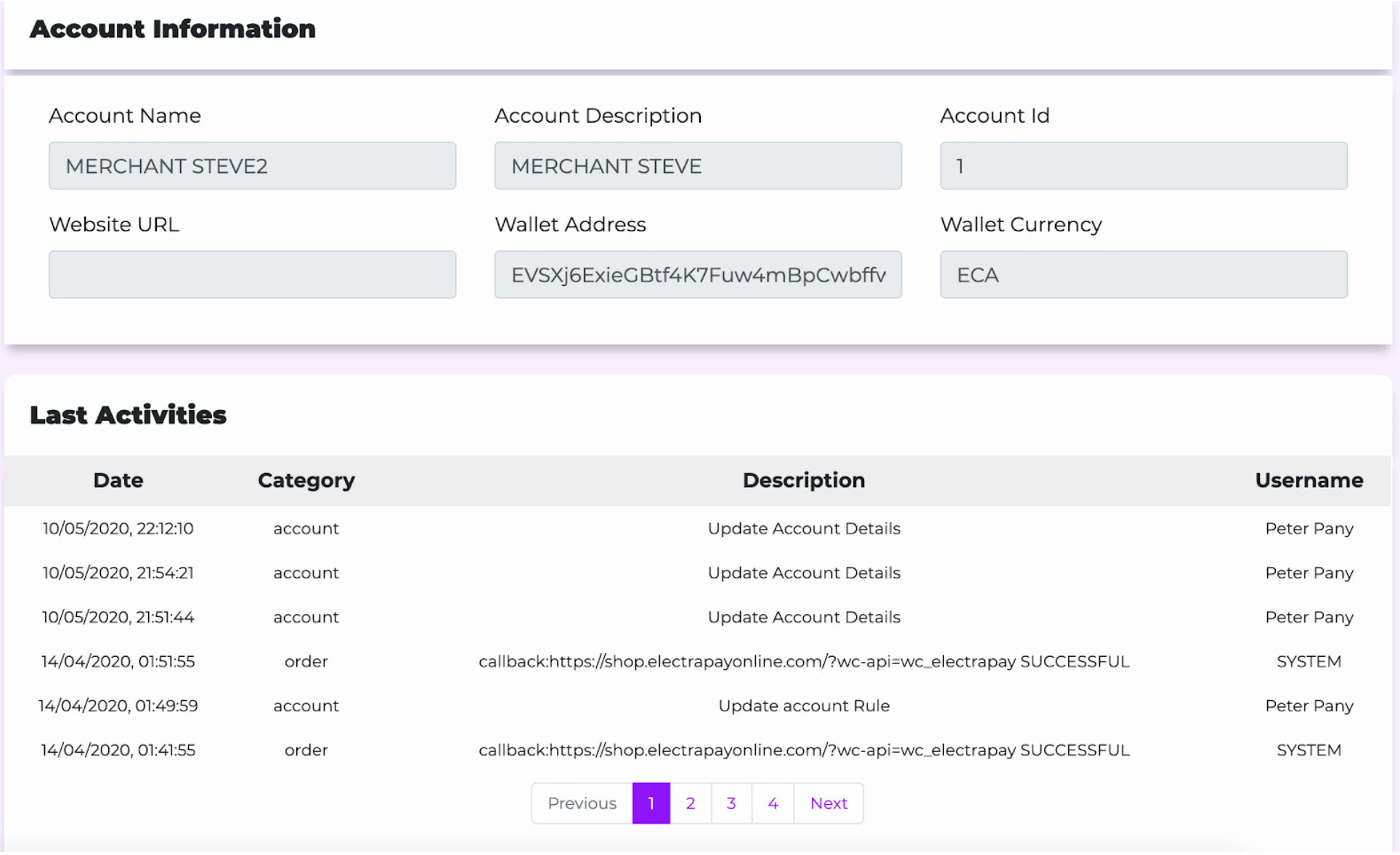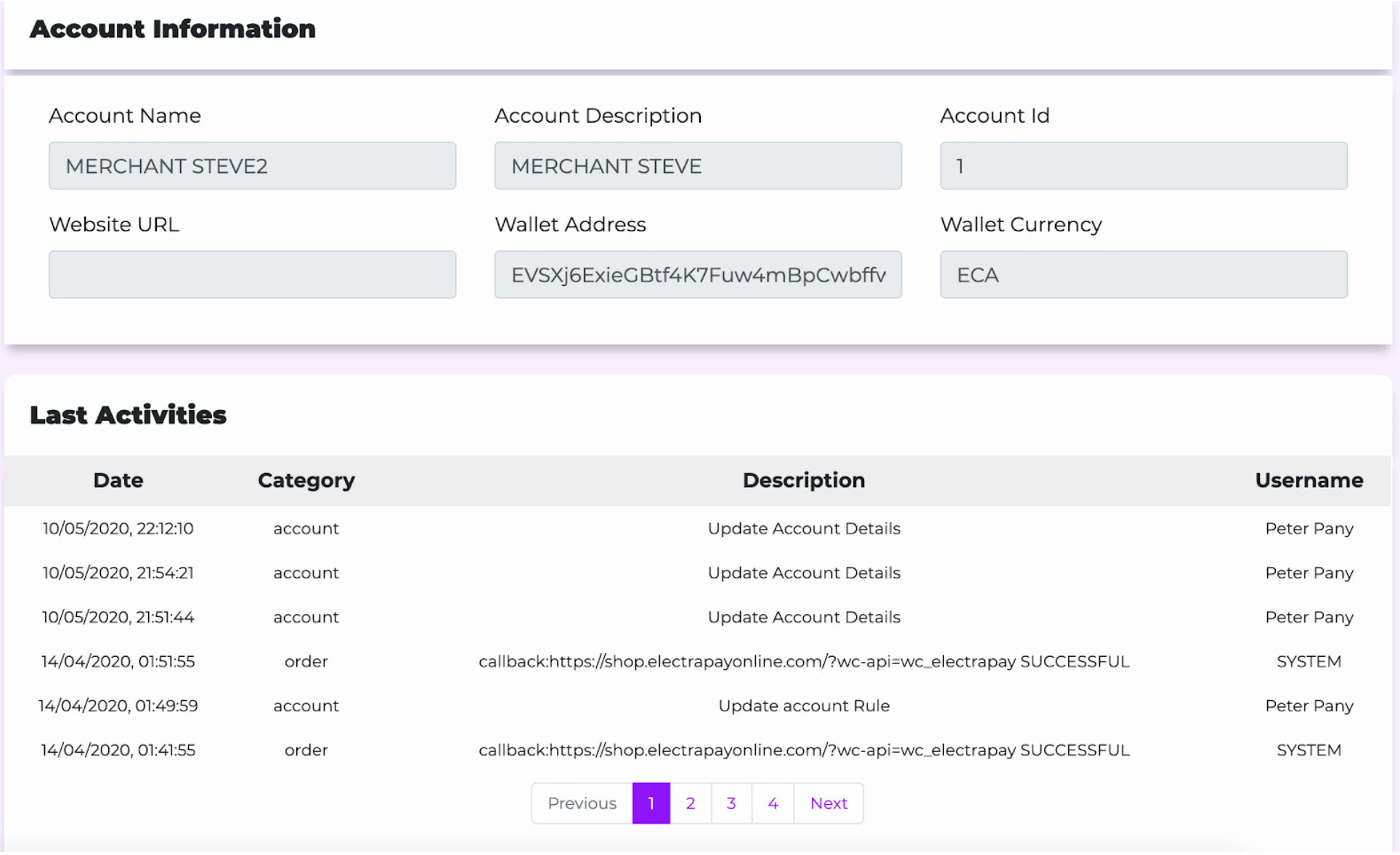 Source: Electra Management Team.
Electra also has a dedicated WooCommerce website to demonstrate how ElectraPay can be used.
Transactions on the Electra blockchain appears in both the merchant's and customer's accounts within milliseconds and are verified on the blockchain with a block time of 64 seconds per block.
Source: Electra Management Team.
2.2 Point-of-Sale system
With the webshop solutions already running, there is still a need for local solution in a physical store.
Electra team developed a Point-of-Sale application directly linked to the ElectraPay merchant account, this integration allows the merchant to plug in to both online and offline environment.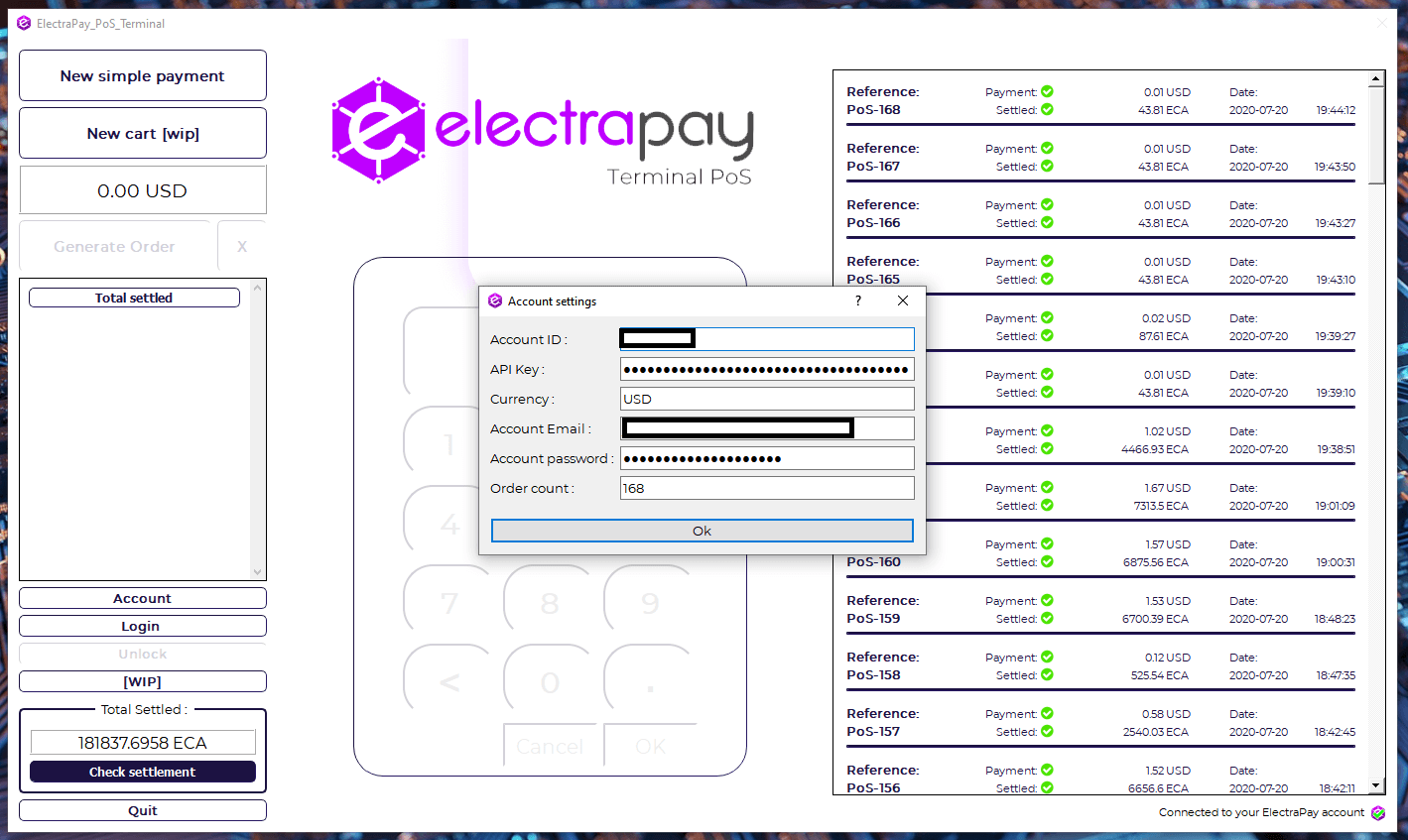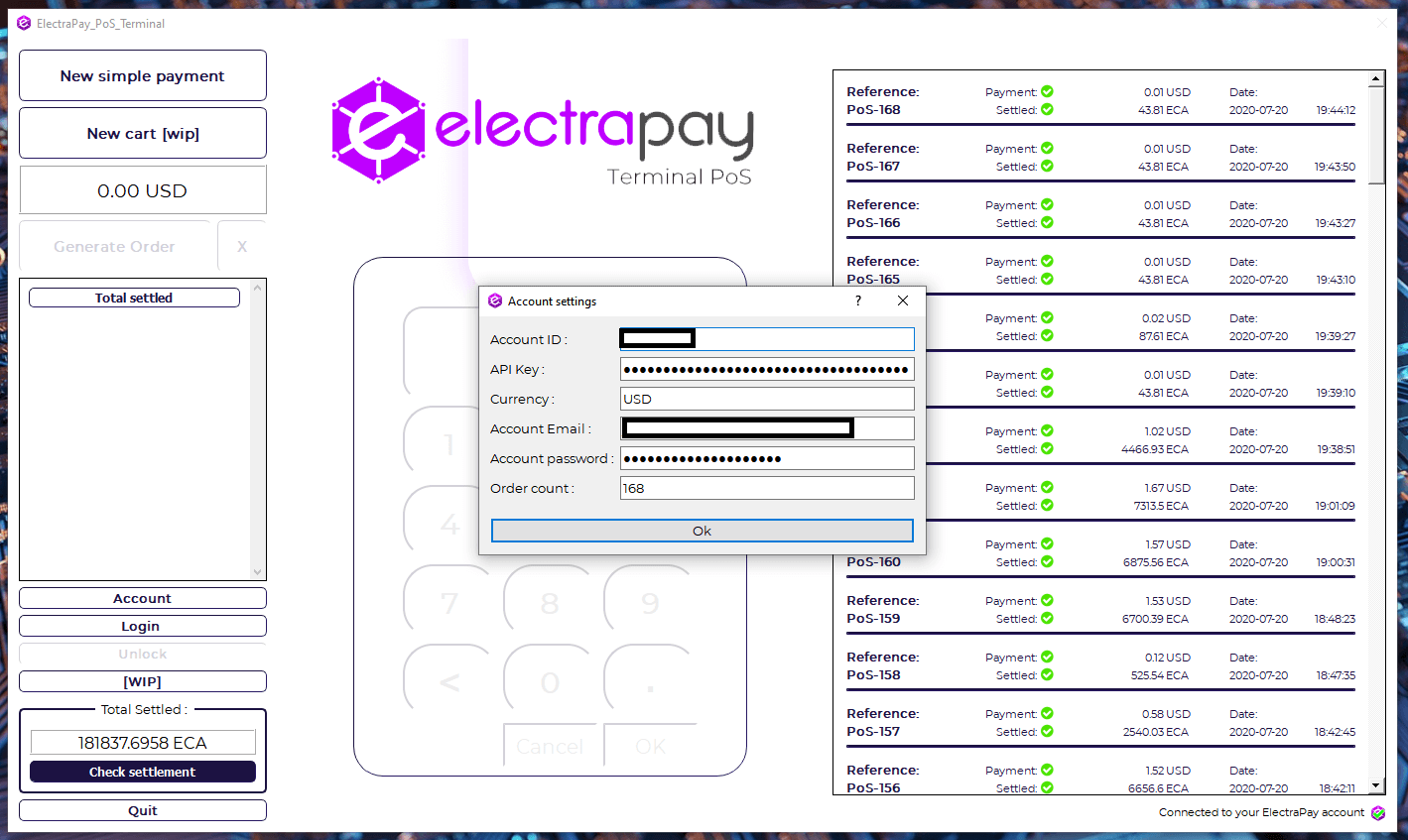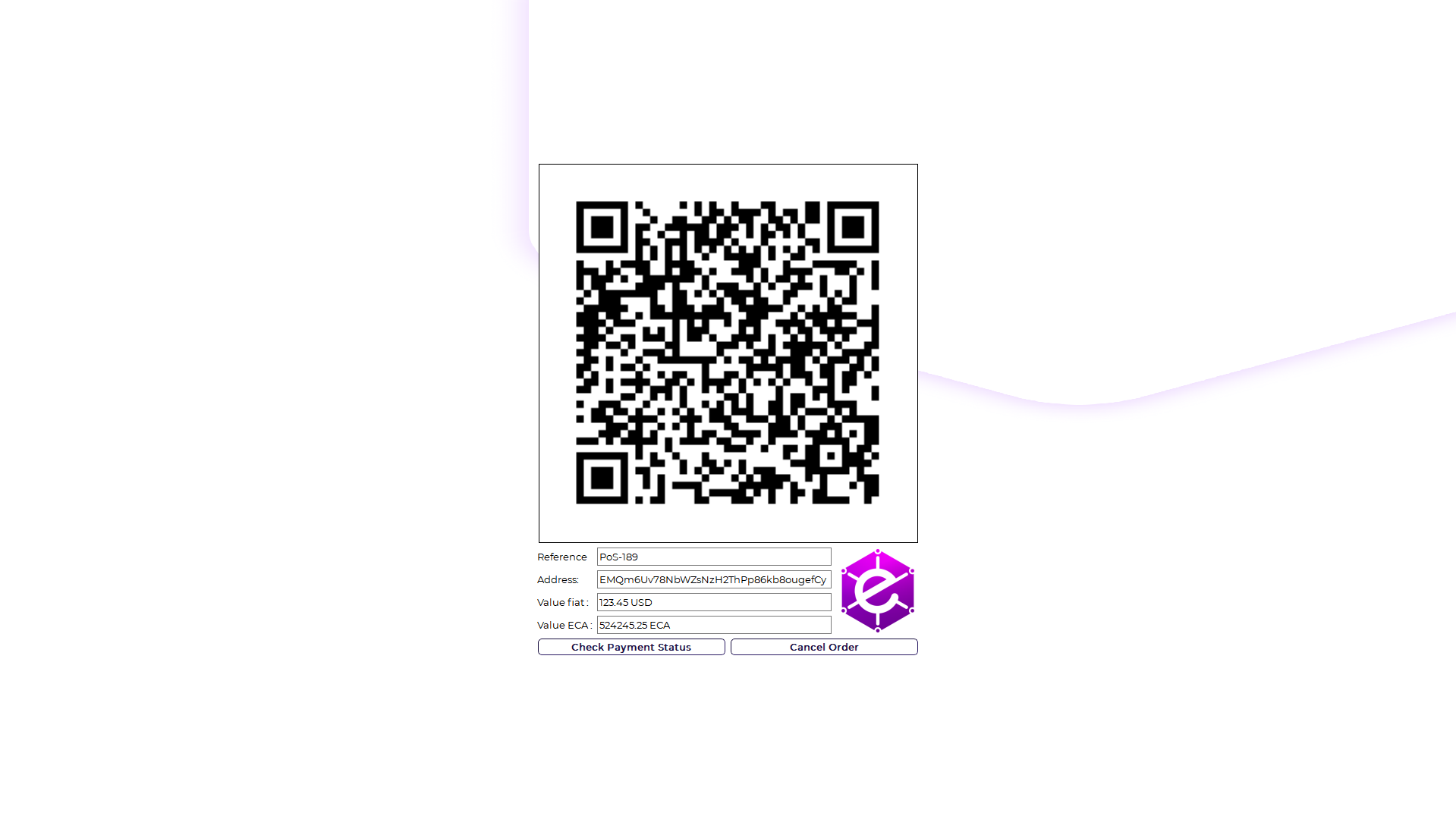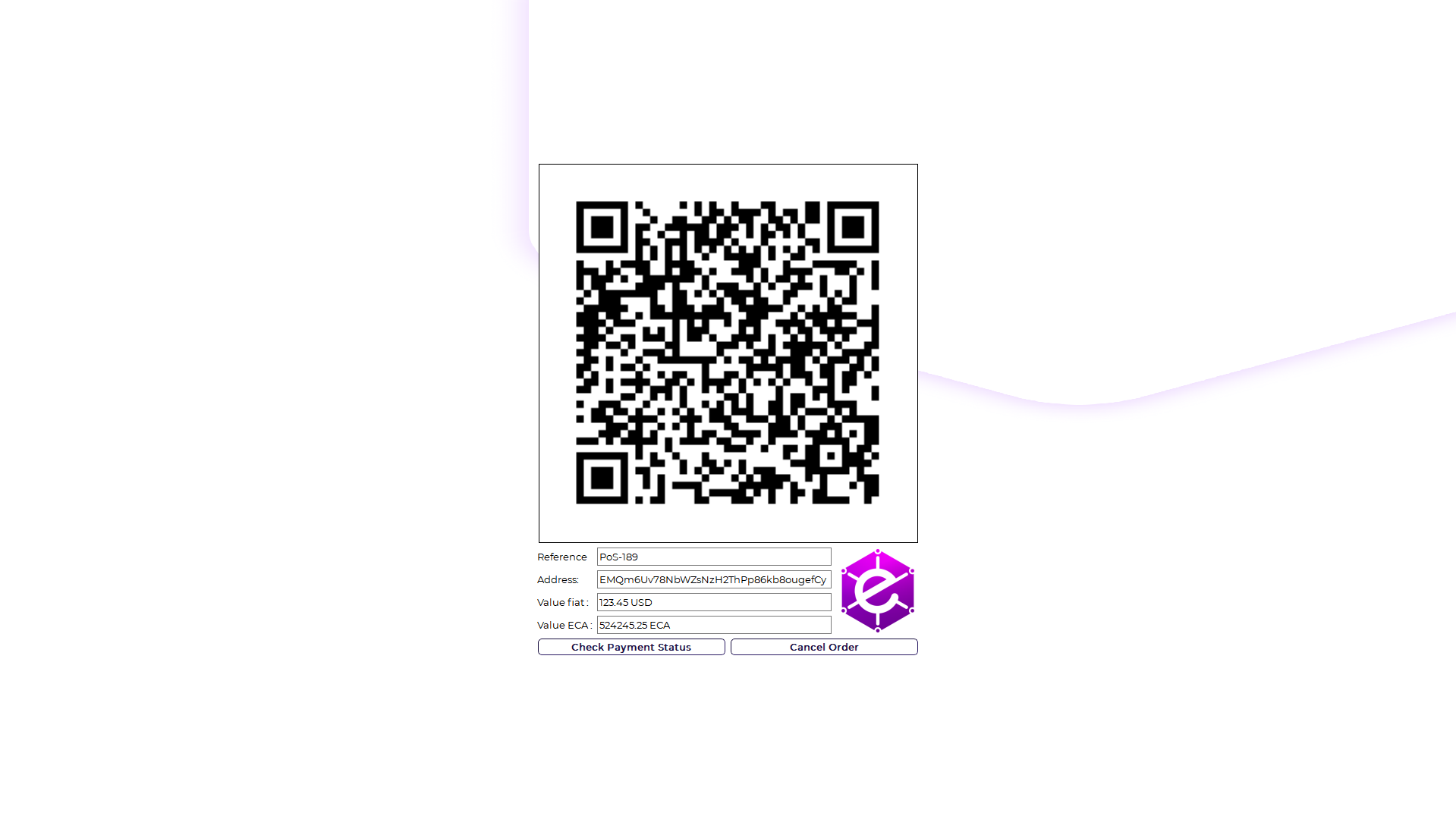 Source: Electra Management Team.
3. Technical infrastructure
| Descriptions | Specifications |
| --- | --- |
| Consensus algorithm | SHA-256 |
| Consensus mechanism | Proof of Stake Version 3.0e |
| Block time | 64 seconds |
| Block size | Up to 10MB (dynamic) |
| Transaction per second (max) | ~800 |
| Difficulty retarget | Every block |
| Coin maturation time | 12 hours |
| Max coin age for PoS reward | 30 days |
| Lighting Network support | Yes |
| Atomic Swap support | Yes |
Proof of Stake Version v3.0e is improved upon the first Proof of Stake algorithm (PoS v1), created by Sunny King and the Proof of Stake Version 2 algorithm (PoS v2) that was created by Pavel Vasin for Blackcoin.
Electra's Proof of Stake Version 3 Enhanced (PoS v3.0e), unlike PoS v1, PoS v3.0e does not rely on "coin age" or "weight" to determine a user's block. Also unlike PoS v2, PoS v3.0e is dynamic reward based rather than rewarded with a fixed amount of coins.
While coin age does not affect the consensus, it is used to determine reward calculation once the consensus selected the blocks used for reward calculation. Coin age is considered in Electra's PoS v3.0e to encourage users to stay connected to the network, in order for them to earn a better block reward. Once a single transaction containing coins remains unspent for 12 hours, that transaction is eligible to be selected to earn staking rewards.
To avoid blockchain bloat from happening, dynamic block size is being implemented. With each transaction size around 140 bytes, a 10 MB block will be able to hold 50,000 transactions. However, if there are only 1 or 2 transactions to process, the block size could be much smaller. The dynamic block size allows it to be more efficient and saves the user from having to download empty blocks.
4. Token sales and economics
Electra did not fundraise via an ICO or IEO. Instead, 1,000,000,019 ECA are pre-mined. Out of these pre-mined coins, 363,057,331 ECA has been spent to support the project during the last 3 years, while the remaining coins are staked and have grown to 1,057,127,792 ECA at the time of writing. Of which, 207,128,567 ECA belong to the foundation, and 849,999,225 ECA belong to the founder. There are no lockups and coins are fully in circulation.
The team members contribute to the project voluntarily, which assists in keeping the costs of development low. Being a community-based project has allowed the pre-mined funds to cover the costs of servers and the occasional critical 3rd party service needs.
4.1 Block reward schedule
During block 1 to block 11,810, Electra was mining using Proof of Work. Starting from block 1 to block 11,523, the block reward was 0.003 ECA per block, and from block 11,523 to 11,810 it was 65,972,222 ECA per block reward. The initial lower block rewards was to acclimatize the miners during the initial phase, where they can get ready for the actual mining rewards starting at block 11,523 to block 11,811, where the protocol changes to Proof of Stake.
At the time of writing, the current block height is 815,567 and the reward is set at 1.25% which will be halved each year going forward. The formula for calculating staking rewards are as follows:
Staking Reward = (Reward rates based on "Block Reward Schedule") x (# Coins in the Transaction Selected) x (Days Unspent) / 365).
| Block | Reward rates |
| --- | --- |
| 11,811 - 112,200 | 50.00 % |
| 112,201 - 604,950 | 2.50 % |
| 604,951 - 1,097,700 | 1.25 % |
| 1,097,701 - 1,590,450 | 0.63 % |
| 1,590,451 - 2,083,200 | 0.31 % |
| 2,083,201 - 2,575,950 | 0.16 % |
| 2,575,951 - 3,068,700 | 0.08 % |
| 3,068,701 - 3,561,450 | 0.04 % |
| 3,561,451+ | 0.02% |
Example: If 1,000 coins are staked for 15 days, the block reward would be calculated as: 1.25% x 1000 x 15/365
Example: If 1,000 coins are staked for 45 days, the block reward would be calculated as: 1.25% x 1000 x 30/365 (The reason why it is taken as 30 rather than 45, is because the maximum coin age taken into consideration is 30 days)
5. Project team
The founder of this project chose to remain anonymous, and the project is built and coordinated by the following team members.
6. Roadmap, updates, and business development
6.1 Original roadmap and achievements
| Date | Milestone | Comments |
| --- | --- | --- |
| 2020: Q1 | iOS wallet release | Twitter |
| 2020: Q1 | AtomicDex integration | Twitter |
| 2020: Q1 | Huawei App Gallery listing | Twitter |
| 2020: Q1 | ElectraPay MVP launch | Medium |
| 2020: Q2 | Electra merchant shop | Twitter |
6.2 Updated roadmap
2020 Q1
Release of ElectraPay.
Launch of iOS mobile wallet.
Launch of ElectraPay WooCommerce plugin.
2020 Q2
Release of Electra protocol upgrade.
Release of Electra block explorer.
Release of ElectraPay Point-of-Sale solution MVP version.
2020 Q3
Release of block explorer with product tracking technology.
Integration of ElectraPay plugin with Shopify and Opencart.
Release of ElectraPay frontend refactoring.
2020 Q4
Release of ElectraPay global solution for online payment.
Release of Point-of-Sale system for ElectraPay.
Launch of ElectraPay built-in tracking capability.
6.3 Commercial partnerships and business development progress
7. Electra's activity and community overview
7.1 Social activity
Electra is a community-based project, whose members discuss and share information in their social circles and social media channels.
The Electra project's core team conducts weekly online team call meetings to coordinate ongoing developments, evaluate achievements, and discuss any further needs of the project. Regular monthly reports are also posted to the project's Medium channel.
Community and social channels (data as of July 27th 2020)
Twitter (English) | 18.2K Followers
Telegram (English) | 5.4K Followers
Telegram (German) | 345 Followers
Telegram (Russian) | 199 Followers
Telegram (Chinese) | 101 Followers
Telegram (Spanish) | 79 Followers
Telegram (Dutch) | 327 Followers
Telegram (Korean) | 183 Followers
Telegram (Turkish) | 110 Followers
Telegram (Italian) | 89 Followers
Telegram (French) | 71 Followers
Telegram (Brazilian) | 60 Followers
Telegram (ECA Tipbot) | 1.7K Followers
Telegram (Announcement) | 2.4K Followers
Discord | 12.5K Members
Facebook discussion group | 2.3K Members
Official Facebook page | 2.3K Followers
Reddit | 3.2K Members
Blog

7.2 Development activity
8. Appendix
8.1 Documents
8.2 Advisors